Concert Announcement
Surrey Mozart Players
Kenneth Woods, Music Director
Saturday, September 30
7:30 PMElectric Theatre, Guildford
Sibelius- Varsang (Spring Song)
Nielsen- Flute Concerto
            Katherine Baker, flute
Sibelius Symphony No. 3 in C Major, op 52
Ken says-I'm really looking forward to this program…. It's my first concert with the SMP as their official Music Director. They did a fantastically exciting Beethoven 7 last spring that I really enjoyed preparing and performing, so I'm looking forward to working with them regularly. Katherine Baker is a wonderful player who has already served as principal flute in the BBC National Orchestra of Wales and the Halle.
The Nielsen is musical quirkiness personified- witty, slightly weird, but really lovely. The dialogue between solo bass trombone and solo flute has to be one of the funniest musical ideas in history, and yet the piece has a real sense of grace about it in the end.
Sibelius 3- what can you say? It's a piece that will always sound fresh and full of life. I've often heard it called his Haydn symphony, but to me it is more Sibelius version of Beethoven 7- full of rhythmic life, drive and forward motion, and never heavy. Interesting that in the various versions of the Fifth Symphony, Sibelius had to work very hard to find a formal structure that generates irresistible forward motion when he'd already found it in the last movement of the Third. More info and audio samples are  here.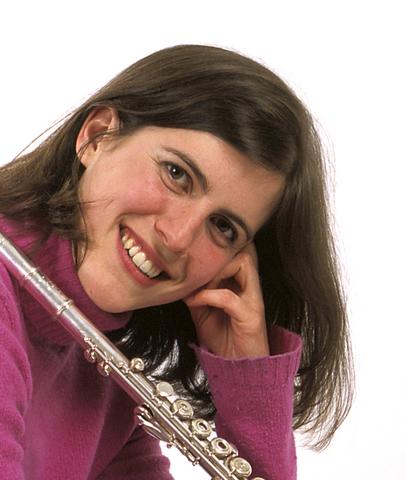 Katherine Baker, flutist(photo credit- Chris Stock)
Born in Croydon in 1975, Katherine Baker studied at the Royal Academy of Music with William Bennett, Sebastian Bell and Kate Hill and during her time there she won the Academy's highest award for performance, the prestigious DipRAM. In 2004 Katherine took up her new position of Principal Flute with the Hallé orchestra and Mark Elder. Having already held the same position with the BBC National Orchestra of Wales for the previous four years, she has now become a very sought after guest principal and regularly plays with some of the country's leading orchestras, most recently the London Symphony Orchestra conducted by Valery Gergiev.    
When the duties of motherhood permit, Katherine also gets involved in a great deal of chamber music. She has played with such groups as the Galliard Ensemble and recently gave a recital with the flautist Michael Cox, but it is to being one half of the popular and successful Alwyn Duo with the harpist Suzanne Willison that she devotes most time. Together they have performed at festivals including Cheltenham, Brighton and Presteigne, on the South Bank and at music societies around the country. The duo is a keen champion of new music, and has given the first performances of pieces by Joe Duddell and Rhian Samuel.  As a soloist, Katherine was regularly broadcast on Radio 3 during her time with the BBC NOW, playing Bach, Saint-Saens and Poulenc Concerti. In 2005 Katherine played Bach's Suite No.2 at the Linari Festival in Italy with Principals of the Concertgebouw Orchestra and earlier this month she performed Bach's Fifth Brandenburg concerto with the pianist Angela Hewitt and the Hallé .