So this is where I went to work over the weekend-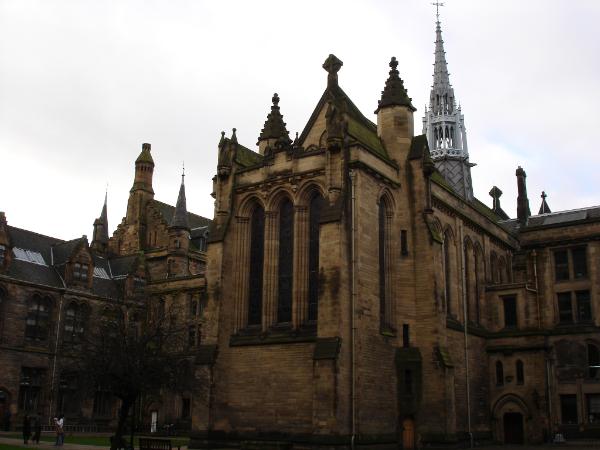 Pretty sweet gig, eh????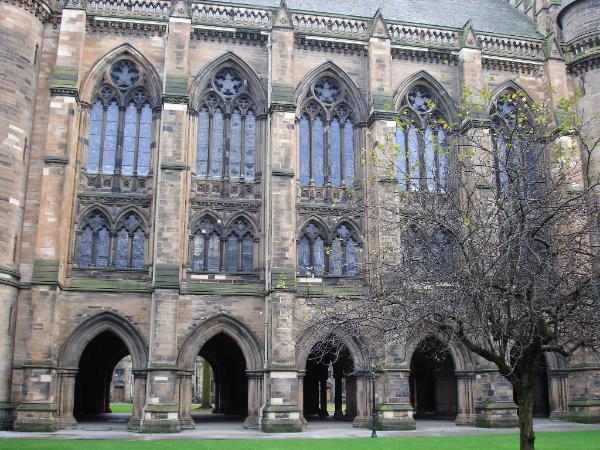 These photos are of the interior quadrangle of the University of Glasgow, home of the Kelvin Ensemble. (Of course, speculation is wide-spread  in Pendleton that I am only posting pictures of these beautiful venues like the U of G and Menuhin Hall to nudge the good folks there towards movning forward with plans to restore and re-fit the Vert Auditorium. Hmm….)
The Kelvin's are a student-run orchestra that are now celebrating their fifteenth year in existence.
One subject I've been considering taking up on this blog is the lengths musical people will go to in order to play the music they love. For most musicians, the need to play is so strong that they will endure hardships that few others would tolerate, including poor or non-existent pay, miserable working conditions, anti-social hours and so on.
That subject will have to wait, but the Kelvin's are a great example of another obstacle that musicians will overcome- the absence of a group to play in. In this case, fifteen years ago a group of students took it upon themselves to found an ensemble that would better meet their musical needs. Of course many amateur orchestras are essentially self governing, especially in the UK, and this continuum goes right up to elite professional bands around the world like the LSO, Chamber Orchestra of Europe, Berlin Phil and Vienna Phil, all of which take their artistic direction from the players. The Rose City Chamber Orchestra in Portland (where I'm affiliated), was also founded and is run by the players.
Interestingly, in a player-run orchestra one can see what happens when musicians themselves have to make tough decisions about work conditions, repertoire, scheduling and budgets. In my casual observation over the last few years, I've seen that player-run groups like the London orchestras smaller bands like Rose City will take on schedules that would never be tolerated by player-committees at "traditional" American orchestras, school run orchestras or broadcasting orchestras, and, in fact, would never be suggested by their managements.
No exception this week with the Kelvin Ensemble. When they sent me their schedule of rehearsals for this program, I was genuinely surprised. They wanted triples on every day I was to be there! Not just two separate sectionals then a full, but three full-orchestra calls in a day.
This is all the more remarkable because these are students who might be finishing their medical studies or practicing for juries or involved in research projects. Whatever they commit to over the two weekends of rehearsals with the orchestra, they still have to fulfil their academic commitments. You can imagine the back aches, bleeding lips, sore hands and swollen chops, not to mention the sheer noise fatigue.
Well, needless to say, by the end of this past weekend (weekend no. 2), we were all absolutely shattered, but less so than the day before. I think that as we get deeper inside the music the struggle to grow becomes more mental and spiritual and less physical. Also, over the many long hours, we all begin to get to know each other- I start to know what certain players need from me, and they start to know what they can expect to see when they look up, and what I expect from them. Gradually, everyone's rehearsal dance becomes more graceful and more effortless with practice.
Obviously, the player-run model has a lot going for it, but it is also fraught with dangers. The traditional board-run orchestra has the great advantage of providing a built-in connection to the larger community through the directors, who also are responsible for helping to insure a basic level of financial support and partnership. Musicians tend to be wanderers by professional necessity and rarely have the ties to the community needed to raise money and build audiences. In the most successful player-run orchestras, funders and supporters have been willing to support the orchestra's work while ceding decision-making power to the musicians, and the results are generally spectacular. Will more American orchestras ever reach the point where a board of directors is willing to become a board of supporters or a board of investors? Will player-run orchestras develop the skills to build bridges into their communities? Certainly, the London orchestras have shown the musicians can be incredibly shrewd and realistic in understanding their markets, working with funders and sponsors and in building ties with their audiences.
Clearly, the Kelvin Ensemble survives and thrives both because they have created a self-sustaining culture dedicated to some strong core values that is strong enough to survive the frequent turnover a student orchestra always has, and because the University continues to support them in modest but very important ways. Universities tend to be worse even than boards at wanting to control what happens on their campus, and music departments are often the most control-freakish body on campus after the athletic department. By allowing this ensemble autonomy, the university has allowed a group to come into being that is now one of the jewels of the campus, and as the Kelvin's turn 15, the whole university should be celebrating.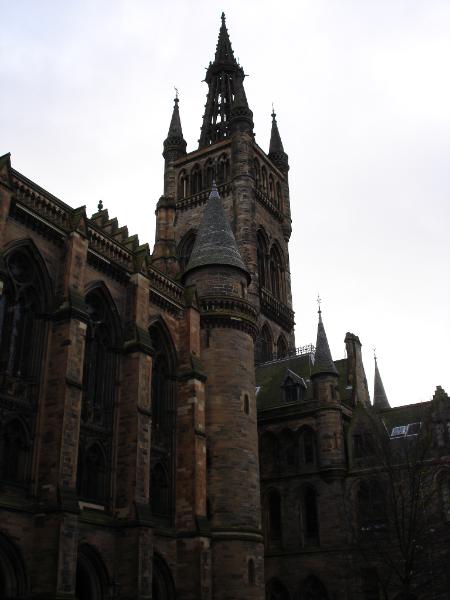 As a side note, I'd encourage you to watch Greg Sandow's series of video interviews with orchestra musicians on the Polyphonic.org, most of which deal extensively with the question of musician ownership of the orchestra's decision-making and artistic-planning process. Click here to see his interview with Fergus McWilliam, hornist of the Berlin Phil, where McWilliam talks at length about their rehearsal process and how they choose music directors and intendants.