What better topic for Thanksgiving, when none of our American friends are reading, than a concert announcement for our UK audience?
UPCOMING CONCERT
Hereford String Orchestra
Saturday, November 24, 2007
7:30 PM
Holy Trinity Church
Hereford
Program-Mozart- Symphony no. 34 in C Major
Mendelssohn- Violin Concerto in E minor 
    Suzanne Casey, violin
Schubert- Symphony no. 4 in C minor "Tragic"
This is my second appearance with the HSO after a very rewarding performance of Bruckner 4 in June. I think we've come up with a fascinating and surprisingly unusual program- two relatively rare pieces from Mozart and Schubert bookending Mendelssohn's ever-popular Violin Concerto, as played by my favourite violinist.
The Schubert is the real rarity on this concert. Written when he was only 17, it is more than simply an intriguing glimpse of the composer who was to come, it is a deeply moving and very beautiful work in its own right. Already, Schubert was showing one key trait of his style that has remained controversial to this day- an approach to form that is almost the opposite of Beethoven's. Think of Mahler's "Tragic" symphony, his Sixth. In that case, we think of the entire form of the work as expressing a single tragedy as in a Shakespearean drama- a series of events culminates in at tragic outcome. Schubert's "Tragic" refers to a mood and an atmosphere- he doesn't seem to see instrumental music in dramatic terms, but atmospheric ones. Where as most classical music, and certainly most Germanic classical music, is built around structures that express a beginning a middle and an end, Schubert's music, even when written in sonata form, the ultimate expression of beginning-middle-end in Western culture expresses something more like a happening or a slice of life.
Mozart's 34th is a work I've wanted to do for many years, mostly because I feel the stuff it is made of, the tunes the idea, is so amazingly fresh. Having done about 8 Haydn symphonies since I last did a Mozart, I'm finding it telling in other ways- there are naïve, repetitious and clumsy patches everywhere in this piece. This doesn't matter because the melodic content is so rich and alive, but it reminds me that when we talk about Mozart as simply the epitome of perfection we forget or ignore how hard he worked to become the composer he became, and we perhaps discourage curiosity about perfection in other composers (Yarr Haydn!)….
Finally, a word on this week's soloist (and tenant at Vftp Int'l Headquarters), Suzanne Casey…..
Suzanne Casey, violin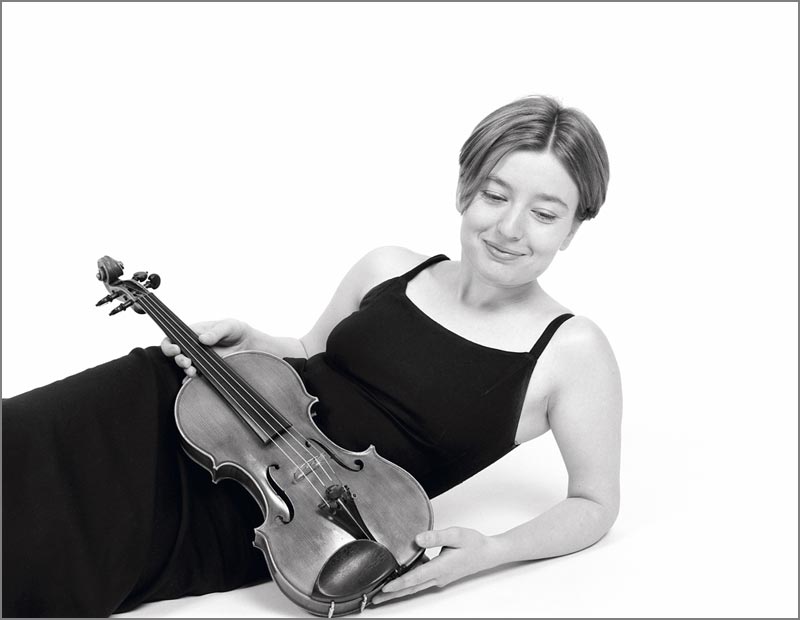 (photo by Chris Stock)
Suzanne Casey was born and brought up in Hereford.  During her years at the Hereford Cathedral School she became a member of the National Youth Orchestra of Great Britain and also played in many local groups such as the Hereford String Orchestra. Under the guidance of her teacher Hazel Davis, she was awarded a place at The Royal Academy of Music, where she won the Waley Violin Prize and the McEwen Prize for String Quartet playing. Two years later Suzanne received a Performers Diploma from Indiana University while studying with Mauricio Fuks under the Starling Fellowship, and then took up a position in Florida's New World Symphony. She moved back to Britain to join the BBC National Orchestra of Wales in 2000 and enjoys a busy musical life with the orchestra, as well as playing chamber music with friends and colleagues. She has appeared as a soloist with a number of orchestras in the UK and the USA, and was recently featured as a recitalist at the Three Choirs Festival. She lives in Cardiff with her husband, Kenneth Woods, and they are expecting their first child in March.