It was a blustery Friday night, and I had a lot on my mind already. One day away from the final Surrey Mozart Players concert of 2007, we had a great deal of ground to cover in the evening rehearsal, particularly on Mozart's Jupiter Symphony. 
It's always a long drive to SMP rehearsals, Fridays doubly so, and rainy, windy Fridays in the holiday season trebly so. As I ground out the long commute, you might well have thought I was using every available minute to prepare myself for a productive evening's work on the Mozart.  However, fate had intervened when I stopped for petrol en route and bought a copy of The Independent because it had a special commemorative section on Led Zeppelin in honor of this week's reunion concert.
Having grown up in an age when Zeppelin towered over everyone's musical interests but had disappeared from the world's stage, I had always been quick to grab anything written about them because it was such a rarity in the 80's. Old habits die hard, so I inhaled the features while downing a quick cup of coffee.  By the time I'd finished reading, I was struggling to remember much about Mozart admidst my righteous indignation at what I'd just seen in print. One thing classical music lovers should be grateful for is that classical music critics, while certainly human and fallible, at least seem to, in general, have some significant, genuine interest in music, particularly classical music. 
In the midst of the features was a "a complete guide to the band's studio albums," which reminded me that there is really no form of stupid more perfectly formed than "pop critic" stupid. Rock or pop critics are possibly one of the lowest forms of human life ever to have walked the planet- their sole interest in writing is to identify the trendy-to-be, combined with a blatant hostility to any sign of musical growth, creativity or sophistication. In rock critic land, the Beatles should never have gone beyond 2 minute, three chord pop tunes, any song over three minutes or any song with lyrics about any topic other than love and breaking up should be held up to universal ridicule. The only persons allowed any room for adventurous lyrical content are those who can neither sing nor play their instruments- if you are one of the lucky few to barely be able to croak out a pitch-less Sprechstimme version of your latest 10 minute epic about heroin addiction, then you might be a genius, but only if the guitars are out of tune. Bad is good, boring is good, interesting is bad, different is bad, in tune is bad. 
This "complete guide" to Led Zeppelin's recorded output perfectly encapsulated this basic hostility to growth, experimentation, excellence and creativity. More to the point, it captures that essential hatred of music that is universal among rock critics. Gill seems to be able to enjoy the stripped down bluesy-ness of the first two Zep records, and who could resist them, but chafes at Zeppelin 3, which is a huge creative step forward, Gill tells us Z3 "was widely regarded as an ill-advised move towards a softer, more sensitive style." Oh god, how dare a band fail to maintain a completely one dimensional approach?!?! How dare they do something new or different!
However, the really addle-minded commentary is held back for the later albums, notably the masterpiece Physical Graffiti, which only gets 3 stars, and Houses of the Holy- a nearly perfect album in every way with a huge musical range also gets 3. Worst of all, Presence, which is in many ways their most daring and experimental record gets 2. With a critical establishment from the early days of Rolling Stone whose mission has always been to make sure that rock n rollers know their place, it is a miracle that a band that had so much commercially at stake would dare again and again to go into the studio and explore new territory. The braver, more creative and more masterful they become, the more the press hates them. 
This take on LZ- that any departure from what they originally were known for is to be punished- is the ultimate expression of bogus pop criticism.Now, the boys from Led Zeppelin don't need the MD of the Surrey Mozart Players to do their fighting for them, but it was a reminder of one of the reasons I bailed on rock music- the fact that in the pop world, good really is bad and bad really is good.  A tone-deaf, self-pittying whiner (and xenophobe) like Morrisey can be hailed as a genius for his banal, egocentric voyages of mediocrity, but real musicians making real musical choices are not to be trusted. They are self-indulgent. They are veering "sharply away from the band's core rock style, with unsatisfying attempts at Memphis soul ("I'm Gonna Crawl"), bar-room tack piano ("South Bound Suarez") and a Latin-tinged funk groove ("Fool in the Rain"). "
So, in celebration of the Zep reunion, today's podcast is one of the very last rock songs I ever wrote, a tune called "Open Your Eyes." The band, The Watchmen, disintegrated in the midst of sessions for this recording, so the tracking was never completed. However, this song has about as pronounced Zep influence as anything I ever wrote, particularly a Presence-era Zeppelin influence in some of the gnarly and unstable grooves, even though we were going for a slightly funkier vibe. I don't think it sounds like Zeppelin, but I can still hear the bits where Zep gave me a bit of inspiration.
This is the only "protest song" I ever wrote. For much of the 90s, I was rather embaressed at how dated they outpouring of outrage at the Bush administration and their proclivity for using up young people's lives in service of the oil industry sounded. Little did I know….
Here are the final chords of the 22-year old Ken Woods, guitarist, just hours away from his unplanned retirement from the world of rock n roll in 1990. I was lucky to get out when I did- think of all the Bartok quartets and Mahler symphonies I would have missed! Still, there is one gig I would give it all up for… Robert Plant- if Jimmy's ever busy, it would only take me a few days to get the Zep catalogue back in my fingers! Hell, I'd play rhythm guitar to Jimmy Page any day….. 
To Led Zeppelin, and to classical music critics!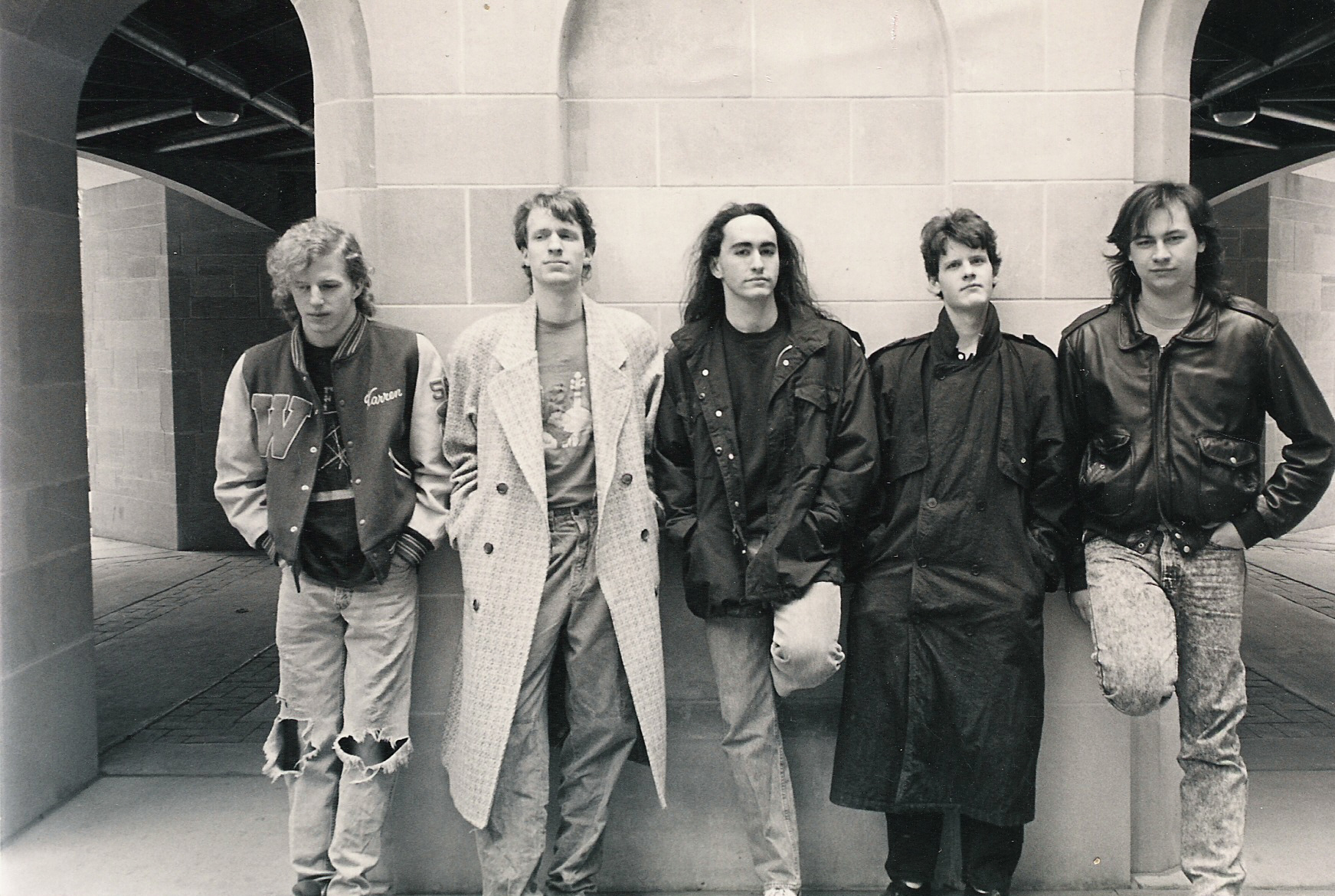 Who Watches the Watchmen?
L-R Chris "Chicken" Wise- drums, Robert Henson- Bass and Backing vocals, Josh Silbert- Lead Vocals, Jon Heagle- Guitar, Ken Woods- Guitar and Backing Vocals  
This post- c. 2007 Kenneth Woods
"Open Your Eyes" written and produced by Ken Woods, c. 1990 Kenneth Woods.
All rights reserved.