The Oregon East Symphony has announced details of our 2008-9 Season, the orchestra's 23rd, and is currently in the midst of a busy season ticket campaign.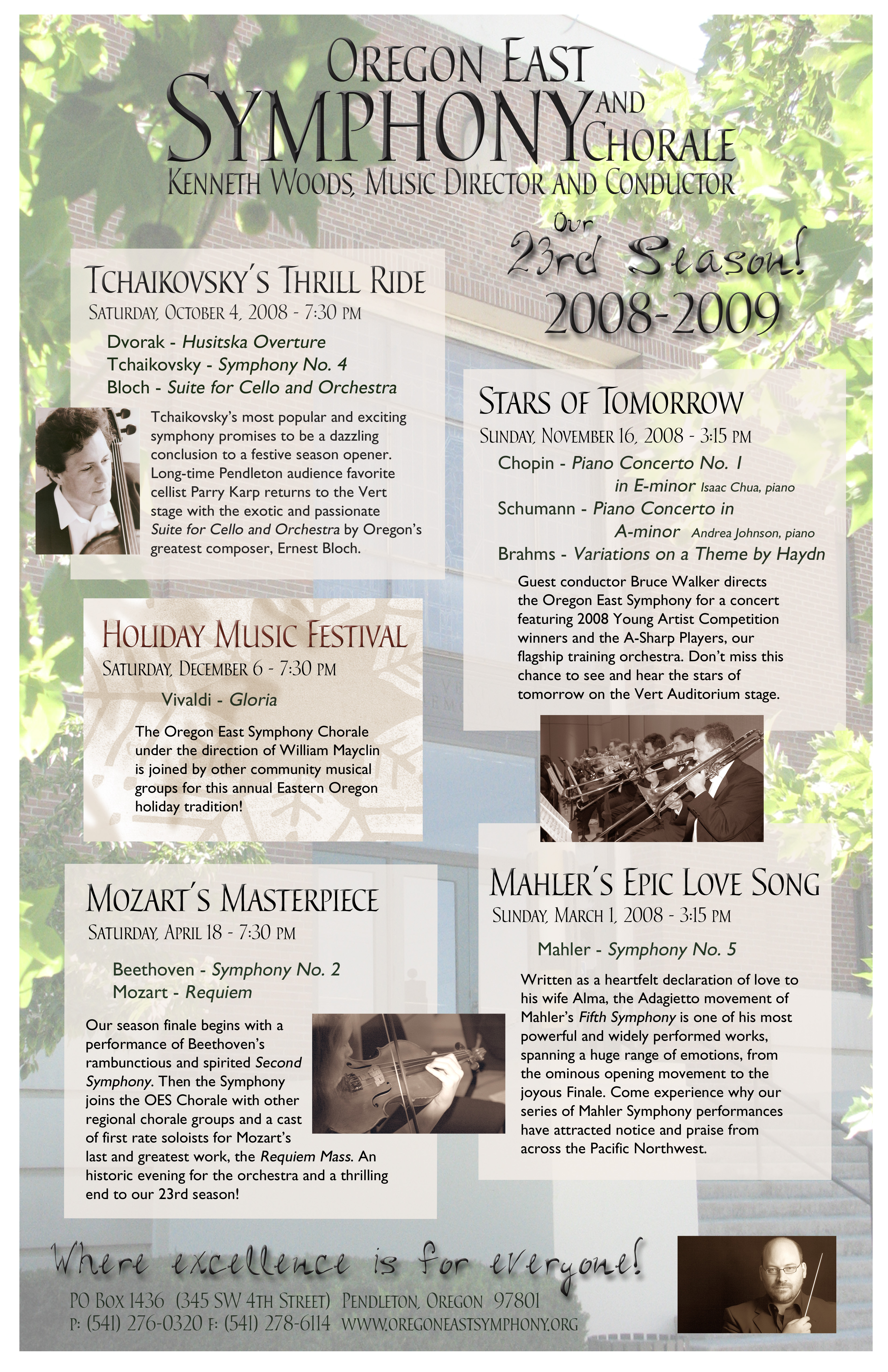 Highlights of the year to come include the return of cellist Parry Karp for a rare performance of Bloch's epic Suite for Cello and Orchestra on the season opener. Born in Switzerland, Bloch eventually settled in Oregon, where he became the state's greatest musical figure. The opening weekend also includes a performance of Tchaikovsky's barn-burning Fourth Symphony and  gala chamber concert with Parry Karp, Suzanne Casey, David Yang and me.
In November our newly appointed Assistant Conductor Bruce Walker conducts the OES and the Oregon East Symphony Preparatory Orchestra in a concert featuring the winners of the annual Young Artist Competition. The program includes works by Brahms, Chopin and Schumann.
Then in March, our Redneck Mahler project, generously funded by the Kinsman Foundation, moves forward with Mahler's Fifth Symphony, a work of vast and imposing challenges, from the storm Funeral March which opens the work through the tender Adagietto to the rollicking and joyful Finale. 
Our season culminates in the completion of our Beethoven Symphony Cycle with a performance of the 2nd Symphony, followed by a gather of three of the region's finest choirs, the Juniper Singers, OES Chorale and Consort Columbia for a performance of Mozart's Requiem.
Tickets are on sale now through the OES office at info@oregoneastsymphony.org, and there is a wealth of information at our website, http://www.oregoneastsymphony.org/
and there is a wealth of information at our website,