The Bridgewater Hall- Mahler in Manchester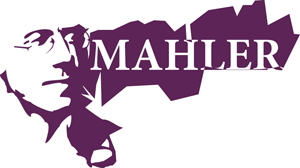 Shortly after I posted my most recent Mahler essay, I had a comment from Mahlerian and sometime Vftp contributor, Mitch Friedfeld, who suggested I might have overlooked something-
There's another instance of a Mahler-Brahms shout-out — I like that lingo, Ken! — but one with which Mahler was perhaps not eager even to hint at. Why did Mahler eliminate the Blumine movement from the predecessor of his Symphony No. 1? One of the speakers at a recent Colorado MahlerFest maintained that possibly the main reason was the trumpet solo's striking resemblance to the main theme of Brahms 1: the very theme you link to above, where you talk about the opening of Mahler 3. According to the speaker, Mahler may have excised Blumine because the obvious similarity to the Brahms would have made him appear derivative, even plagiaristic. The music is at least similar, it must be admitted.
At first, I was quite sceptical about the possibility of Mahler being somehow intimidated into removing a movement from his first symphony from fear of accusations of plagiarism. The mere fact that he so blatantly references Beethoven 4 with the first notes seems to be proof positive that he would not fear any reprisals from a possible thematic similarity to Brahms 1.
Then, however, it occurred to me that perhaps he was reminded of the misfortune of his friend, Hans Rott, who included a prominent shout-out to Brahms 1 in the Finale of his Symphony in E Major. There is  speculation that Rott had hoped that Brahms, who Rott showed the work to, might be flattered by the reference, but Brahms dismissed the piece entirely, saying he lacked any talent and should abandon music as a career. Mahler strongly disagreed-
A musician of genius … who died unrecognized and in want on the very threshold of his career. … What music has lost in him cannot be estimated. Such is the height to which his genius soars in … [his] Symphony [in E major], which he wrote as 20-year-old youth and makes him … the Founder of the New Symphony as I see it. To be sure, what he wanted is not quite what he achieved. … But I know where he aims. Indeed, he is so near to my inmost self that he and I seem to me like two fruits from the same tree which the same soil has produced and the same air nourished. He could have meant infinitely much to me and perhaps the two of us would have well-nigh exhausted the content of new time which was breaking out for music.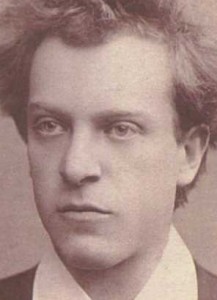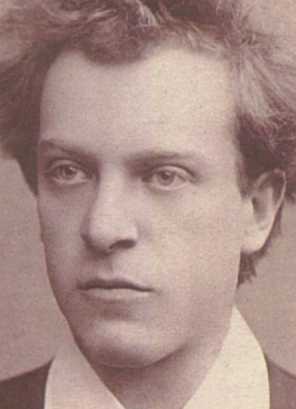 (Hans Rott)
However, Rott never recovered from the humiliation at Brahms hands, nor from syphillis. In October 1880, he had a nervous breakdown on a train- threatening the other passengers and claiming that Brahms had packed the train with dynamite. He died in an asylum, almost a forgotten man. The symphony was not performed until 1989, when my teacher, Gerhard Samuel, agreed to lead it with the Cincinnati Philharmonia at the International Mahler Festival that year.
As I thought more about it, the real interesting question was not whether or not Mahler had been intimidated into excising Blumine because of fear of recrimination from Brahms and his supporters (Brahms was still a powerful figure in Vienna in the 1880's), but whether the shout-out which opens Mahler's Third Symphony is, in some way, a shout out to Rott. Could Mahler be using this theme to explore the path Rott had been meant to follow- radical, experimental and revolutionary?
I pulled my Rott score off the shelf (yes, I have one!) and the more I looked and the more I thought about it, the connection seemed obvious. It makes even more sense of the critical aspect of the connection to Brahms- not only is Mahler possibly suggesting that there were revolutionary paths in the symphony revealed by Beethoven in the 9th that Brahms had attempted to hide or ignore, he might also be suggesting that Rott had already started down that road.
As it happens, that's not the only possible Rott reference in the piece- Rott's presence is felt again in the Finale of Mahler 3. I asked my friend, Peter Davison, artistic consultant for The Bridgewater Hall and the author of Gustav Mahler- Wrestling with Angels what he made of this. Am I crazy? Perhaps not-
Dear Ken,
Discussion of Rott persuaded me to fetch out my CD of the symphony with your old mates performing. (It is excellent for a student band!) I also dug into Franklin's book on Mahler's 3rd symphony. Rott had been literally rejected by Brahms, after he had been approached by Rott with the symphony to sound him out over the Beethoven prize. When Rott went mad, he was arrested on a train brandishing a revolver saying that Brahms had put dynamite on board. Add to this that Mahler also failed to win the Beethoven prize which had Brahms on its jury, and Brahms rapidly becomes the symbol of all that is conservative, destructive and officious in musical life. Mahler may even have held Brahms in some way responsible for Rott's insanity – although syphilis is a more likely explanation.
Suddenly the homage to Rott, the wounded talent thwarted by the establishment makes a lot of sense. Mahler must have felt (as Schonberg was also to feel) that the muse could not speak in the claustrophobic atmosphere of bourgeois appearances and academic formalism represented by Brahms. Rott's paranoid fantasies about Brahms as he went mad must have rubbed it in for Mahler. So the memory of Rott's descent into insanity in Mahler's student days must have resurfaced in the Third Symphony, and he decided to take some kind of revenge upon Brahms who had died around the time the third was being written. It must have felt like the settling of an old score. How funny that my image of sticking a firework under Brahms echoes Rott's paranoid delusion that Brahms had put dynamite on the train.
But Rott had not despised Brahms' music and you can hear passages that are Brahmsian in the symphony – so Brahms' lack of enthusiasm must have felt doubly hurtful. So this is not merely a clash of musical differences, but really a personal grudge. Perhaps Brahms simply was defensive against any young talent which might dislodge him from pre-eminence, and this mean-spiritedness is what annoyed Mahler. The decision to parody Brahms in his Third symphony and to fulfil the lost potential of Rott then makes a lot of sense. And Mahler does this with a Nietzschean blast of southern air which blows away the cobwebs and the professorial pedantry, and elevates the lost talent to great heights, because finally it can do so unopposed.
That strange dissonance from the Rott slow movt which appears in Mahler's finale, followed by the heavenly trumpet tune now takes on new meaning; an apotheosis of Rott, an exorcising of his ghost, a triumph over the sceptics and conservatives. The allusions to Parsifal at the end of Mahler's adagio suggest the purging of a wound – the death of the old King. Brahms after all had been damaged by his early sexual experiences so that he became a misogynist, who had to idealise women from afar, so he was a kind of Amfortas figure. In Mahler's world, Rott was the Parsifal who was going to redeem the symphony, but was thwarted by Brahms (although in reality like Brahms he succumbed to a sexual wound and died of venereal disease). Here Brahms takes on the role of Klingsor.
It's a rich vein of possibilities and makes the Third seem a personal work resolving a very personal sense of grief and grievance. Not quite as it first appears.
Peter
The point of all of this exploration and speculation is not to pinpoint the "right" way to hear Mahler 3, or any other piece. Instead, the value is in discovering more and more of the layers of meaning in the music. Mahler was the composer of paradox and contradiction- who else could write a salute to Brahms which proves to be a condemnation? Who else could write a symphony about nature and love full of subtexts of friendship, rivalry, even revenge. The more we examine Mahler's music, the more truth we find in his claim that the symphony must embrace everything.
_____________________________________________
I suppose that after the last two blog posts, one could ask if I've strayed from my mission- isn't this supposed to be "a performer's perspective" not a musicological exploration? Should I stick to telling readers what bits are conducted in 2 versus 4, or what it is like to rehearse a Mahler symphony?
Well, I guess, for me, this is what being a performer is all about- looking for all the levels of meaning in the music you perform and then transmitting that understanding to your colleagues and the audience.  Last summer, a friend forwarded a description of me from someone who plays in one of my orchestras. He said some nice things about my conducting, and said that I was "also something of a musicologist." Yikes! Neither qualified nor interested! But, I know what he was referring to (this whole blog?)
The fact is, when I talk to really elite colleagues, I'm struck but how much all of them are "something of a musicologist." What separates a real maestro from a talent is not just their sense of pitch and rhythm or their stick technique, but their understanding of the works they conduct. What really makes a performance isn't how you wave a stick, or how your hair bounces about (but I would say that, wouldn't I?) or your fee, but how deeply you understand, on every technical and spiritual level, what the music is saying- it's about empathy, knowledge, honesty and respect for the music and the listener.
Still, next week, we'll lighten the lifting, I promise!
Mahler in Manchester continues on February 12, 2010 at The Bridgewater Hall. The BBC Philharmonc and Vassily Sinaisky perform Mahler's Symphony no. 3 in D minor and the premiere of Cerha's "Like a Tragicomedy."