There is a great article in today New York Times on guitar stud, Jeff Beck.
(Cool- Jeff Beck)
"You look for the guys who can kick you" as a musician, "and Jeff can be filthy, stinky that way," Mr. Walden said in an interview here. "He's not just melody, or a guy who can make his guitar cry. He's a funky cat too, always thinking about rhythm, and he has a fearlessness that makes him open to all kinds of material."
(Narada Michael Walden on Jeff Beck)
Jeff Beck is a true original, and a musician who has stayed true to himself and continued to grow, experiment, and be a general badass while all around him, rock music dies a horrible, slow death from the lack of all the qualities he possesses- musicianship, originality, attitude and anger.
Jeff can be "filthy, stinky that way." I hope someone will one day say that about my Haydn performances.
In celebration of a rare moment of mainstream media recognition of a great rock instrumentalist, as opposed to a pop star, a man who has never needed a lyricist of a front man, I've dug something out of the archives. Here's a performance of Jeff Beck's "You  Never Know" as performed on my friend Brad Harner's senior percussion recital at Indiana University School of Music. It took quite a bit of trust building to be allowed to do a fusion piece as part of a degree recital- we had to stay  very close to Beck's original recording when we (or at least I) wanted to take it in an edgier, funkier. stinkier direction. Still, there's something satisfying about staying close to that real 70's fusion groove. Producer  and engineer Sean Flora is on bass, keys are Tony Escueta (now a tech guru at Yamaha), Brad on drums and me (all of 19 years old) on guitar. In spite of the fact we'd been admonished to maintain proper recital decorum, I did play the entire last 2 minutes of the song, including the final solo (which is my favorite part of the performance- I can happily skip the first couple minutes and so can you), with the guitar behind my head.
I hope it was an IU degree recital first, but you never know.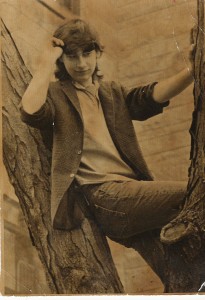 (KW as 19 year-old rocker  posing in a tree. Less cool than Jeff Beck)