The Bridgewater Hall- Mahler in Manchester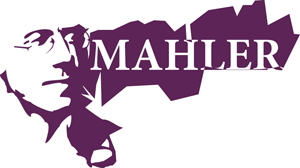 Hi everyone-
I have a crazy turnaround between gigs this week and I need to write something about Shostakovich 7 while the experience is still fresh, so we're callin' in the reserves.
I mentioned to Peter Davison the other day that I wanted to follow up on this piece (please do read it!) about Mahler's song, Nun seh Ich wohl, from Kindertotenlieder.  In recent years, there has been a great deal of valuable research highlighting the importance of Alma's arrival in Mahler's life as being part of the inspiration for the famous Adagietto movement.  For much of the 20th C., many interpreters and commentators assumed that the Adagietto was about death- the later research indicated that it was about Mahler's love for Alma. My point in that earlier post was that the piece is clearly about both love and death, and more- maybe even life. Fortunately, Peter has taken up where I left off.
Since I can't provide the words, I'll do what I'm best qualified for and provide the music. Mahler's song Liebst du um Schonheit was very much a love offering to Alma- he declined to orchestrate it as part of the Ruckert Lieder because it was intended just for her. You can listen to it, Um Mitternacht and an excerpt from Ich bin der Welt abhanden gekommen from my concert with the University of Wisconsin-Madison Symphony and baritone Paul Rowe in December via the links below.  I find it very exciting to hear these gifted young musicians responding to their first encounter with the Ruckert Lieder, and I hope you enjoy their committed playing and Paul's beautiful interpretation.
KW
Love, Life and Death in Mahler's Adagietto
— Peter Davison
I'm grateful to Ken for inviting me to contribute a piece to his Mahler blog. He's off to Cambridge next week conducting the University Chamber Orchestra; another feather in his cap after his successful BBC Radio Four appearance and a powerful performance of Shostakovitch's Leningrad Symphony in Wrexham last Saturday.  Readers will know that Mahler's Fifth Symphony will be performed at The Bridgewater Hall next Thursday 4 March by the Halle directed by Sir Mark Elder. The performance will preceded by a new work by jazz musican, UriCaine called Scenes from Childhood. But now for the blog!
Interpreting Mahler is a source of endless fascination. It is easy to identify in his music a variety of literary references, musical quotations, sound-symbols and other meaningful gestures, yet we can remain unsure what the music means. Mahler himself was often contradictory in what he said about his music and he became very wary of fixed programmes. Yet clearly he wrote music that consists of complex constellations of musical and extra-musical references, which tend to point in the same direction; a direction which the music on its own is usually quite adequate to express. Since music is a language of feeling and psychological process, it doesn't need to have a specific meaning. However, finding the references and sources can still enhance our understanding, even if it is not essential to it. Sometimes in Mahler we know something makes musical and emotional sense, but we simply cannot explain why. A limited deconstruction of the music can provide an explanation and take away some of our puzzlement that Mahler's music at times seems at different levels both to make sense and not to make sense.
But let's turn to the famous Adagietto movement of the Fifth Symphony. Mahler was one of the sharpest intellects that ever took to writing music, so there is always a thoughtful motivation behind the narrative scheme of his symphonies. Readers of this blog will by now already understand that the Fifth Symphony is at one level a reflection upon whether to say "yes" or "no" to life. It is the big question which Nietzsche suggests we all must face in his philosophical work, Also Sprach Zarathustra. He advocates saying an unequivocal "yes"; one which accepts that amidst joy there must be suffering and that to live a full life, we must accept our mortality without fear and resentment. This is because the two experiences – joy and suffering – are inextricably linked, and there can't be one without the other.
So it should be no surprise that Mahler's Fifth Symphony opens with a fateful trumpet fanfare and a gloomy funeral march. This is followed by an explosion of un-containable grief which threatens to make the symphonic argument collapse altogether. In the work's second movement, there is an outburst of anger and grief, interspersed by moments of gloomy introspection and the painful reminiscence of past woes. But there is also a struggle for transcendence which offers us a brief glimpse of the symphony's goal; a magnificent D major chorale. But even after we have seen dry-land amidst the storm, the music once again sinks into nihilistic despair. What stands in the way of the longed-for goal? Some demon in Mahler (and us) cannot let go of the doubt created by past negative experiences and the nagging reality of death. The first part of the symphony seems to say; we are all tragic victims, play-things of the gods who vent their anger upon us helpless human beings, whose hopes and desires are inevitably thwarted. If this were truly so, then life would be hardly worth living!
Part II of the symphony is less intense than Part I, as if the trauma of Part I is being held at arm's length. The bitter-sweet scherzo hesitates between saying "yes" and "no" to Nietzsche's big question. The movement seems to draws us towards the dance of life and yet, at the same time, pulls us away into melancholy and loneliness. The music alternates between world-weariness and a state of wild intoxication. Life is presented as both enticing and frightening. The passage of time and the proximity of death seem to rob life of hope and meaning, yet the finite nature of man and his existence are also the very essence of life's joys. So how can anyone decide what attitude to adopt? With that big question still unanswered, we come to symphony's third part and its fourth movement, the famous Adagietto. Ken has already hinted that this movement may be about both love and death, and his view makes good sense. Part one of the symphony is about the fact of death and the emotions associated with it. Part two (the scherzo) shows how fleeting life's pleasures can be. The invitation to life is symbolised in a waltz with a seductive woman who lures a man to his fate with the promise of earthly delights. But in Part three, beginning with the Adagietto, we enter an intimate inner space where time stands still and where the vicissitudes of life cannot touch us. But  the refined sensuality of this music tells us that we are no longer being tempted into a dance to the death with a femme fatale, but that erotic feeling has become something less sinister.
How does Mahler achieve this? There is an obvious melodic connection between the Adagietto and the song "Nun seh' ich wohl" from the Kindertotenlieder. In that song, the rising three-note figure expresses poignant yearning and pathos. The grieving father recalls the glance of the lost child which had previously intimated its tragic destiny and longing for eternity. The eyes are thus a window upon the soul, allowing us to glimpse the deepest reality of the other. In the Adagietto, the mood is serene, rather than grief-stricken, but the gesture of spiritual intimacy is the same. The promise of hedonistic oblivion in the scherzo has here become spiritualised. Sexuality has become personalised and life-giving. Compare this with Tristan and Isolde! In that work, the lovers feel they can only achieve true union in death because, beyond the human world, nothing can intrude upon them, nor apply limits of time and space to their feelings. Mahler seeks a similar release from worldly limitation in the Adagietto, but he achieves it here and now in the security of his inner world. In the Adagietto, the spiritualization of sensual desire is achieved by the death of the ego in relation to the temporal world. But it is not a lonely place, as Mahler suggests a very human kind of love, filled with tender regard for the other and which relishes human intimacy as the gateway to the life of the soul. He is not searching for some intoxicated climax of feeling that can lead only to a life-rejecting suicide-pact. For Mahler, love is something renewing and creative which should give us the zest to go into the world at ease with ourselves.
So it doesn't really matter whether the Adagietto was written as a love-token for Alma or not, nor in what sense it advocates abandoning the world. It is primarily an appropriate slow movement for the scheme of the Fifth Symphony. The movement finds profound relationships between love for the other, the death of ego and achieving transcendence. We might sum this up and say that the movement restores Eros, and this may help us to understand better why Mahler made a musical portrait of Alma in the Sixth Symphony and why he was inspired to joyous reverence for the feminine in the Eighth (which Mahler later dedicated to Alma). A word of warning though- we must be careful not to confuse Alma the real person with Mahler's idealisation of her. He wanted her to be a conflation of great physical beauty and a soul-mate, but this led to unrealistic expectations and blindness to her weaknesses; problems which in the end got the marriage into serious trouble. Alma certainly helped Mahler feel good about himself and stimulated his creativity, but perhaps she achieved this more by what she represented than what she actually was. Later she awoke very painful emotions in Mahler. But it was the burden of Alma's whole life to be a creatively gifted woman in her own right who yet had to play the role of a passive muse and nurse-maid to the art of others. It was a role she both valued and despised, resulting often in serious tensions between her and the highly talented men she captivated.
But back to the Fifth! After the scherzo, the structure of the symphony provides a mirror-image of the first two movements, but now transformed into their opposites. The Adagietto is thus paired with movement number two. Instead of extroverted anger, conflict and striving, we now have introverted calm and sustained lyricism. The wind and brass fall silent, and we hear the harp as if it were the lyre of Orpheus, enchanting and praising the gods, singing with a beauty that restores their sympathy for humanity. Mahler has this Orphic side to his musical personality. He believed that music allowed him both to address and express the divine. To underline this mood of transcendence, the Adagietto encompasses thematic links to several of the Ruckert songs composed in the same period. Ich bin der Welt abhanden gekommen, of course, suggests a blissful retreat from the world, but there is also Um Mitternacht – At Midnight, which alludes to the Nietzschean idea that light lies buried amidst the darkness. We can also hear in the final bars the tender lyricism of Liebst du um Schonheit – which was indisputably written as a love-gift for Alma. While pondering these Ruckert connections, I also re-read Nietzsche's Midnight Song in its more extended version and found the following passage:
"Sweet Lyre! Sweet Lyre!  Your sound, your intoxicated, ominous sound, delights me! – from how long ago, from how far away does your sound come to me, from a far distance, from the pools of love!…The world itself has grown ripe, the grapes grow brown, now they want to die, to die of happiness. You higher men, do you not smell it? An odour is secretly welling up, a scent and odour of eternity, an odour of roseate bliss, a brown, golden wine odour of ancient happiness, of intoxicated midnight's dying happiness which sings: The world is deep; deeper than the day can comprehend!"
This sums up the atmosphere of the Adagietto perfectly, and its role in the symphony becomes clearer. In deep contemplation, we connect with something that allows the "yes to life" to be said, Something profoundly beautiful emerges which gets us past the anxiety of Part I. Mahler suggests that beneath the surface of things, something is born from the inner life which is not subject to fate and which can transform the victim-feelings of the symphony's opening into joy. We may call that thing love, the divine presence or simply a state of intimate being, but whatever we call it, it connects us to the eternal realm. And after this axis of transformation, Mahler can honestly assert his "yes" to life. The funeral march of the work's opening turns into its opposite; the exuberant, life-affirming Rondo Finale.
If you think that this transformation is musically a bit shallow, then listen again to the opening of the Adagietto. The harp plays an ambiguous C and A motif, the strings enter and the rising melody begins, but only when we reach that upward leaning E which resolves to the F are we sure that this is F major and not A minor. A minor is the key of the second movement, and faint hints of the angry minor third heard from its beginning can also be found in the Adagietto at bars 19-22. The flattened minor sixth and 'Neapolitan' inflections (that is B-flat in A minor) which create a lot of the angst in the second movement are also heard in the Adagietto, but reharmonised. We can hear the same notes and intervals, but accompanied by F major harmony, so that they become contained within a serene and expressive cantilena.
I could go on showing other links between these two movements, but you will have the idea by now. Mahler is always eager to show us that opposites belong together. It is paradoxical, but he proves his point musically by showing how closely related these things are; with only a small change of harmonic context and a slower tempo, the same musical ideas are rendered unrecognisable. In the song Um Mitternacht, the dark night of the soul leads to a triumphant vision of the light. So also in the Adagietto, at midnight, in deep repose, perhaps even looking into the beloved's eyes, the whole mystery of life is revealed, so that when dawn comes, the symphony's hero is ready to face life positively. Mahler shouts out his "yes" to life, after he has found the love to heal the wounds with which the symphony began.