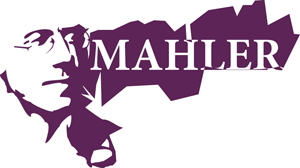 Many, many years ago, as a young teenager, I became completely obsessed with Mahler's music. Back then, living in the Midwest, there was far less material on Mahler about- I ended up scouring libraries and compulsively hunting through record stores, trying bit by bit to track down recordings of all his works. In the age of LPs, Mahler's music was far rarer, often painfully expensive and sometimes hard to find. I kept checking out Karajan's Mahler 6 from the local public library for over two years until I could finally get a copy in at the local record store to buy.
I remember that process like being sucked into a long novel that you feel compelled to finish as fast as possible. It wasn't long from when I first started actively learning about his music that I discovered the 10th Symphony. I managed to track down Rattle's then brand- new LP of it with Bournemouth, which had the wonderful bonus of tremendously interesting program notes by a man named Michael Steinberg. Michael would later become a dear friend and wise mentor- life is funny that way.
I became fascinated with Mahler's progression as a composer, and particularly with where he was at the end of his journey. I suppose that is just typical teenage attraction to the vaguely morbid and melancholy. I was so taken by Mahler's evolution from the completion of the 7th, which seems in retrospect the end of the main part of his creative life, through the 8th, Das Lied von der Erde, the 9th and finally the 10th. Mahler was not an old man, and these are not morbid nor fatalistic works, yet to me, they still seem to be part of a final voyage. I never could imagine a next after them. Perhaps that is simply a response to my superficial knowledge that they were his last pieces. If someone had told me that the 5th or the 6th were his last pieces before I knew better, what might I have thought they told me about Mahler and about music and creativity?
Still, this mystery of where, if anywhere, a composer could have gone given another year or even another week has always fascinated me. The interest in this music for me has never been about whether a given tune was intended for horn or clarinet, or if a countermelody might be added. From Mahler 10, I quickly took on the larger question and for a school project put together a huge presentation on the idea of "late style" in music.  Of course, there are the obvious parallels in other un-finished works like Bruckner 9 and the Mozart Requiem, but it's not just a question of how those works might be different from the torsos we are so familiar with, or of what else those composers might have gone on to write that fascinated me then, and that, all these decades later, still fascinates me.
Not all composers have a true "late" style- Bruckner, Mahler, Schubert, Shostakovich and Beethoven all do, but not all of them were old when they entered that period of their creative lives. I think. Schubert's is the most striking, and he was so young. Is it appropriate to call the music of a man in his early 30's a "late" style of composition? In Schubert's case, my strong conviction is yes. Unfashionably intuitive as such a statement is, I can't help but feel convinced that works like the Cello Quintet, G Major String Quartet, Die Wintereise and the last Piano Sonatas are very much the works of a man who knew he had entered a final chapter in his life. In so many moments in late Schubert, I can't escape the feeling that his music is taking me as close to an idea of what the next stage of existence might be as can possibly be communicated between two people who are still in this world. Likewise in late Beethoven or late Mahler- one is not only astounded at the musical quality of the works, but also at the profound understanding ephemeral nature of life that comes through in the music.
And yet, of course, had a shot of penicillin been available, Mahler might have gotten up from his death bed, completed the 10th and gone on to write for many more decades. He and Strauss could have kept their rivalry going into the 1940's, and the 10th might have simply been seen as a document of the end of Mahler's first marriage.
I must accept that such a thing could have been possible. Sometimes, we find new information that changes our understanding of a final work. For years, we believed that the Adagio of Bruckner's last symphony was the last thing he wrote- his final, profound thoughts. We now know that he had almost completed the Finale. Had it not been for the greed of souvenir hunters who ransacked his house in the hours after his death, we would now have a Finale of Bruckner 9 that is essentially complete. Where Mahler had completed his 10th in short score, Bruckner had finished the orchestration of  most of the surviving fragments of his 9th. This means Bruckner had probably finished the creative work on the symphony and was well into the final details of orchestration and revision when he died. The Adagio was not his farewell. I couldn't imagine what Bruckner could have done after the Adagio, but he could.
So, Mahler might well have lived to put the 10th in a different light entirely, but  my heart tells me that the last three works by Mahler were, like the last string quartets of Beethoven and the late works of Schubert steps nearing the end of a great creative life. Any of them could have been the end, and he made sure that they were each worthy of being the end.  As the great comedian once said- live each day as if it were your last, and one day, you will be right.  Each is its own work- the nature worship and evocation of a distant Oriental dreamscape is unique to Das Lied. The 9th seems wound up with the loss of his daughter and the loss of culture- in the Rondo-Burleske it is easy to sense Mahler feeling that his city, Vienna, had turned on him. And, yes, the 10th certainly brings to a head the long musical relationship to Alma the muse and tormentor, who has been the primary recurring character since the 5th Symphony.
But, in each of these works, Mahler's autobiography seems ever less relevant, however poignant the story is- his message is ever more universal. I continue to sense in all three pieces that he is deeply aware that he is nearing the end of his journey, but rather than leaving us to wallow in his grief, these pieces are profoundly, profoundly hopeful, cathartic and transformative. In the last pages of the 10th Symphony, Mahler seems to have left suffering and fear far behind- he no longer turns to the naïve hope of a blissful afterlife so wonderfully evoked in the 4th, but instead creates bliss and transcendence through art itself.