There's a perceptive new review of the Gal Violin Concerti and Triptych disc at Amazon.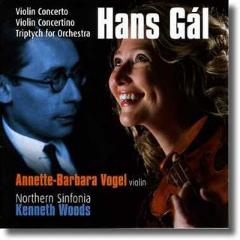 "5.0 out of 5 stars Hans Gál's music finally receives the recognition it deserves…, 13 Nov 2010
By J A Peacock for Amazon
Hans Gál was born just outside Vienna in 1890 and achieved significant success in interwar Germany as a composer and as an academic. Perhaps unsurprisingly, his musical style is deeply indebted to that "Grand Tradition" of Viennese art music and Brahms is a palpable influence in his earliest works; although he later went on to develop a very personal idiom it was one that nonetheless remained firmly allied to tonality (albeit applied in a highly sophisticated manner) and melody. Forced to emigrate on the accession of the Nazis to power, he was to settle in Scotland and taught at Edinburgh for much of the remainder of his long life. His subsequent reputation in his adopted homeland as a scholar and musicologist has somewhat overshadowed his compositional activity but recently record companies have begun to accord his music the attention it surely merits.
The violin concerto that opens this programme dates from 1932 and is an immediately appealing work with its beautiful lyrical writing. The lucidly argued opening movement in particular has a wonderfully mellow atmosphere – this isn't a display piece that plays to the gallery – and that is reinforced by the prominent and extremely grateful scoring for the woodwind. Throughout Gál orchestrates with a light touch and his textures have an admirable and refreshing clarity to them. The subsequent movement, labelled `Arioso', occupies a similar sound world, although occasional shadows move across its landscape; it leads directly into the concluding `Rondo', a movement that combines puckish wit with fulsome lyrical episodes that build upon the tone set in the earlier movements. At half an hour in duration this is a substantial and impressively cohesive score, deeply satisfying and fully deserving of a place in the concert repertoire.
The `Triptych' that follows is a much later work, hailing from 1970, yet the essentials of Gál's style remain; the subtitle, `Three Movements for Orchestra', belie the scale of the work, its closely argued progress resulting in a symphony in all but name. Polyphony is a staple of Gál's working method and his mastery of contrapuntal writing is often on display here. Perhaps some of the thematic material is a little more angular than in the concerto, resulting in an occasionally harder edged tone – there is an occasional harmonic astringency that underlines that mood, which contrasts with the relaxed atmosphere of the concerto of forty years earlier, but these elements are balanced by the application of his innate gift for long lyrical passages, a warmth of expression that is often quite moving. The central `Lament' again makes effective use of the woodwind, with some particularly lovely passages for clarinet – as a whole the movement is less grief-stricken than its title would suggest but it is no less successful (indeed, perhaps it is even more so) in its import for Gál's understated expressive means. The boisterous opening bars of the final `Allegro con spirito' make for a startling contrast at first, though the song-like return of the clarinet at just under a minute and a half in reinforces the emotional connections between all three movements. The finale is titled `Comedy' and it rounds the work off in cheerful fashion, having displayed an impressive variety of mood and orchestral texture during its course.
With the concertino for violin and orchestra, op. 52, we return to the inter-war years although, dating from 1939, the work was written at the beginning of Gál's exile from Austria. The work was neither performed nor published until after the war, unsurprisingly given the strain the Gál family were under during that time (which included internment in a British camp for Austro-German residents and the tragic suicide of Gál's younger son, Peter). The almost pastoral opening bars of the work give little suggestion of the dark clouds hanging over Europe or, indeed, the personal suffering and uncertainty that Gál had endured in the years immediately preceding his emigration. Something of the sadness and anxiety of those times does inform the music as the movement progresses however; although the orchestration remains refined and deftly deployed, the overall effect throughout this `Andante tranquillo' is a rather more subdued one than we have heard on much of the disc so far. An `Allegro giusto' follows without a break and here too the dancing primary material is contrasted with lyrical writing that bespeaks a certain resignation, though one that is no less warm-hearted in tone than you would expect from this composer. The work ends on an upbeat note that suggests Gál was essentially positive in his world view, however.
Although I am familiar with the work of the Northern Sinfonia, the conductor Kenneth Woods and violinist Annette-Barbara Vogel were quite new names to me. Both prove to be impressive advocates for the music here and Vogel plays as though she has been performing these works for many years. The orchestra's responses are crisp and assured and Avie, which deserves the highest praise for undertaking this project, has captured all the performances in pretty much ideal sound I would say.
This really is a tremendous disc. I am loathe to categorise Gál's music here as "Neo-Classical", a far too narrow epithet for music of such range and emotional weight, yet his precise control of musical forms, his beautifully balanced movements and sense of poise overall make it hard to totally avoid that suggestion, especially as a way of defining his position as an inheritor of Viennese symphonic traditions in antithesis to peers such as Schmidt or Zemlinsky. It is perhaps best to sum up in saying that Gál was very much his own man, while remaining aware of the rich, musical history his background had bequeathed to him. Anyone who is interested in twentieth century music in its less avant-garde manifestations will surely find this exemplary introduction to Gál's music infinitely rewarding.
This generously filled CD is the sort of release that makes one wish Amazon offered the reviewer a `5-star-plus' option and, as such, comes unequivocally with the highest recommendation."
Now available from Amazon.com or Amazon.co.uk, MDT or ArchivMusik