It's Brahms 1 week here at Vftp, and to bring in some fresh perspective, I thought I would get some thoughts on the work from another Brahmsian, my friend, the American conductor, Jonathan Pasternack. Jonathan and I met when we were both based in Oregon- he as Assistant Conductor to the Oregon Symphony, me as music director of the Grande Ronde and Oregon East symphonies. He even filled in for me for a few OES rehearsals. Small world!
Jonathan has just released an exciting new recording of the Brahms (paired with Bartok's Miraculous Mandarin Suite) with the London Symphony Orchestra on Naxos. He is also currently finishing a new book on Brahmsian performance practice in collaboration with Bernard Sherman and Styra Avins. I asked Jonathan about the two projects, his relationship with Brahms' music and his thoughts about the challenges and traps this music poses for a conductor. I started by asking him about the coupling of Brahms and Bartok, which some critics have found problematic. I dig it- it is a perfect introduction to Jonathan's gifts and passions as an artist, and I think that's a great reason for a coupling.
I think there's a lot to admire on the new disc. I particularly like the Andante sostenuto of the Brahms, where Jonathan elicits from the LSO some of the most intimate and delicate piano and pianissimo playing I've heard in this piece . Click here for a listen to whet your appetite for the whole disc.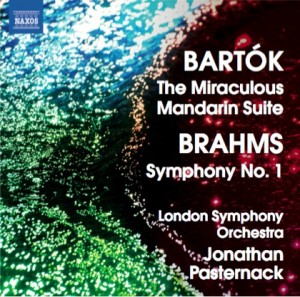 Jonathan, you chose quite a program for your debut CD- Bartok's Miraculous Mandarin Suite and Brahms 1. How did you choose the program, and how big must your cajones be to record Brahms 1 as an emerging artist? Are you just a crazy mofo?
Well, Ken, I certainly had the whole repertoire from which to choose!  For example, I could have just as well selected unknown works in which critical comparison would have been well nigh impossible.  It might have made marketing difficult but my aim was to give my audience two very contrasting works that were very close to my heart.  Brahms is my ideal and the first symphony makes a statement like none other of his works.  The Bartok was one of my teacher Peter Eros' showpieces and I chose it in his honor.  They both also represent the artistic tradition from which I feel I come, because of Eros' great influence, in a direct line to Eros from Szell, Fricsay, Klemperer. Also, both works live or die in performance as a direct result of what the conductor does–they don't go by themselves.  And I was inspired by that challenge as well as those unbelievably wonderful scores.
More seriously- you've told me many times that the Brahms symphonies were really front and center in the repertoire, and the music you most wanted to record.  Can you tell readers a little bit about your relationship with Brahms' music? Was there a pivotal, transformational moment or performance that got you hooked?
Brahms' music has been an important companion for me in my life, ever since my parents shared their own love for the composer with me in my childhood.  I plan to conduct all of his 'conductable' works; next year, I am looking forward to opening a program of orchestral and choral music with his opus 17 songs for women's choir, horn and harp. Such beautiful music!
How has your relationship to the Brahms symphonies evolved over the  years? Has your interpretation changed? How would your next Brahms 1 compare to the recording you've just released?
The symphonies of Brahms and of Beethoven used to seem like mountains that I would never be able to summit because of the depths of their mysteries and the perfection of their construction.  How could I perform these works if I couldn't fathom the 'meaning' behind them?  But at some point, the Shakespearean actor must confront his Hamlet or her Cleopatra, must see those roles as ready-made characters that are open to performance as long as the performer remains honest and does the needed homework. Whether or not the 'interpretation' is heard to be inspired or not, that is the determination of the audience.  So far, I have received both excellent and rather damning reviews for my disc, which suggests to me that my work has had great impact upon some people, no matter if they loved it or hated it.
Robert Pascall wrote the liner notes for your recording. Of course, he edited the new Urtext edition (published by Henle, distributed by Breitkopf)? Does the new edition have any big surprises or revelations in it, especially compared to the old Complete Works edition edited by Hans Gal? Which did you chose to use, and did you do any re-touching?
Pascall's notes were provided by Naxos.  We used the Breitkopf/Gal materials. By the way, I loved your Hans Gal CD!  You might find this interesting: the last conductor before me to conduct the Brahms at the LSO is also a composer and decided to make certain changes/additions to the Brahms score when he performed it with the orchestra.  The timpanist contacted me well ahead of the recording dates and asked if I wanted him to utilize this conductor's 'revised' timpani part for the finale, in which he interpolates a modulatory passage that he was sure Brahms would have written if the composer had had access to modern equipment.  I declined.  You also are aware of the 'tradition' of adding the first trumpet to the fortissimo return of the chorale theme, making it the leading melody instrument in a rather Mahlerian manner.  The wonderful first trumpeter at LSO offered this but I decided not to vary from the printed score.
You are co-writing a book on Brahms performance practice provisionally called Brahms and the Meiningen tradition. Meiningen, of course, was the home of one of Brahms' favorite orchestras, a small ensemble of less than 50 players conducted by von Bulow and later Steinbach. On the other hand, you've chosen to record your first Brahms disc with the LSO. Without giving too much of the book away, is the lesson of Meiningen how many were playing,  how they played or both? Or neither? Are there any spots of the disc that were influenced by your research into Meiningen?
This is a fascinating topic.  The main subject of this typescript, which I translated into English and which will form the main body of a publication co-authored by Bernard Sherman and Styra Avins, was the interpretation of the four symphonies and Haydn variations by the German conductor, Fritz Steinbach, who was Brahms' friend and was greatly admired by the composer as an interpreter.  Most of the interpretive points covered in the material have to do with dynamic balance, phrasing, elasticity of pulse, and some interesting stylistic issues, including when NOT to use vibrato (clearly showing that, contrary to the opinion of some outspoken 'authentic practice' conductors, playing with some kind of vibrato was the norm for these works and not the exception).  Rather than having followed these ideas as from a rule book, though I did adopt a number of specific ideas, I was inspired rather by the broader concepts of Steinbach's approach, including elasticity of pulse, clarity of instrumental texture, and the importance of rhythmic stress on the dramatic pacing of the music.
The late, great Sir Charles Mackerras based a great deal of his widely praised Brahms cycle with the Scottish Chamber Orchestra on research into the performing traditions at Meiningen. For me, that set, marvelous as it is, highlights one of the danger of trying to read up on how past masters conducted the Brahms symphonies, where they took time, where they sped up. Some of the resulting rubati one tries to re-create can sound awkwardly pasted on to the performance. Do you have any advice for young conductors on how to internalize or extrapolate from a description of a historic performance so that they're able to come up with something of their own that incorporates what they've learned about a passage in their research without it sounding artificial or awkward?
Yes, I do. Follow the music where it seems to lead you naturally.  As Peter Eros liked to say, you can never put on the skin of another musician, so don't bother–it would only lead to an artificiality in your performance. Rather, be clinical in your listening, if you want to study the recordings of the past interpreters (and, why not do that?), and dissect the phrasing, the nuances, and ask, where does this or that 'individual' turn of phrase come from?  Did it actually work for conductor X or is the effect too blatant?  Is there something in the music that would suggest doing it, like a dramatic (or subtle) harmonic change or a variation in orchestral texture?
I assume you had a long acquaintance with Brahms 1 before you went into the studio to record it with the LSO. Did the recording process offer up any surprises, discoveries or issues you hadn't encountered in previous performances?
One of the things I love about our art is how we can come back to scores, so 'well known' and traversed, and treat them in a way like new discoveries.
Do you have any interest in doing Brahms with chamber orchestras or period instrument bands?
It would be interesting.  There is a saying going around that Brahms' symphonies are like 'chamber music.'  For me, all orchestra music is chamber music, but the chamber is sometimes pretty big!  I mean, that the same high focus and responsibility of each individual player is crucial in both the smaller and larger situations, indeed, every voice is important and every player is a vital part of what makes up the organism of the musical ensemble.
The violinist Josef Joachim, Brahms' close friend and frequent collaborator, is often cited as evidence that players in Brahms' time didn't use vibrato, at least not in the modern way. What is your take on vibrato in Brahms' orchestral music?
That's the key: at least not in the modern way.  Vibrato has become less of a condiment in modern playing and more an ever present staple.  There is so much variety that can be achieved through the use of different approaches to vibrato within pieces as well as to differentiate between different composer styles.  But the facile solution is the vibrato on/vibrato off solution: obviously, it saves gobs of rehearsal time but you are missing out on an amazing world of sound possibilities.   But the brief answer is, yes, use vibrato in Brahms orchestral music and, if you have the time and the inclination/imagination, seek out the places where the music is best served by varying the vibrato color.
A lot has been written about tempo relationships in Brahms 1. For instance, some people think the 8th note at the beginning of the 1st mvt should equal the dotted-quarter of the Allegro. Many have tried to offer fairly complicated theorems about what the relationship is between the speed of the various sections of the Finale. What is your approach and why? Does the fact that Beethoven seemed to studiously avoid direct tempo relationships within movements of his symphonies come into your thinking about Brahms?
Tempo relationships in great composers are part and parcel to the way in which all the elements of great music are organically interwoven, inter-related.  Sure, I think there are 'approximate' relationships in tempo between sections. They might even exist between the movements themselves.  But what is crucial is that these relationships not become the be all and end all of the performance, pedantically stamped onto the performance so that "every one hears it."  I think that there might be some of our colleagues who, perhaps for lack of other inspiration, make these things the most important part of their interpretations.  Maybe Brahms, if asked about tempo relationships, would have replied: "Das bemerkt ja schon jeder Esel!" Specifically, I do think there is a basic relationship between the opening of the first movement and the allegro, as you suggested.  Another thing about this first movement's tempo is that there is a clue to the overall pace of it in Beethoven's Seventh symphony. In that work, the older composer opens the argument with Poco sostenuto in Alla breve, followed by a Vivace in 6/8 meter.  For Brahms, the entire movement (save for one bar of 9/8) is in 6/8.  His first section is marked Un poco sostenuto, which for me is an obvious reference to the Beethoven 7 opening.  The following sonata movement in the Brahms is marked Allegro (6/8).  For me, the suggestion is that the Beethoven, in both character and speed, is markedly different from the Brahms. So often, you hear this Allegro played so swiftly, it could be taken for a Vivace!  But, then again, although I obviously see this movement as weightier than some, hopefully the flow of the music and its overall shape, architectonically and such, were not impeded by my strong sense of having found close to the 'right' tempo.  If this worked, I was approaching my goal; if not…
(Click here to listen to the tempo relationships in Jonathan's recording between the Un poco sostenuto and Allegro of the first movement, or here for the relationship between the Adagio and Piu Andante of the Finale)
About JP:
Jonathan Pasternack has conducted orchestras, opera and ballet in the United States and Europe, with such ensembles as the London Symphony Orchestra, Residentie Orkest of the Hague, Scottish Chamber Orchestra and the National Symphony Orchestra at the Kennedy Center, among many others. His debut recording, leading the London Symphony Orchestra in Béla Bartók's Miraculous Mandarin suite and the Symphony No. 1 by Johannes Brahms, will be released in January 2011 on the Naxos label. He  is Director of Orchestral Activities at the University of Washington School of Music during the 2010-11 academic year.
His opera conducting experience includes productions of Tosca, Don Carlos, Die Fledermaus, The Turn of the Screw, Les Dialogues des Carmèlites, Cendrillon, L'enfant et les sortileges and Il barbiere di Siviglia. He led the Paris premiere of Robert Clerc's Á l'ombre du grand arbre and the world premiere of The Prestigious Music Award by Gloria Wilson Swisher at Shoreline Community College. He recently conducted performances of Wayne Horvitz's chamber opera-oratorio, The Heartsong of Charging Elk, as part of an educational tour presented by Washington State University in Pullman and Vancouver.
Born and raised in New York City, Jonathan Pasternack studied violin, cello, trombone, piano and percussion. He won a trombone scholarship to the Manhattan School of Music at the age of sixteen and later transferred to the Massachusetts Institute of Technology to pursue studies in astronomy, philosophy and political science. He earned master's and doctorate degrees in music from the University of Washington, where he studied conducting with Peter Erös and trombone with Stuart Dempster. His other conducting teachers and mentors have included Neeme Järvi, Hans Vonk, Valery Gergiev, Jorma Panula, James DePreist, Murry Sidlin, and David Zinman. At the invitation of Mr. Zinman, Jonathan Pasternack attended the Aspen Music Festival and School as a featured Academy Conductor, where he was the recipient of fellowships in both conducting and trombone. In 2002, he was awarded Second Prize at the Sixth Cadaqués International Conducting Competition in Barcelona, Spain, where he was the only American invited to compete.
Dr. Pasternack has served as Assistant Conductor with the Oregon Symphony, Resident Conductor and Managing Director of the Icicle Creek Music Center in Leavenworth, and Visiting Director of Orchestral Activities at Pacific Lutheran University. He has served as guest faculty at the University of Washington, Central Washington University, East Oregon University, Pacific University, Conservatoire de Maurepas in France and Conservatoire Supérieur de Musique de Genève in Switzerland.
Copyrighted material is reproduced here without profit under relevant international Fair Use provisions for educational purposes only, and will be removed by request. All rights are reserved by the copyright owners.