A new review by Michael Tumelty in The Herald, Scotland for the new Orchestra of the Swan recording of Das Lied von der Erde and Lieder eines fahrenden Gesellen, published 12 June, 2011.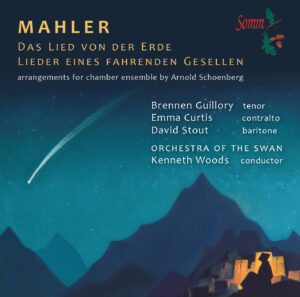 Orchestra Of The Swan
Kenneth Woods, conductor
Mahler: Das Lied Von Der Erde etc
(SOMM)
I wonder, I just wonder, if the arrangements made by Arnold Schoenberg and his circle for the composer's Society for Private Performances might actually become fashionable. They have languished somewhere between obscurity and neglect for many decades, but now seem to be emerging….. A team from the Bamberg Symphony Orchestra will bring the scaled-down Mahler Four to the festival, and very recently I wrote about the Orchestra Of The Swan's superb recording of that piece. Now here they are again, on Somm, with a fabulous, dark version of Mahler's Wayfarer Songs with baritone David Stout and an enthralling Song Of The Earth with tenor Brennan Guillory and Emma Curtis. Something is going on.
Michael Tumelty
Purchase here direct from Somm Recordings