Critic, blogger and Mahlerian Gavin Plumley has offered up a thoughtful review of the my new Orchestra of the Swan recording of Mahler's Das Lied von der Erde and Lieder eines fahrenden Gesellen (as arranged by Schoenberg)  at his excellent blog, Entartete Musik. A short sample follows.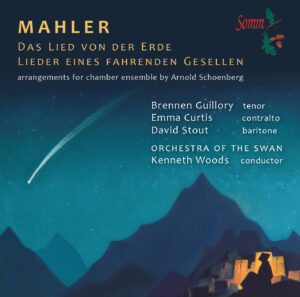 "Schoenberg's Verein für Musikalische Privataufführungen provided a brilliant catalyst for re-evaluating established repertoire. Waltzes by Strauss, Schubert's songs and Debussy's orchestral works found new voices in arrangements by Schoenberg and his coterie. Kenneth Woods and the Orchestra of the Swan have released a new disc on Somm surveying the arrangements of Mahler's songs: Schoenberg's 1921 version of the Lieder eines fahrenden Gesellen and Rainer Riehn's completion of his version of Das Lied von der Erde. If the voices on the disc are a little too rich for the chamber environment, Woods elicits piquant precision from the Orchestra of the Swan.
Within the opening bars of 'Wenn mein Schatz hochzeit macht' Woods brings out a wonderfully deliberate pizzicato in the lower strings. It provokes a highly rhetorical and responsive performance of the Lieder eines fahrenden Gesellen…. with tight but light playing…. the shifting temperature of Mahler's world is painted with precise splashes of colour…
Woods brilliantly captures the contrasting desolation of the second song… here, as throughout the disc, the instrumentalists are in superb form, playing with Jugendstil sweep at the close and a brittle chirpiness in 'Von der Jugend'…"
Mr Plumley's one caveat seems to be that I should have used lighter voices with the chamber arrangements. It's a criticism I anticipated (and it is a fair and legitimate point of view), but not one I entirely accept. As long as the balance between voice and orchestra doesn't suffer, I think it's important to use the voice types Mahler had in mind, as there is all kinds of symbolism tied up in the three voice types. To me, "Trinklied" needs to be sung by a Siegfried or a Tristan, not a Nemorino or a St Mattew Passion narrator. There's a blog post in that, to be sure…. Anyway, your best bet is to buy the disc and see what you think.
Purchase here direct from Somm Recordings