A new review of  our new Orchestra of the Swan Mahler disc in the Birmingham Post by senior critic Christopher Morley. The Post doesn't have CD reviews on their website, so the complete review is below.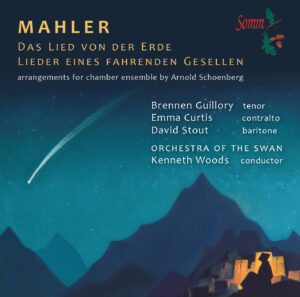 MAHLER: LIEDER EINES FAHRENDEN GESELLEN, DAS LIED VON DER ERDE: Orchestra of the Swan/Woods (SOMMCD 0109)
(for classical CD review 23.6.11)
A few evenings ago 2200 of us were pinned to our Symphony Hall seats by Simon Rattle's interpretation with the CBSO of Mahler's Das Lied von der Erde. This new SOMM release brings us an entirely different account of the dying composer's great song-symphony, namely in the reduced orchestration Schoenberg instigated for the charitable "Society for Private Musical Performance" in 1921.
That this works is hugely due to the wise, probing shaping of conductor Kenneth Woods, but even more so to the expert players, virtually soloists here, of the Orchestra of the Swan, recorded in live performance less than a year ago at the Townsend Hall, Shipston-on-Stour.
Brennen Guillory brings a genuine Heldentenor timbre to his bucolic songs, and Emma Curtis deploys an amazing range of colours in her introspective settings.
Baritone David Stout characterises the much earlier Lieder eines fahrenden Gesellen wonderfully, despite an opening which sounds languorous rather than world-worn.
Click here to buy from Presto Classical
Purchase here direct from Somm Recordings