Today's edition of All Things Considered, the greatest radio show on the planet (one thing I really miss about America is listening to ATC while driving and cooking), featured a review of the Orchestra of the Swan recording of Hans Gal's Symphony no. 3 (Bobby and Hans volume 1).
The broadcast is archived on NPR's Deceptive Cadence blog, where you can alos hear an extended excerpt of the Finale of Gal 3, as well as excerpts from Michael Gordon's "Timber," The Sixteen's new recording of Palestrina's Vulnerasti cor meum and the Poulenc Concerto for Two Pianos, played on vintage Erard pianos by Anima Eterna. That's right- Poulenc on original instruments!
"The Austrian-born composer Hans Gal has been way off the radar screen until just recently. His Symphony No. 3 languished unplayed for 55 years. Like so many European composers, Gal had to flee the Nazis, eventually landing in Scotland. So hats off to conductor Kenneth Woods and his Orchestra of the Swan who have been making a case for Gal's elegantly built orchestral pieces which look back fondly to the German romantic era of Schumann, Brahms and Richard Strauss. Here's hoping this is the beginning of a substantial Gal revival."
Nothing can help that renewal like getting the music heard. Thanks NPR!!!!!!!!!
Get your copy direct from Avie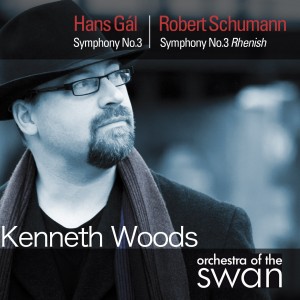 The Bobby and Hans project depends on the generous sponsorship of music lovers and friends of the Orchestra of the Swan. Without your help, much of the orchestral music of Gal will remain unheard. We hope you will give what you can to keep the music playing.