A new review in the September Classic FM Magazine of Bobby and Hans volume 1 from Andrew Mellor, now on newsstands. An excerpt follows: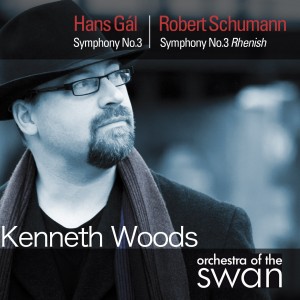 Get your copy direct from Avie
Order Here from Presto Classical
From Classic FM Magazine
September 2011
Schumann, Gal
**** (Four stars)
"Rhenish" Symphony No. 3 (Schumann)
Symphony No. 3 (Gál)
Orchestra of the Swan/Kenneth Woods
Orchestral Avie AV2230
The Music: Schumann's free-flowing melodic depiction of the River Rhine was—for his Edinburgh-based biographer and devotee Hans Gál—his "most outstanding achievement in symphonic style." Gál's own Third Symphony of 1952 is a real discovery: confident, rich music in the late Romantic idiom that has bags of souls and the residue of a genuine expressive thirst.
The Performance: It's an obvious yet inspired decision to combine these two "Thirds" on disc…That said, there's absolutely nothing wrong with their Rhenish, which is well-paced with a particularly effective Scherzo and some very stylish string playing. It's adventuring through the Gál, though, that brings the best from Woods and his musicians. A sense of excitement quickly creeps into the throbbing pregnancy of the first movement and the players have you hooked thereafter—blossoming as an ensemble and as individuals through the works well-upholstered and contented richness.
The Verdict: Gál is truly worth rediscovering ; Woods's recording project for Avie has intrigued and delighted me and I'm only left wanting more. If you like late Romantic orchestral music with a Viennese accent, don't hesitate.
Want More? A no-brainer: Kenneth Woods's stunning Avie recording of Gál's music for violin and orchestra with Annette-Barbara Vogel [Classic FM Review of which is here] . (AV 2146)
Andrew Mellor