A new review of Bobby and Hans vol. 1 at theartsdesk.com. Critic Graham Rickson chooses Schumann and Gal's 3rd Symphonies with Orchestra of the Swan as one of the Arts Desk CD's of the Week. Read the whole thing here.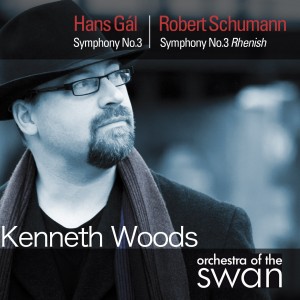 Get your copy direct from Avie
short sample follows:
"His Third Symphony was completed in 1952 and has lain dormant for 55 years. Hopelessly anachronistic, it glances wistfully back at the world which Gál had left behind; the music of an exotic emigré marooned in rainy post-war Edinburgh.
Gál's impassioned, well-crafted late romanticism is readily accessible and quietly moving – there's a lot to enjoy here. He's good at subtle transitions – the way that the delicious opening melody segues into the first movement's more agitated fast section, and its brilliant, ghostly close. Only the Finale left me baffled, with a stentorian opening quickly yielding to a triumphant ending which feels a little too easily achieved. It's nicely played by Stratford-upon-Avon's Orchestra of the Swan under Kenneth Woods, who are up against stiffer, famous-name competition in Schumann's Rhenish Symphony.
In this brilliant, exuberant work, Woods takes full advantage of his orchestra's modest size, choosing swift speeds and enjoying well-articulated string playing. The Scherzo has an appealing village band feel, and Wood's trombones in the stark contrapuntal fourth movement are faultless. The same material's major key reprise in the last movement is a great moment, prefiguring the brassy chorales heard at the end of Brahms's First and Mahler's Fifth."
The Bobby and Hans project depends on the generous sponsorship of music lovers and friends of the Orchestra of the Swan. Without your help, the orchestral music of Gal will remain unheard. We hope you will give what you can to keep the music playing.