In the October 2011 issue of Gramophone Magazine, one can now find the first review to directly compare the Orchestra of the Swan recording of Mahler's Das Lied von der Erde and Lieder eines fahrenden Gesellen with the new recording by Manchester Camerata and Douglas Boyd of Das Lied von der Erde (no coupling) on Avie. The reviewer is Ken Smith. An excerpt follows- the complete review is available in the print edition.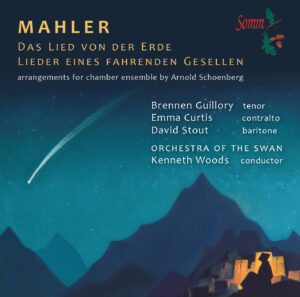 Purchase here from Presto Classical 
Purchase here direct from Somm Recordings
"Arnold Schoenberg, trying to balance his love of Gustav Mahler with a notable lack of performance funding after the First World War, took to scaling down Mahler's orchestral song-cycles for smaller forces. After some success with Lieder eines fahrenden Gesellen, he then turned to the late composer's final masterpiece, Das Lied von der Erde, though his sketches lay incomplete until finished by conductor Rainer Riehn in the 1980s.
These days, with orchestras facing similar financial constraints, Schoenberg's arrangements have been breaking free from chamber music festivals and finding their way into the symphonic mainstream. Competing recordings of Das Lied by two British orchestras, in fact, now coincide with this year's centennial both of Mahler's death and the piece's original premiere.
The pristine notion of Mahler conceiving Das Lied as a hybrid "song-symphony" took a small beating back in1980 with the belated publication of the composer's autograph piano score, with the treated the material more conventionally as a song-cycle. Schoenberg's arrangements split the difference, retaining much of Mahler's instrumental colour while leaving vocalists more room for recital-level nuance. Appropriately enough, these two recordings (both recorded live in their concert venues) take quite opposite approaches, and both have much to recommend them instrumentally. Kenneth Woods leads the Orchestra of the Swan on a near-symphonic scale, thanks to the highly resonant acoustics of Townsend Hall, Shipston-on-Stour. Douglas Boyd makes each instrument count on its own terms, aided by the apparent sonic purity of Bridgewater Hall, Manchester….
Last word, though, goes to the Orchestra of the Swan. In Schoenberg's less ambitions Lieder eines fahrenden Gesellen (not included on the Manchester recording), baritone David Stout's richly balanced performance easily stands out as the best thing on either disc."