There's a review of Bobby and Hans vol. 1 in the September-October issue of American Record Guide. No discussion of the Schumann, but lots of discussion of Gal and the Third Symphony in particular. Available at the ARG website for subscribers. A sample follows:
Get your copy direct from Avie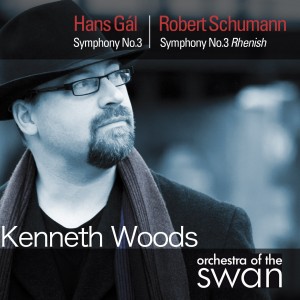 One notices faint echoes of Zemlinsky and Strauss, as well as Mahler's Fourth Symphony—his most pastoral and innocent—in Gal's nicely written 1952 Third (in three movements lasting 35 minutes). But there's little of the romantic heroism that, for instance, infused the responses of more emotional composers like Shostakovich to the global conflict all had recently lived through. This isn't to say that Gal's symphony isn't, in part, quite serious—it does incorporate, in the first movement, considerable (though never harsh) turbulence and struggle; but these are sharply controlled and limited in scope and power; and the lyrical, palliative impulse dominates and encloses them. What remains in mind are gentle melodies, delicate harmonic shadings, sensuous but transparent scorings, and a sense of verdant natural beauty—a Viennese expatriate's version of English pastoralism, perhaps. The musical flow is untroubled and un- forced—"organic", in a word—and carries the listener along from one felicitous turn of phrase to the next.
Anyone who enjoys the old-fashioned, well-made symphonies of Miaskovsky, or Stenhammar, or Alfano, or (the recently redis- covered) Weingartner, or many another polite 20th Century composer who remained comfortable speaking a late-Victorian-era language, would most likely enjoy Gal's Third, especially in this dulcet performance (by the Stratford-on-Avon-based Orchestra of the Swan) and clear, richly glowing sonics from Avie.
LEHMAN
The Bobby and Hans project depends on the generous sponsorship of music lovers and friends of the Orchestra of the Swan. Without your help, the orchestral music of Gal will remain unheard. We hope you will give what you can to keep the music playing.