Repertoire Report season continues here at VFTP, with the first of the really big names. Kristjan in Los Angeles has been kind enough to collate this years' Report from the listing of programs on Paavo's website.
You can see Paavo's Reports from past years here (2010, 2009, and 2008) and comparisons and analyses with other conductors here (2010 and 2008). He's a busy guy, but remarkably consistent in his workload, sticking pretty consistently to just over 100 works per year.
I've followed Paavo's career with interest ever since I covered his first concert with the Cincinnati Symphony. My boss, the designated cover for that concert, bowed out and left for the week after watching the first 10 minutes of PJ's first rehearsal and declaring he was "not music director material." Live and learn- Paavo has had a tremendous 10 year run at the CSO since then, and now moves on to a new chapter of his career with three of the best orchestras around- the Orchestre de Paris, Frankfurt Radio Symphony and Deutsche Kammerphilharmonie Bremen.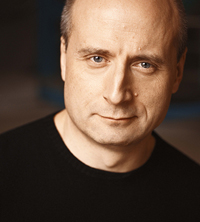 It's a vintage Paavo list- a huge swath of the most interesting corners of the standard repertoire, some Scandanavian and  Baltic composers old and new and a range of "projects." I'll be first to give him a huge pat on the back for doing a good chunk of Faure, a composer we don't hear enough of. On the other hand, I was a little disappointed to see him doing Dvorak's Carnival Overture on its own- the piece should really only be played as part of the Triptych- Nature, Life and Love alongside Nature's Realm and Othello.  No opera or ballet for Paavo this year, which is typical for him.  Aside from our different tastes in the music of our time, as always, Paavo's is probably the list I would be most happy and comfortable to step in to without notice- lots of repertoire I love and do often.
Bach: Piano Conc. in D minor  (Stewart Goodyear)
Bartók: Viola Concerto (Gábor Máté Szűcs)
Bartók: Concerto for Orchestra
Beethoven: The Consecration of the House, Overture
Beethoven: Piano Conc. No.1 (Till Fellner)
Beethoven: Piano Conc. No.4 (Andre Watts)
Beethoven: Violin Conc. — Piano Version (Olli Mustonen)
Beethoven: Symphony No.4
Beethoven: Symphony No.5
10. Beethoven: Symphony No.7
11. Berg: Sieben frühe Lieder with Elīna Garanča
12. Berg: Violin Concerto (Gidon Kremer)
13. Berlioz: Harold en Italie
14. Berlioz: Le corsaire, Overture
15. Berlioz: Symphonie Fantastique
16. George Benjamin: A Mind of Winter
17. Bernstein: On the Town
18. Bizet: Symphony in C major
19. Brahms: Piano Concerto No.1 in D minor
20. Brahms: Piano Concerto No.2 (Leif Ove Andsnes)
21. Brahms: Serenade Nr.1
22. Brahms: Serenade No. 2 in A major, Op.16
23. Brahms: Violin Concerto (Sayaka Shoji)
24. Britten: Violin Conc. (Janine Jansen)
25. Bruckner: Symphony No.2
26. Bruckner: Symphony No.8
27. Chopin: Piano Concerto No.2 (Khatia Buniatishvili)
28. Chopin: Piano Concerto No.1(Jan Lisiecki)
29. Charles Coleman: Fanfare/Greeting
30. Copland: Clarinet Concerto (Martin Fröst)
31. Debussy: Printemps
32. Debussy: Rhapsody for Clarinet and Orchestra
33. Duruflé: Trois danses
34. Dvořák: Carnival, Overture
35. Dvořák: Cello Concerto (Yo-Yo Ma)
36. Dvořák: Symphony No.7
37. Dvořák: Symphony No.9 'From the New World'
38. Elgar: Cello Concerto (Truls Mørk)
39. Thorsten Encke: Nyx
40. Thierry Escaich: La barque solaire, pour orgue et orchestre
41. Fauré: Requiem
42. Fauré: Pavane pour chœur et orchestra
43. Fauré: Élégie pour violoncello et orchestre (Eric Picard)
44. Fauré: CXXXVI Super flumina babylonis, pour chœur et orchestra
45. Fauré: Requiem (Chen Reiss, Matthias Goerne)
46. Franck: Symphony in D minor
47. Glinka: Valse-Fantaisie
48. Stewart Goodyear: Anniversary Fanfare
49. Grieg: Piano Conc. (Elisabeth Leonskaja)
50. Haydn: Cello Concerto in C (Alisa Weilerstein)
51. Haydn: Symphony No.88
52. Haydn: Symphony No.102 in B flat
53. John Holland: Anniversary Fanfare
54. Ives: Symphony No.4: Fugue "From Greenland's Icy Mountain"
55. Liszt: Mephisto Waltz No.1
56. Liszt: Piano Concerto No.2 (Denis Matsuev)Mahler: Symphony No.5
57. Mahler: Symphony No.7
58. Mendelssohn: Violin Concerto (Akiko Suwanai) (Hilary Hahn)
59. Messiaen: Les offrandes oubliées
60. Messiaen: Turangalîla-symphonie
61. Mozart: Piano Concerto No.23 (Khatia Buniatishvili)
62. Mozart: Violin Conc. No.4 (Alina Ibragimova)
63. Mozart: Violin Concerto No.5 (Vilde Frang)
64. Carl Nielsen: Symphony No.5
65. Nielsen: Symphony No.6 (Sinfonia Semplice)
66. Pärt: Silhouette, Hommage à Gustave Eiffel
67. Prokofeiv: Symphony No.6
68. Rachmaninov: The Rock
69. Rachmaninov: Piano Concerto No. 2 (Jorge Luis Prats)
70. Rachmaninov: Symphonic Dances
71. Ravel: Piano Concerto in G major (David Fray)
72. Ravel: Daphnis et Chloé, Suites
73. Hans Rott: Symphony in E major
74. Saint-Saëns: Symphony No.3 'Organ' (Thierry Escaiach)
75. Schubert: Symphony No.9
76. Schumann: Scenes from Goethe's Faust
77. Schumann: Hermann et Dorothée, Overture
78. Schumann: Ouverture, Scherzo und Finale
79. Schumann: Piano Concerto (Dang Thai Son)
80. Schumann: Konzertstück (for four horns and orchestra)
81. Schumann: Symphony No.1 'Spring'
82. Schumann: Symphony No.2
83. Schumann: Symphony No.3 'Rhenish'
84. Schumann: Symphony No.4
85. Shostakovich: Violin Concerto No.2 (Janine Jansen)
86. Sibelius: Finlandia
87. Sibelius: Violin Concerto
88. Sibelius: Symphony No.2
89. Sibelius: Symphony No.5
90. Strauss: Till Eulenspiegel
91. Stravinsky: Petrushka (1911)
92. Stravinsky: Petrushka (1947)
93. Strauss: Don Quixote (Laszlo Fenyo, Mate Szucs)
94. Tchaikovsky: Piano Conc. No.2 (Denis Matsuev)
95. Tchaikovsky: Violin Concerto (Leonidas Kavakos)
96. Tchaikovsky: Symphony No.5
97. Eduard Tubin: Symphony No.11
98. Tüür: Aditus
99. Tüür: Fanfare/Greeting
100. Tüür: Piano Concerto (Awadagin Pratt)
101. Varèse: Amériques
102. Weber: Overture to Der Freischütz
103.Weber: Overture to Oberon
104. Jörg Widman: Anniversary Fanfare