A big thank you to Jason in Iowa, who alerted us to the fact that the eminent musicologist and Brahms scholar, Bernard D. Sherman,  picked Orchestra of the Swan's recording of the Third Symphonies of Hans Gal and Robert Schumann as one of his top 10 best Classical CDs for 2011, as listed on his website.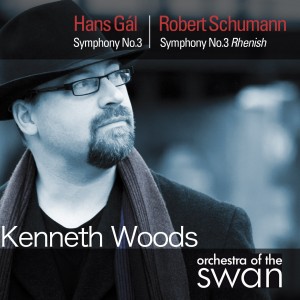 Get your copy direct from Avie
From Mr. Sherman's website:
Dec. 5, 2011- Talk-show host/interviewer supreme Charity Nebbe is having me on her show, Talk of Iowa, tomorrow to review the top classical CDs of 2011. Here's what will cover, as well as some others that probably should have made the list:
1) J.S. Bach's Partitas 3, 4, and 6 played by Jeremy Denk, who gets so many of the movements so amazingly and uniquely right that it will be on my Bach top-ten list (TK) alongside records by the like of Gidon Kremer and John Butt.(Azica)
2) JS Bach et al. by Heinz Holliger with the Camerata Bern and Erich Hobarth (ECM)
3) LV Beethoven's Symphonies and Overtures by Riccardo Chailly and the Leipzig Gewandhaus – as great as everyone's saying (Decca)
4) Hector Berlioz – "The Ghost of a Rose," sung by Lorraine Hunt Lieberson; such a genius (PBP)
5) Franz Liszt – The Lake of the Wallenstadts played by Nelson Freire – bewitching. Liszt CDs kept showing up all year, but this one I'll return to. (DG)
6) Nico Muhly, "Seeing Is Believing" – Hearing is believing. What a gift.(Decca)
7) Maurice Ravel, complete piano music played by Steven Osborne on Hyperion
8 ) Scarlatti sonatas played by Alexandre Tharaud (Virgin)
9) Franz Schubert's Unfinished Sonata in C, which Paul Lewis plays as if he's composing it then and there. Moves forward completely naturally, and yet sounds like he's discovering those magical modulations on the spot. (Says Lewis: " it is a piano redaction of an unfinished orchestral score, much of it un-harmonised, so you have to realise the implied symphonic harmonies; there are colours you have to realise." He does.) Two CDs full of great music and great playing. (Harmonia mundi)
10) Robert Schumann's "Rhenish" Symphony by the Orchestra of the Swan led by Kenneth Woods. The Gal is a real find, especially the slow movement; and the Schumann is a joy after the many punched-up but four-square performances I've suffered through.  (Avie)
11) Charles Ives – the Violin Sonatas, for the glorious violin playing of Hillary Hahn and her incredible new teammate, well-known in Iowa, pianist Valentina Lisitsa (DG)
12) Trio Mediaeval. "A Worcester Ladymass" (ECM)
13) NPR ADDS: Mahler Symphony no. 2 with the London Philharmonic led by Vladimir Jurowski (sounds alluring!);
14) The Maltese Tenor, Joseph Calleja;
Hey- we beat Hillary Hahn and Joseph Calleja!
Sherman's wonderful book Performing Brahms (written with Michael Musgrave) is a gem, and is something I refer to often. It's stacked on top of my Brahms 2 score for March right now. Every conductor should own it. It's always nice when people note your work, but especially when they really, really know what they're talking about.
The Bobby and Hans project depends on the generous sponsorship of music lovers and friends of the Orchestra of the Swan. Without your help, the orchestral music of Gal will remain unheard. We hope you will give what you can to keep the music playing.