Apologies to regular Vftp readers frustrated by the quiet state of the blog- it's been a very, very busy patch here. The good news (well, depends on whether you look forward to or dread new content here) is that I've got quite a backlog of things for the blog that just need writing down, so March  should be a vintage month here.
In the meanwhile, here are few quick tidbits and brief thoughts I wanted to share.
1-     Business first. I'm conducting a wonderful program on Wednesday the 29th  at the Cadogan Hall, London with the Orchestra of the Swan and violinist extraordinaire, Tamsin Waley-Cohen. Britten- Variations on a Theme of Frank Bridge, Vaughan- Williams- Fantasia on a Theme of Thomas Tallis, Elgar- String Serenade and Vaughan Williams- The Lark Ascending. We're not doing it in that order- can you guess what the concert order will be? I hope folks in and around the London area will be tempted to come- it's a great hall, a great soloist and a great band playing some great tunes. The Tallis Fantasia is an astounding piece, and the Britten just leaves me speechless. What a genius!
2-     Earlier that day, we're having a little party to launch the second volume in the Orchestra of the Swan Schumann/Gál series. The disc is on sale from March 19th, but you can already pre-order it (if we don't sell these discs, we can't keep making them). This recording combines the Schumann's Symphony in C major (the third one he wrote, but they call it No. 2) with Gál's Fourth, written in 1973, a moving and virtuosic sinfonia concertante for violin, cello, flute and clarinet and chamber orchestra. We recorded the disc in December, so we've all been burning the candle to get it ready- a special thanks is merited for our producer Simon Fox and the four wonderful soloists: David Le Page, Chris Alan, Diane Clarke and Sally Harrop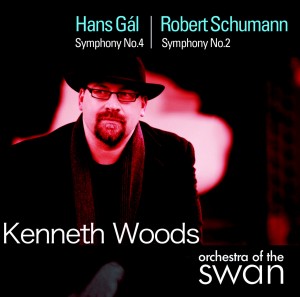 3-     Last week, as part of a cello/piano recital in London,  I played a new arrangement of the Mahler Adagietto from the Fifth Symphony for cello and piano made by the great American pianist, Howard Karp. My duo partner, pianist James Lea, and I are both keen Mahlerians, so we thought we would give the new arrangement a shot. It is not easy- the cello gets all of the tunes, which sounds like a  great deal until you realize that even if you play sehr langsam, there's not a lot of time to jump from a low cello part to stratospheric first violin line. Still, it was very rewarding and challenging to play. Howard's arrangement doesn't change a note of the Mahler's original. I'm a big fan of artistically-minded arrangements that give us a chance to experience  familiar works in fresh ways. Now James and I  just need to perform it 50 or 100 times until it feels completely natural.
4-     Mendelssohn's Third Symphony (actually his fifth- he and Schumann were close, and apparently none of these guys could keep track of how many symphonies they'd written at any given time) is a mind-shatteringly great piece of music. I'm getting rather desperate to record the Mendelssohn symphonies. After Bobby and Hans, I hope we can  move on to Felix and ________ (suggestions welcome. A composer named Oscar would be ideal). Anyway, I absolutely loved rehearsing and conducting the piece last month, and had all sorts of discoveries I wanted to share, but suffice it to say, you should spend more time with Mendelssohn- he was truly touched by the divine spark. A good intro is the fantastic new DVD of Charles Munch conducting the Boston Symphony.
5-     Next week, I'm conducting my first Bruckner Fifth. This is up in North Wales with the ever-bold Wrexham Symphony (How bold? We're doing Bruckner 5 as an intermezzo in the midst of a complete Mahler cycle. Mahler 3 is to follow in November). I've been dying to do more Bruckner for many years, but it's been a hard sell. However, once this Fifth went in my calendar, the Bruckner problem was simplified (that's a musicology joke for those of you not in the know)- I've now also got a 2nd and a 7th planned for next year. That means for the first time, I have 3 Bruckner symphonies in my schedule, but only for about 10 more days, so if someone could please engage me for another Bruckner symphony right away, I can keep the mojo rolling. I would really like to do the Ninth, which is where my Bruckner path originated– especially with the new Finale. Bruckner 9 remains the piece I'm most likely to blow a speaker listening to.
6-     There are some absurdly good scores on my desk right now. Let's face it- in this business, the hours suck, the travel sucks and, unless you're Simon Rattle, the pay sucks, but it's still a great job. I'm looking up at my "current programs" shelf and seeing Mahler 6, Tchaik 6, Brahms 2, Dvoark Symphonic Variations, Cello Concerto and the Water Goblin and many other goodies. When you can sit down and ask yourself "Mahler 6 or Bruckner 5? Which should I start with?" you really shouldn't be bitching about anything else.
7-     Dvorak's Water Goblin needs a good blog post sometime before the concert next week (we're doing it before the Bruckner). The question is whether you can build a great piece from an intentionally lousy and irritating theme? Dvorak has, but how does the performer keep the audience's interest in material that is calculated to annoy?
8-      I hope that I can get some proper Bruckner blog posts written before or around next week's concert. I've celebrated my recent Bruckner-boom by going out and buying a whole stack of studies and biographies that I never got around to reading before. What have I learned from all this research? Well, I have learned that Bruckner scholars are, almost without exception, even nuttier than Mahler scholars.  If you know anything at all about Mahler scholarship, you know that is a very, very scary thought with which to end a not-very-substantial blog post.