A new review of volume 1 of the Orchestra of the Swan recordings of the complete symphonies of Hans Gal and Robert Schumann in the July 12th issue of the Birmingham Post:
Read the whole thing here. A sample follows: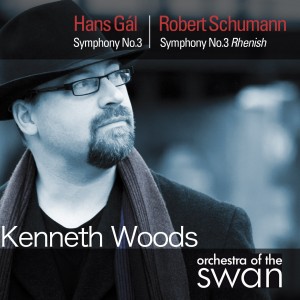 Get your copy direct from Avie
Purchase here from Amazon.co.uk
Classical: Orchestra of the Swan / Woods GAL, SCHUMANN
When Hans Gal died in 1987, at the age of 97, he left behind a large amount of music, including concertos and symphonies, which had seldom been heard and never recorded.The Jewish composer was hounded from his native Austria by the Nazis, found refuge in Britain and spent much of his long life in Edinburgh, both teaching and writing. You may discover, as I did, that you've actually got some Gal in your record collection – his orchestrations of Brahms' eighth and ninth Hungarian Dances.That gives a clue to his music, which has Brahmsian echoes – romantic, contrapuntal with sometimes dense textures – but tuneful and approachable. His third symphony, splendidly played by the Orchestra of the Swan under the American conductor Kenneth Woods certainly merits a hearing, or several. It's paired with Schumann's third symphony … a neat and energetic performance..
Norman Stinchcombe