A new review of the latest disc in the Orchestra of the Swan Gal/Schumann series by critic Byzantion is available on the MusicWeb International website.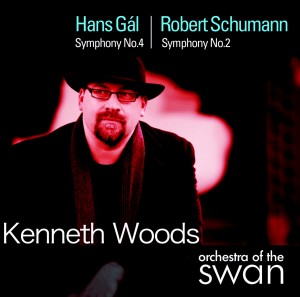 Click here to order from Amazon.co.uk
Click here to order from Amazon.com
The four semi-spotlit soloists turn in terrific performances in this least symphonic of Gál's four Symphonies, but then again so do their fellow OS-members under Woods' immaculate direction. He and the OS are even better in Schumann's Second Symphony, which finds the composer in Beethovenian vein at his most luxurious and radiant, despite his ongoing battle with depression. Though there is an astonishing focus on C major throughout all four movements, the Second is anything but monotone, even the slow movement emanating a joie-de-vivre and elegance that underline the healing power of passionate music. The smaller ensemble of the OS works perfectly for Schumann, and Woods' attention to the details of this intellectual but emotionally gripping score and phrasing is second to none – this is the Second Symphony as Schumann wrote it to sound, and as the early-Romantic masterpiece it truly is!