A review of the final Gala concert of the 2013 Scotia Festival of Music from critic Stephen Pederson at the Chronicle Herald. Read the original here.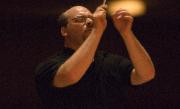 June 10, 2013
Concerto performances stunning
 Scotia Festival of Music ended on triple stun Sunday afternoon in the Dunn Theatre: stunning program, stunning soloists, stunning orchestra.
Under the understated guidance of Kenneth Woods (also stunning in its delivery of the music without either mannerism or exaggerated expression), the orchestra of professionals and students simply delivered a full house of concertos with violinist Mark Fewer, pianist John Novacek and cellist Denise Djokic.
Novacek, with his inimitable nimbleness of 10-fingered nuances, played Mozart's extraordinary Piano Concerto No. 17 in G major, K. 453 just before the intermission, with Fewer introducing us to the resourceful tangles and inventive graces of John Adams' 1994 Violin Concerto and Djokic delivering a powerful performance of the Cello Concerto No. l in E-flat major of Dmitri Shostakovich.
A perfect storm, in other words, in the fusion of composers, soloists and players, to end one of the best-programmed Scotia Festivals in its 34 years of annual spring chamber music concerts.
Paradoxically, the Adams' violin concerto appeared to wander aimlessly, but with intent. It absolutely refused to let us stray from attentiveness. Which means that Fewer knew entirely what he was doing.
Motion in music and even more so, momentum, is animated by repetition. In his concerto, Adams resorted, as he often seems inclined to do in his music, to this time-honoured solution to the problem, to make repetition basic and inevitable.
In this concerto, the solo line is active, wide-ranging, often bizarrely original, but it is tied down by a familiar device, a chaconne figure, a bass line which is repeated.
Fewer gave a remarkably assured and penetrating performance of this entirely new, yet also entirely familiar, music. Technically, though he played it without making it sound so, this concerto is fiendishly difficult.
Novacek played the Mozart concerto with his typical habit of brilliantly nuanced finger work, each note expressive without exaggeration but making even the familiar sound new.
For the finale, Denise Djokic gave a powerful performance of the Shostakovich concerto: strong, assured, expressive. Wood and the orchestra gave her space, acoustic space, for an ideal balance of soloist and ensemble.
It has been two weeks of remarkable concerts in the Dunn at this year's Scotia Festival. For me, one of the most remarkable was the playing of Benjamin Britten's Variations on a Theme of Frank Bridge, for strings, Op. 10, on Friday night.
Somehow I have missed hearing this powerful work during long years of listening to classical music. Hearing it for the first time under the direction of so honest and intuitive a musician as Kenneth Woods was a shattering experience, leaving me speechless with awe and wonder.