Whether it was folklore or fact, I'm not in a position to say, but in the latter years of his career, it was reputed that Rostropovich's fee for a performance of the Dvorak Cello Concerto hovered around $80,000. For any of the 60 or so works written for him, however, he was willing to lower the fee to $8,000, and the discount apparently extended to almost anything off-the-beaten-path-ish. Depressingly and unsurprisingly, he mostly went around the world playing the Dvorak Concerto over and over again.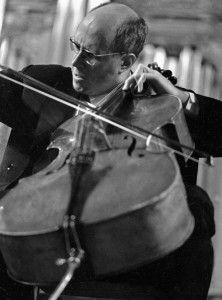 Rostropovich's success in getting composer after composer to write works for him means that the list of cello concertos written between 1950 and the present day is staggering. However, of the dozens of concertos written for Rostropovich, it is really only the first Shostakovich concerto and the Prokofiev Symphony-Concerto which have entered the mainstream repertoire. Even Britten's mighty Cello-Symphony and Shostakovich's own masterpiece, the Cello Concerto no. 2, hover at the periphery of the repertoire, often misunderstood by critics and feared by audiences.
But what of the music beyond Britten, Prokofiev and Shostakovich? Let's take a look at the ten greatest cello concertos written over the last 50 years or so, up to Rostropovich's death in 2007.
What cello concertos have touched you in recent years? What pieces have made you want to shout to the whole world?
10- Stephen Albert- Cello Concerto
 American music seems to still be reeling from the premature loss of Stephen Albert in 1992. I've never been lucky enough to perform any of his music, but what I find consistent among pretty much all of  my friends and colleagues who have learned and lived with his works is that they've been deeply touched and profoundly challenged by the experience. He considered his Cello Concerto his most important work. Written for Yo-Yo Ma and recorded by him on Sony.
9- Luciano Berio– Ritorno degli snovidenia | for violoncello and 30 instruments
The presence of any piece by Berio on a numbered list in any position below one or two just goes to show you how silly lists like this are. Written for Rostropovich and Paul Sacher, Berio said of this piece: "The return of the Snovidenia was written for Paul Sacher and his orchestra, which has performed in January 1977 with Mstislav Rostropovich cello. This is why the work is titled The Return of Snovidenia : the dreams (snovidenia in Russian) Russian revolutionaries are the songs. In contrast to Rostropovich I always had a very idealistic attitude towards the Russian revolution, and I therefore included in the composition, for exorcism almost three revolutionary songs. Return of Snovidenia is first and foremost a tribute to a dream betrayed by history, by men, by Stalinism. I do not think that betrayal can be translated musically, but at the unconscious level is an idea that may well have played an important role. "
8- Schnittke- Cello Concerto no. 2.
Five years separate Schnittke's two Cello Concertos. The Second is a very great work, but much tougher going than the First- it intentionally seems to lack the payoff for the listener of its earlier companion. If the First Concerto is Schnittke's response to his own return to life after a devastating stroke, the Second seems to be his response to his return to dying when his health problems resurfaced. Bleak, desolate and unforgettable, if you can hang in for the whole work.
Listen on Spotify if you have it (Torleif Theeden and the Malmo Symphony, conducted by Lev Markiz)
7- Bernd Alois Zimmermann. Concerto for cello and orchestra "en forme de "pas de trios""
 When I was studying, Zimmermann was considered the ultimate bad-boy of the avant garde, whose struggles with depression and ultimate suicide all seemed part of an aesthetic of hopeless post-War despair. As the years have gone by, I and many others have gradually come to recognize the music as being more communicative and accessible than we might have thought on first encounter- it's certainly some of the most viscerally and emotionally engaging and direct music of the last 50 years. The life may have been a tragedy, but the life's work is emerging as a triumph
6- Ligeti- Cello Concerto. 
Ligeti is one of the big-beasts of his era, and his concertos are rightly considered among his best works. This is a work that asks a lot of the listener, but somehow, Ligeti makes it worth the effort, and the originality comes through once you get past some of the cliches of the time in which it was written.
5- Tishchenko- Concerto for cello, seventeen wind instruments, percussion and organ
This is a stunning piece- the best piece on this list by a composer you may well never have heard of. It works brilliantly live and gives a good wind ensemble something fantastic to play with a string soloist. Why isn't it done more often? Because you don't know who Tischenko is, and you're enough of a music geek to be reading this blog.  Get to know this piece, and get to know this composer- did he write anything else this good? I don't know…
4- Penderecki- Cello Concerto no. 2 
I can't think of any composer in recent years who brings out the nitwit in critics and fellow composers like Penderecki. Chances are, if you're reading a review of a work that misses the mark by about a hundred miles, it's either of a piece by Schumann or Penderecki. The avant garde establishment have never forgiven him for continuing to grow and evolve, either, even though I would think that even %97.5 of professional musicians would not see what in his later music is supposed to be conservative. Anyway, I think there's a good reason that Rostropovich asked him for so many pieces- Penderecki really understood the cello. The Second Concerto is the most ambitious of his three major concertante works for the instrument.
3- Lutoslawski- Cello Concerto
Props to the Proms over the last few years when it comes to cello concertos. Roger Wright must have a well-loved copy of Rostropovich's classic EMI LP of the Lutoslawski and Dutilleux Concertos in his library, because we've finally had them both live in recent times. It seems like a foregone conclusion that this 100th Anniversary year will finally cement Lutoslawski's place in the pantheon forever as one of the most important composers of his or any era.
2- Dutilleux- Cello Concerto "Tout un monde lointain"
I wonder how the guys at EMI felt when they sent the master of the Rostropovich Lutoslawski/Dutilleux LP off to the pressing plant. "What do you think guys? Not bad repertoire for all new stuff, eh?" This is more than a cello concerto- it's a poem a summation and a revelation. Lynn Harrell, one of its greatest advocates said recently of this piece " I came gradually to recognize that this work is not only one of the top five greatest works for the cello in the last 100 years but that it simply transcends the cello and is a work as important to the history of the greatest music; right alongside Stravinsky's Rite of Spring."
1- Schnittke- Cello Concerto no. 1.
This was the first Schnittke work I got to know (in recording rather than playing or studying it), and I listened to it pretty obsessively for a couple of months at the time I discovered it. Since that early infatuation, I took a break of nearly 15 years until this May, when I put it on again in preparation for Ensemble Epomeo's return to his String Trio. Forty minutes later, eyes red with tears I sat spent and shaken in silence for a good 20 minutes after the last note. Schnittke himself wrote of the ending "Suddenly I was given this finale from somewhere, and I've just written it down."  I don't know if I have the physical strength or the chops to play it, but if I had just one more chance to play one more concerto in this lifetime, this would be the one.
Listen here on Spotify (if you have it). (Fourth and final movement, Largo, Torleif Theeden-cello)
Honorable mention
Rodrigo- Cello concerto. 
Let's face it, this list is not exactly bursting with easy-on-the-ear tune-fests. Still, I'm sure that every piece on this list can be accessed and loved by any listener who gives themselves to the music. Rodrigo's Cello Concerto, written in the 1980's for Julian Lloyd Weber, is not a masterpiece, but it has tunes a-plenty and it's way more bearable to listen to than that horrible guitar concerto….I admit- I quite like it.
UPDATE- I can see I've already achieved a bit of infamy on a guitar forum for my description of the Rodrigo. Apologies for any hurt feelings. It's sometimes hard to see the twinkle the writer's eye via a mere blog post- mostly only kidding, guys. It's not my favorite, for all kinds of reasons, but I don't really think it's horrible. Not completely horrible, anyway. Check out the Malcolm Arnold Concerto- a much better piece. Or Gerald Garcia's, which I enjoyed a lot when I conducted it a few years ago.
UPDATE 2- More Honorable mentions beginning with K
There were quite a few works that didn't quite make the list, plus some which have come along in the comments below. When you've finished exploring 1-10, here are some more great pieces to listen to:
Khatchaturian- Concerto-Rhapsody
I always find myself wishing I liked Khatchaturian's music just a little more than I do. There's a melodic spark there, and a sense of sweep, but I'm not sure the structural waters run all that deep. That said, I do like the Concert-Rhapsody, and the existence of this bit of footage of the composer (decked out like a miliatary gangsta with medals on his tail coat) conducting Rostropovich is a treasure. Rostropovich sounds incredible- sometimes I think he's most impressive when he makes a decent work sound like a masterpiece.
Kabalevsky- Cello Concerto no. 2
Sticking with Soviet composers whose names begin with K, I left the Kabalevsky 2nd off the list because it belongs more on a mid-20th c list with Britten and Shostakovich (it was written in 1964, so technically falls just barely in my 50 year window). The First Concerto is a favorite of young cellists cutting their young artist competition teeth, but the 2nd Concerto is a really stunning work, and fully of pathos and lyricism. Check out Shafran's playing on the recording below. He's a true phenomenon