Hi everyone
Today is the BIG day.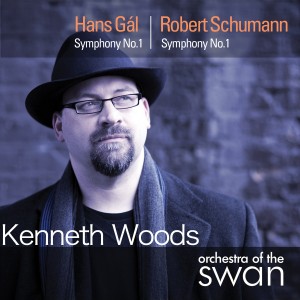 After a nearly-five-year journey, volume four in our series of the complete symphonies of Robert Schumann and Hans Gál hits the stores today. The CD is now available to order, stream and download from fine retailers in most territories.


I don't have to remind most of you what a big moment this is- you've supported the project because you understand the importance of the music and the urgency of the effort. You gave because you knew someone had to.
The good news is that your generosity, your commitment and your sense of urgency has paid off. The disc is out, the series is complete. For the first time, there is an integral set of the symphonies of Hans Gál all performed by the same orchestra and conductor. Thanks to your support, we were also able to deliver the first live cycle of these important works in history, most of which had not been played in over thirty years. We've also completed a Schumann cycle that we think is a really exciting addition to the discography– one that  is both grounded in the latest scholarship about Schumann's life and music, and  fresh and full of life, thanks to the tireless efforts of my colleagues in the orchestra
This project has helped the music of Hans Gál reach the ears of countless new listeners around the world through broadcasts on BBC Radio 3, Performance Today and NPR's All Things Considered. The music has been discussed for the first time in national newspapers in the US and UK, including the Sunday New York Times, the Washington Post, the Saturday Telegraph and the Guardian. We've been a Gramophone Editor's Choice, and have been on several "best of the year" lists.
Later this spring, Hans Gál will be featured for the first time on BBC Radio 3's "Composer of the Week". It's currently scheduled for May 5th-9th, but check your listings closer to the time. This is a huge breakthrough for Gál, and it wouldn't have happened without this project or without your active support.
All of this, however, is a beginning, not an end. I hope you will continue to help us to make the most of what we've all invested in the project. First- not to state the obvious, but now would be a great time to sell a few CDs. Please tell your friends about the disc in person or via Facebook and Twitter. Word of mouth counts for so much today, and early momentum is vitally important for getting the media interested in spreading the word about any new CD.
We very much want to see Hans Gál's music programmed at international festivals, particularly the Proms.
Please consider writing a nice, positive letter to:
Office of Mr. Roger Wright,
Controller BBC Radio 3
Director BBC Proms,
Broadcasting House,
Portland Place
LondonW1B 1DJ
Perhaps you can articulate to Mr Wright why you supported this project, what you admire about the music and why you think it is important that it is featured at the Proms. Perhaps you can also explain why you think this music has the potential to engage a large audience. Remember, be constructive and positive and personal- share your passion for the music and we'll be more likely to get great results.
Please also consider writing to your local orchestras, festivals and presenters. People really do read these things and try to take them in to account when planning, especially if they can sense that there is a buzz around an idea or a composer.
And, of course, if you think there is someone that one of us at team Gál should be in touch with, please email me at ken@kennethwoods.net.
So, what's next on the recording front? There are several important projects in the works. Cellist Matthew Sharp is putting together a very interesting project to record Gál's Cello Concertino alongside several other concertos by composers of the same generation. Ensemble Epomeo, who recorded the complete Gál String Trios last year, are planning to record the two late Gál quintets (his Viola Quintet and Clarinet Quintet) in 2016, and also hope to record his piano quartets. On the orchestral front, there is still much to be done- there are some wonderful string orchestra pieces that we hope to record soon, as well as some lovely chamber orchestra works. More ambitious, however, is the plan to record Gál's very important major choral/orchestral works De Profundis and Lebenskreise, and eventually the operas. These are huge pieces and massive projects, but they look a lot more achievable now than four years ago when nobody had ever managed to record a Gál symphony, let alone all four.
Thank you gifts will be in the mail over the coming weeks.
Meanwhile, thank you all for believing, for acting and for making this project possible.
All best

Ken