For the last few weeks, I've been meaning to write a blog post titled "If you buy only one recording this year, make it this one."
The recording in question is a new six-disc collection of live performances by the American pianist Howard Karp, released in May by Albany Records. Howard Karp died on Monday, June 30, 2014 at the age of 84 after suffering a cardiac arrest. He  was surrounded by his wife Frances and his two sons Parry and Christopher. Although the set was only released last month, I've been listening to and thinking about it for nearly a year, ever since the Karp family paid me the enormous compliment of asking me to write the program notes for it.
It is sad that that blog post will never quite exist in the form it should have- none of us guessed we could lose him so soon. Although Howard was 84, he seemed anything but old. He had spent the last few months learning Leon Kirchner's last two Piano Sonatas and working up some works by Liszt that he had never played. In the week of his passing he was to have played the Brahms A major Violin Sonata in a recital at the Rocky Ridge festival with his son (my teacher and dear friend), cellist Parry Karp. Together, they've recently recorded Parry's transcriptions of all the Brahms violin and piano music.
Ever since Parry wrote me with the sad news of Howard's passing, I've wondered what, if anything, I should say about Howard here. It's not for me to attempt an obituary or a summing up of Howard's legacy, so instead, let me say the following:
If you buy only one new recording this year, make it this one. Not only will these CDs give you a better sense of Howard's artistry than anything I could write here, there's so much one can learn from them.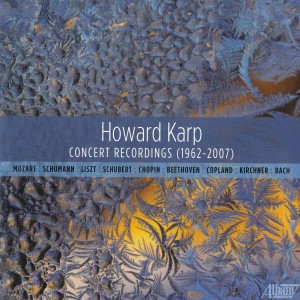 Why?
It's not just that the performances are mind-blowingly sensational. It's what they have to teach us about the kind of musician Howard was- the kind we all ought to aspire to be.
Taken from unedited recital recordings made across Karp's 50+year career, this collection is a wonderful overview of his gifts as a pianist and a musician.  The performances are astounding even to those who knew his playing best. His wife and duo partner, pianist Frances Karp wrote to me on receiving the set from the record company "Even though I lived through the preparation of all the repertoire, I am stunned to hear the finished  performances: beautiful, strong, intelligent, fantastically moving." No amount of familiarity could make one take his artistry for granted.
Howard was a conspicuously kind, wise, caring and sensitive human being, with a distinctively soft-edged and warm speaking voice. Something of that warmth of spirit came through in everything I ever heard Howard play across 25-plus years, particularly in his unique sound. He had one of the great piano sounds- deep, multi-layered, warm, resonant and cultured. You can hear this aspect of his artistry in Howard's extraordinary performances of late Schubert in this set. He was a great exponent of what one might call the "poetic" piano tradition.
But there was more to Howard's art than wisdom, sensitivity and culture. Howard was also capable of embracing and unleashing the demonic and Dyonisian forces within music like few musicians I can think of. There are moments in Howard's performances of works like the Hammerklavier Sonata, the Schumann Concerto without Orchestra, or his earlier live recording of the Liszt B Minor Sonata that teeter, in the very best sense of the expression, right on the edge of divine madness. Howard could set such challenges for himself not only in terms of sheer tempo, but in intensity of expression, that the listener can't helped but be gripped by a genuine sense of pure risk. Howard was one of the few pianists who ever lived with the technical tools to cope with the challenges he set himself in performances like these- again and again, he comes through performances of inspired danger completely unscathed, but one senses that even Howard never spared himself from taking big chances on stage. Success was never certain, but it was almost always the outcome.
This incredible balance of abandon and control, fire and refinement caught the ear of many critics, though he never sought their approval to the best of my knowledge. On the occasion of his Berlin debut, the notoriously tough local critic said "the American pianist Howard Karp combines the finest qualities of Rubinstein and Horowitz in a single artist." Many artists would have broadcast such a quote to the heavens- Howard seemed to lack any instinct for self-promotion. He could hardly be persuaded to talk about himself even in the preparation of the liner notes for this set of CDs.
So, here in these six discs is evidence of one of the great pianists of  his generation, captured completely live at the height of his powers. It's a collection that should secure his place in the piano pantheon forever. In the end, however, what I find impressive about these CDs is what they don't tell us about Howard Karp, what they can't tell us. That's part of why one should get to know them- to be begin to understand what of Howard lay beyond them.
These discs can't, by themselves, tell us how he balanced his commitment to playing at the very, very highest level with his dedication to teaching. They only hint at the breadth of his repertoire. If  Howard felt he had played a piece as well as he could, he moved on to other works (some of the most extraordinary performances in the set are of works he only played once or twice), and he literally never stopped learning new repertoire. And they can't begin to do justice to his astounding work ethic- family members will tell you: nobody ever practiced the piano with more intensity or devotion than Howard Karp.
Embedded in these remarkable performances is an inspiring example for all musicians. Howard never sought the trappings of fame or the validation of the press. He chose, instead, a quieter path, developing life-long collaborations with friends and family, building an incredible legacy as a teacher and mentor and following his own curiosity in his exploration of the repertoire. Those of us lucky enough to hear him in Madison in his solo recitals, duo concerts with his wife Frances, sonata performances with his son Parry and the annual Karp Family concert in September all knew we were in the presence of something very special every time he took the stage. Even these remarkable CDs can't capture every facet of that remarkable sound.
I hope you'll spend some time listening to these performances because they're as good testament as we have to a great artist who managed to do all the right things as a performer and teacher at the right level for the right reasons. It's a deeply inspiring legacy.
____________________________________________
More on Howard Karp from the Isthmus newspaper in Madison here.
Thoughts from Jake Stockinger at the Well Temprered Ear, here.
A tribute from the UW-Madison School of Music with commentary from Karp's friend and student, Bill Lutes, here
UPDATE-
Anthony Tomasini offers an extensive assessment of Howard's performances in these recordings here. A sample
"Karp clearly thrived in concerts, because the performances in this collection are palpably assured. In six pieces from Liszt's daunting, visionary suites "Années de Pélerinage" ("Years of Pilgrimage"), recorded at various universities mostly during the '70s, Karp's playing is technically brilliant and profoundly musical. How is it possible that a pianist who could play Liszt like this was not signed up and sent on tour by a major manager? From what I knew of him, though, Karp would not have been interested….The highlights of the set are performances of two major Schumann works: the Sonata No. 3 in F minor, in 1967, and the Fantasy, in 1972, both recorded at the University of Illinois. Schumann's Fantasy blends Beethovenian structure with, appropriate to its title, fantastical wildness. Karp uncannily conveys both qualities at once. His account of the Sonata in F minor, subtitled Concerto Without Orchestra, is revelatory. Though this epic work has arresting qualities, it is at its core baffling, ungainly and complex music. While playing with consummate pianism, Karp conveys the strangeness in the piece, as in the seemingly chaotic stretches of development in the first movement.
UPDATE 2
An extensive review from Colin Anderson at Classical Source
"Yet, from nowhere (for me at any rate), here is Karp giving readings of these masterworks that are of the first rank, at once seriously good renditions of the chosen pieces and also acting as a ladder of enlightenment as to the interpretative and technical skills (the latter serving the former) of the now-late musician. Inevitably, given that these are recordings made at concerts and over a 45-year period (nevertheless the set is branded DDD!), the sound-quality is variable, so too the instruments that Karp had at his disposal. And while one may have some reservations about both, the authority of Karp's playing is such that doubts are banished by his excellence.
"Rather than write in detail on the performances here, it would be more pertinent to simply say that, especially if you are new to Karp's musicianship, for anyone who cares about the great art of playing the piano, and also about penetrating musicianship – and allying the two – then you need to hear these performances; there is much that is illuminating and rewarding, and such revelations are complemented by conductor Kenneth Woods's extensive essay for the booklet."
More inspiring Howard Karp recordings you should hear.