Today marks the 25th anniversary of the death of Herbert von Karajan- one of the most influential, accomplished, controversial and contradictory musicians who ever lived.
Not too long ago, I was asked to provide introductory essays for two volumes the Warner's news collection of EMI-era Karajan recordings. It was a fascinating challenge, but one I seriously considered not taking on simply because Karajan remains such a divisive figure, both as a person and a musician.
In the end, I took the gig. The two sets comprise an enormous amount of very diverse repertoire- it made for fascinating, if exhausting listening. Karajan's sound concept was famously strong and consistent, but as a performer, I find him more of a risk-taker than most people think. Some things he does really take flight, others crash and burn- not only interpretively, but occasionally technically. In any case, it's a unique body of work, and one I've learned a lot from over the years. He was often surprisingly good in non-Germanic repertoire, as can be seen in many of the performances included in this set.
Few of the major mid 20th. C.  Austro-German conductors such as Eugen Jochum, Karl Bohm and Otto Klemperer explored much of the repertoire outside the Austro-German tradition. In this respect, Herbert von Karajan was both more international and a more modern figure than many of his contemporary colleagues. In many cases, studying Karajan's forays into French, Russian and Eastern European repertoire can be highly illuminating in illustrating the characteristics of his approach to interpretation and orchestral training..
Debussy's La Mer was a long-time Karajan favorourite, which he first conducted with his orchestra at Aachen in 1935. His next performances of the work took place in the more glamorous environs of the Berlin Philharmonic in 1939, programmed, as in 1935, alongside another non-Germanic Karajan staple, Tchaikovsky's Pathetique Symphony. Performances in France followed in 1944, and the work remained in Karajan's repertoire through one of his last European tours in 1985. This performance from 1977 in many ways captures the best qualities Karajan brings to French music- a flair for sonic sensuality, an ability to find fluidity in moderate tempi and a visceral delight in sheer orchestral virtuosity.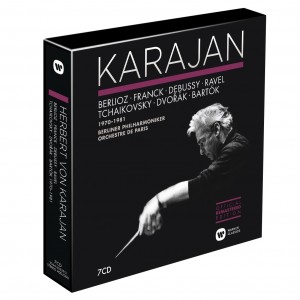 If Debussy's greatest orchestral masterwork, La Mer, was a lifelong Karajan favourite, Ravel's La Valse, probably that composer's  finest piece of orchestral concert music, was a work Karajan had a more complex relationship with. The Karajan archive shows early concert performances of it with the Vienna Philharmonic in 1934, in Aachen in 1936 and in Stockholm in 1938, but after this point, he seems to have not returned to the work in concert. With that in mind, Karajan's lone recording of the work with the Orchestre de Paris in 1971 is a rather  precious document, and a compelling one- again there is ample evidence Karajan's ability to conjure impressively seductive and decadent colours from the orchestra and the work's final plunge into oblivion is played with trademark Karajan intensity. Where Karajan is possibly less convincing in French music is in capturing a truly idiomatic sense of elegance and classicism. His recording of Le Tombeau de Couperin takes on a distinctly Germanic weight in the Menuet, but the Prelude thrives on Karajan's obsession with legato playing. Ravel's Spanish-infected music was quite central to Karajan's repertoire, and he conducted the Rhapsodie espagnole often, especially in the heart of his career from the 1950's through the 70's. Bolero, however, was a true Karajan party piece which he performed countless times, recorded in Berlin for DG and filmed for Sony in 1985. This performance comes from near the end of his tenure as "music advisor" of the Orchestre de Paris in 1971.
Karajan's affection for music with a Spanish flavour also comes through in his sparkling rendition of Chabrier's beloved orchestral bonbon, Espana. Karajan had developed something of a reputation as a master of the short, light orchestral showpiece in recordings with the Philharmonia from the 1950's, but his latter career saw him cultivating an ever more serious persona, and lighter repertoire like Espana appeared only rarely on concerts like the Berlin Philharmonic New Year's Concert in 1979, when he conducted the work for the last time, alongside his final performance of Bizet's L'Arlesienne Suite. These recorded performances come from sessions in preparation for that concert, and show Karjan and the BPO unleashing on Bizet's modest suite a surely-unprecedented degree of sheer orchestral power.
Karajan was not by nature a completist, especially in repertoire outside the German canon, and his enthusiasm for the music of Dvorak and Tchaikovsky tended to be narrowly focused on these composers' most famous symphonic works. The Berlin Philharmonic's most famous and important contribution to the recorded legacy of Antonin Dvorak is the set of the complete symphonies recorded with Raphael Kubelik between 1966 and 1973. These recordings of the last two Dvorak symphonies were made by Karajan and BPO in 1977 and 1979 and are vastly different in tone and style from Kubelik's. Karajan's sound world is darker, the string playing more sustained and cushioned, and there is an emphasis on intensely expressive crescendi that can only be achieved at the expense of some of the remarkable sense of forward motion, rhythmic bite and clarity of articulation Kubelik had achieved only a few years earlier. Karajan's Dvorak seems to be at its best in the moments of high tragedy and dramatic portent, notably in the Introduction to the New World and the anguished final pages of that work's Finale, which successfully remind the listener that, for all it's tunefulness and enduring popularity, Dvorak's final symphony is a deeply tragic work.
If Karajan was subjective in programming the music of 19th c. Eastern European  masters, he was even more selective in programming the music of his own lifetime. However, he could be an effective advocate for those works he took into his repertoire, not least because of the sheer marketing power and prestige of his associations with the BPO and his various recording partners. Karajan first conducted Bartók's Concerto for Orchestra in 1953 and showed a real affinity for the piece- the mixed meters of the first movement roll forward naturally, and the second movement avoids bogging down as so many performances did before Sir Georg Solti discovered Bartók's correct metronome marking in the 1980's. Bartók's super-virtuosic Finale certainly holds no terror's for this most super-virtuosic of orchestras, but what comes across most consistently in this recording is Karajan's consistent respect for the letter of the score (notably Bartók's metronome markings), and the result is a performance that is remarkably idiomatic.
Karajan's affinity for the last three Tchaikovsky symphonies was life-long. He first conducted the Fifth Symphony with Salzburg Mozarteum Orchestra in 1929 at the age of twenty-one. The Pathetique came into his repertoire during his time as conductor of the very modest orchestra at Ulm in 1933, and he first conducted the Fourth, probably the most technically demanding of the three for the conductor, while Music Director in Aachen in 1937. Karajan unleashes a tremendous brass onslaught in the "Fate" fanfare which opens the Fourth- perhaps not surprising from a conductor who was known to double and even triple the trumpets in his orchestra. However, if the opening leaves one expecting a reading of extrovert virtuosity, Karajan's approach in the main body of the first movement is surprisingly lyrical, even in the fortissimos, and in many ways, rather classical- largely eschewing extremes of tempo and rubato. This somewhat classical approach to Tchaikovsky's dramatic language is not actually all that far away from that of Evgeny Mravinsky, one of the few conductors Karajan considered a true equal (perhaps not least because Mravinsky was one of the few conductors capable of being every bit as autocratic as Karajan is often reported to have been). If the Karajan's reading of the symphony hints at the Fourth's capacity to serve as a vehicle for pure orchestral display, his reading of the Finale goes more completely down that path. Karajan's perhaps-uneasy balance of textual fidelity, classicism and orchestral virtuosity  can be heard equally well in the Fifth and Sixth Symphonies which complete this collection.