In part 2 of my look back at the work of the still-controversial Herbert von Karajan, who died 25 years ago this week, I share an essay from Warner Classic's new box set of music by Mozart, Schubert, Brahms, J and R Strauss and Wagner recorded for EMI. A fascinating collection- some surprises, one complete disaster (guess which one!) and some stunning performances.
It's not unusual to hear the emergence of the Historically Informed Performance movement described as a direct reaction against the "excesses" of Karajan, and his generation's, interpretations of the Classical and early Romantic repertoire. To be sure, the sound world of Karajan's Philharmonia and Berlin Philharmonic is relatively far-removed from the leaner textures and tangier timbres of a fine period instrument ensemble, but in many ways, especially in his early career, Karajan's approach to Mozart, his contemporaries and successors, was not as old-fashioned and heavy-handed as many listeners to these recordings may expect.  In these fairly early performances of several Mozart's 35th and 39th symphonies, made between 1952 and 1960, Karajan's tempi in most of Mozart's fast movements are surprisingly sprightly and the Philharmonia strings play with admirable clarity of articulation and lightness. Although the slow introductions are played quite broadly, the slow movements of both symphonies are played quite flowingly, with and elegant rhythmic lilt.
If Karajan's Mozart symphonies are surprisingly modern in their approach, his way with the Divertimento K287 and Eine kleine Nachtmusic is decidedly pre-HIP, particularly the opening movement of Eine kleine Nachtmusic, in which every bow stroke seems to have been smoothed and polished as much as acoustically possible. In moments like this, Karajan seems driven to import his gift for seamless legato into music that is clearly written staccato.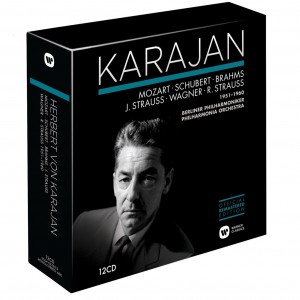 Karajan's approach to early Schubert has much in common with the best of his Mozart symphonies, with this 1958 Berlin Philharmonic performance of the Fifth Symphony is played with remarkable lightness of touch and elegance- qualities not always associated with the Karajan/BPO collaboration.  Love it or loathe it, Karajan and the BPO's performance of Schumann's Fourth Symphony is much more what we expect from this most famous coupling of conductor and orchestra—the  slow music is played extremely slowly with an enormous amount of tension, the string sound is weighty and the textures in the louder music are generally massive.  Although Karajan's BPO was about twice the size of Schumann's orchestra in Dusseldorf, Karajan insisted that no orchestral retouching (other than the occasional doubling of woodwind parts) was necessary in Schumann's music, and in spite of the Berliner's massive string section, the wind writing generally comes across with admirable clarity.
Karajan recorded both the Brahms and Beethoven cycles so frequently that it sometimes seemed that as soon one beautifully produced box set of LPs was released, he and the orchestra would already be hard at work on a remake.  In the case of the Brahms symphonies, these early recordings, made with the Philharmonia in the 1950's, are prized by many collectors, often above the later remakes. The extent to which one prefers these or Karajan's later versions with the Berlin Philharmonic depends to a large extent on how simpatico the listener is with Karajan's very distinctive approach to sound and articulation. There's no question but that each remake came closer to Karajan's ideal of  orchestral tone, distinguished by extraordinary depth of string sound and fantastic smoothness of legato playing. However, Karajan's producer at EMI, Walter Legge, was possibly the only producer Karajan worked with who was possessed of an equally iron will. What sets these early Philharmonia performances of the Brahms symphonies slightly apart from the  later BPO ones is a much greater attention to precision of ensemble- something which Karajan was generally willing to sacrifice later in his career in his quest for the perfect sound.  For many listeners, these early performances integrate many of Karajan's best qualities as a Brahms interpreter (albeit without the magisterial sound of the BPO to work with) into performances which maintain a greater degree of rhythmic life and clarity of texture than his later remakes.
Karajan' approach to Bruckner was in many ways distinctly different to that of his contemporary, Eugen Jochum. Jochum's research led him to believe that Bruckner intended for the performers to use the modification of tempo to underline the structure of the music- hence his tendency to gradually speed up in long developmental passages or dynamic build ups. Karajan's approach was, right or wrong, more literalistic, tending to keep tempi within a section as solid as granite. His approach is often described as both austere and monumental, and could be incredibly effective- especially when the huge sound of the Karajan-era BPO was deployed on Bruckner's later works
Karajan's lifelong fascination with Wagner reached its culmination in the founding of the Salzburg Easter Festival. Karajan's stagings of the complete Wagner operas were often controversial- many critics objected to his productions, which were often directed by Karajan himself, while others objected to his preference for more lyrical voices over the more traditional massive Wagnerian voices. In the pit, Karajan insisted the orchestra play like a large-scale chamber ensemble, demanding extreme clarity of texture and lightness of touch when accompanying the singers. However, Karajan was always more than willing to unleash the full weight and power of the BPO's sound when Wagner's music calls for it, as in these 1957-1960 recordings of Wagner's most popular orchestral numbers, with the Berlin Philharmonic produced by Walter Legge.
If Karajan's Wagner was often controversial, few commentators ever doubted his way with the music of Richard Strauss. As with Brahms, Karajan's earlier recordings of Strauss with the Philharmonia under the watchful eye of Walter Legge may lack the depth of sound and sheen of legato that his later Berlin Philharmonic performances achieve, but they generally evince a higher level or precision of ensemble and clarity of rhythm. Karajan was never known as a great musical humourist, and his performance of Till Eulenspiegel begins in rather solemn fashion, but what the performance lacks in wit, it makes up for in sheer virtuosity, especially in the later part of the work when the tempi really take flight.  Death and Transfiguration, however, was always a work that suited Karajan's temperament and intensity.
Karajan's recordings of highlights from the mainstays of Vienese operetta, made with the Philharmonia  in the mid-1950's have never been out of print, and it remained music he conducted with great affection and great attention to detail throughout his long career.  This collection offers the listeners the chance to compare the classic 1955 performances of Suppé's Light Calvary Overture, Johnann Strauss II's Titsch-Tratsch Polka and Johan Strauss I's Radetzky March  with those made in 1960 in decidedly more opulent modern sound.  A quick check of track timings will show that Karajan's tempi had all slowed slightly over in the intervening years, but that the orchestra had gained in sonic opulence. So it usually was with this most sound-obsessed of conductors.