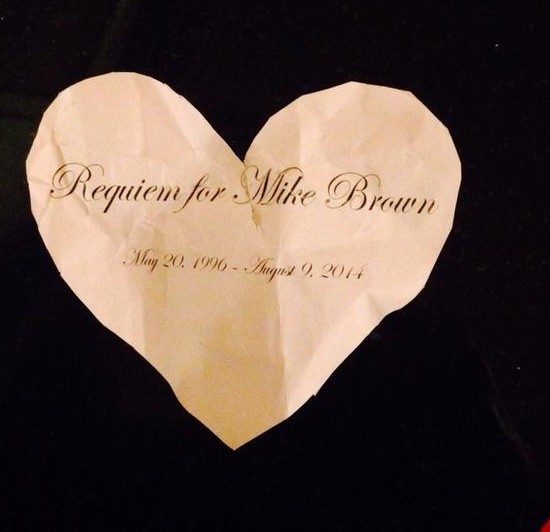 Via the Saint Louis Dispatch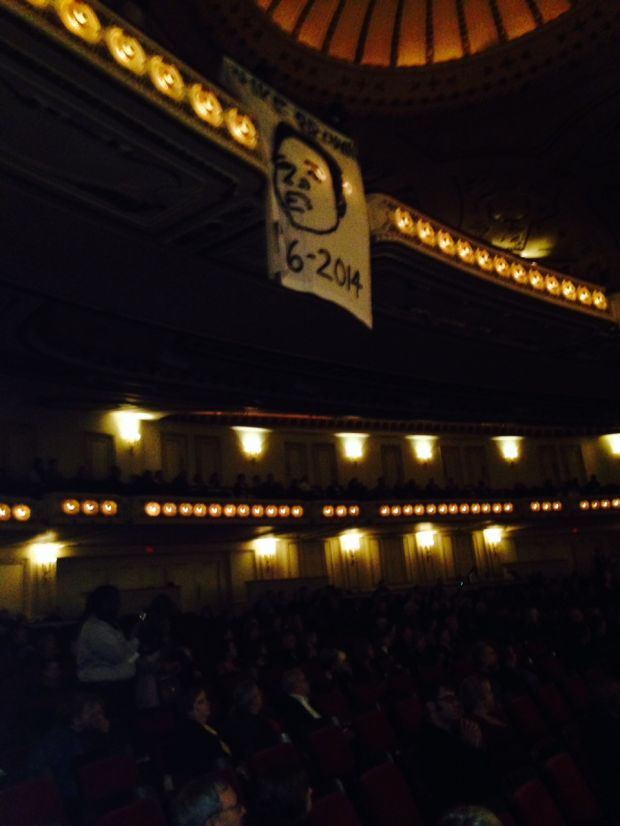 "Michael Brown protesters interrupted the St. Louis Symphony Orchestra's concert on Saturday night, causing a brief delay in the performance at Powell Symphony Hall.
The orchestra and chorus were preparing to perform Johannes Brahms' Requiem just after intermission when two audience members in the middle aisle on the main floor began singing an old civil rights tune,  "Which Side are You on?" They soon were joined, in harmony, by other protesters, who stood at seats in various locations on the main floor and in the balcony.
The protesters then unfurled three hand-painted banners and hung them from the Dress Circle boxes. One banner listed the birth and death date of Brown, who was shot by Ferguson police Officer Darren Wilson on Aug. 9.
The five-minute interruption was met with a smattering of applause from some audience members, as well as members of the orchestra and chorus. Others simply watched as the orchestra remained silent."
I wasn't there, obviously, but I'm inclined to say the protesters did the right thing- certainly that their actions, to me, seem both justified and appropriate.
There have been many political protests at the Proms over the years, some poignant and effective, some simply disgraceful. It all has to do with motivation for the protest, respect for the audience, appropriateness of context and respect for the music. Interrupting the piece would have been disrespectful to music, musicians and audience. Protesting before a Requiem seems poignant and appropriate- someone ought to be singing in memory of any and all people killed by violence. Maybe the protest helped people hear the work with more open ears and raw nerves- probably upsetting, but eye opening. One friend of mine questioned whether staging a protest on private property was fair to the hall, the orchestra and the audience. I'm not sure I agree. If the concert hall can't be the center of civic life, a hub for intellectual discussion, a place to share ideas, a place we can mourn, cry, scream, love and heal together, we may as well burn every concert hall to the ground. When we value genteel niceties and professional convenience over the existential questions of right and wrong, life and death, we, as artists, have probably   made ourselves completely  irrelevant.
Classical music was once the most political of art forms. Beethoven wrote the Eroica in support of Napoleon's struggles for liberty and freedom from an oppressive monarchy. When Bonaparte crowned himself emperor, Beethoven famously scratched out the dedication to the fallen hero. Wagner may have been a toxic soul, but he was deeply engaged in political ideas and clearly saw his music as, among other things, an instrument of social and political change. Sibelius's music helped fuel the Finnish struggle for liberation from Russian occupation, and Verdi's helped bring together Italy into a modern and united country. Mozart's three great operas based on libretti by Lorenzo Da Ponte were provocative and highly controversial political statements questioning the birthright of the ruling class, the inherent nobility of the noble, and the wisdom and decency of those who rule. Benjamin Britten's masterpiece, the War Requiem, is a pacifist cris de coeur, that not only reminds us of the utter futility of industrial scale mass murder, but also of the fundamental humanity of those on both sides of any conflict. Shostakovich described much of his music as a gallery of tombstones- memorials to victims of Stalinist terrors and Nazi atrocities. Rostropovich's performance of the Dvorak Cello Concerto during the 1968 Russian crushing of the Prague Spring remains one of the musical and social high-points of Proms history.  I could go on.
It has been a widely accepted truism in my lifetime that music and politics ought to be kept separate. There is a kernel of wisdom in this idea. Music ought to bring us together, not drive us apart, and I know that by keeping my political ideals out of the discussion to the best of my ability in the workplace, I've been able to form countless friendships and vital collaborations with people who have very different political outlooks and world-views from me. The social act of making and sharing music has provided a framework and a forum for me, and them I hope, to find common ground. It's important we nurture that fragile shared public space.
On the other hand, if we can't agree on the rightness and wrongness of certain things, what is the point of that public space? If we can't find some common ground in our understanding of massive historical events and social problems, what hope to we have of improving the human condition? How perfect is it that the protesters sang  "Which Side are You on?"  I read that as referring to the side of life or the side of death, the side of love or the side of hate, the side of peace or the side of murder. Too many people seem to be seeing it terms of the side of white people or the side of black people, the side of the cops or the side of Mike Brown.  Simply agreeing on the pleasant sound made by a fine orchestra and chorus performing Brahms is not enough.  Classical music, worried about alienating funders and scaring off audience, has completely neutered itself in my lifetime. Politics is a combative business- a rough and imprecise way of working through the problems society faces. All too often, in order to appear reasonable and unbiased, our social discourse offers equal time to both right and wrong. Art can help us to illuminate and clarify what is right and what is wrong by engaging and awakening our sense of empathy.  Which Side are You on? We hope you're on the side of empathy.
We call a Requiem a "Mass for the Dead" but that's a misleading bit of shorthand. It's better thought of as a "Mass of Remembrance for the Survivors" (my teacher, Gerhard Samuel, wrote an important work called "Requiem for Survivors" that explores this very idea).  A Requiem exists to give voice to the pain of loss and to help us find reason and comfort in our darkest hours. The media belittles and trivializes human life at every turn. If this week's protest helped anyone to listen to Brahms's music with more empathy, to think about the value of Mike Brown's life and the loss being endured by  his family, I think that's a positive thing.  If the performance that followed the protest could have given some solace to Mr Brown's family or the survivors of any of the many violent deaths plaguing our society, that would have been a wonderful thing. If we can't agree that killing is wrong, that violent deaths are always a tragedy, what hope do we have? If the words of Brahms' Requiem are simply a framework for some beautiful music that let's the performers show how accomplished they are and let the audience relax after a busy week, I don't know why we'd bother struggling on to raise money to put on concerts. This is supposed to be life or death stuff- infinitely raw and relevant.
"You now have sorrow;
but I shall see you again
and your heart shall rejoice
and your joy no one shall take from you.
Behold me:
I have had for a little time toil and torment,
and now have found great consolation.
I will console you,
as one is consoled by his mother"
You may also enjoy reading
UPDATED- Monday, 6 October
It's been wonderful to see the very strong and overwhelmingly positive response to this post. It's particularly nice to be able to engage with new readers. Welcome to everyone visiting for the first time.
Almost all the comments I've received here have been very positive. One area of discussion that has emerged is the effect the protest had on some of those in the building. One commenter was particularly concerned that  elderly patrons and the ushers, who often tend to be older, might have felt threatened or feared for their safety in the early moments of the protest. Thomas J, playing principal horn in the concert, commented below " I can only say that while the protest ultimately proved beautifully sung and peaceful, to those of us about to commit ourselves to this profound work and it's attendant need for focus, more than a few of us felt unsettled," going on to say "We simply didn't know what else was up the protesters' sleeves, and saw no one to allay our fears." I have every confidence that the musicians of the Saint Louis Symphony rose above the disruption and delivered the kind of performance that everyone there needed to hear- they're one of the greatest orchestras in North America and their musical shoulders are very broad.
I think these are perfectly legitimate issues to raise, and I hope the protest organizers will take them to heart. If the goal of this movement is justice and healing a divided society, empathy and respect for others has to be at the forefront of everyone's mind. Hopefully, the peaceful and respectful nature of this protest will help allay fears of members of the general public present going forward. It's hard to imagine a more peaceful protest than one which consists of singing and dropping folded hearts, but protest of any kind in these strange and violent times has the potential to make perfectly well-intentioned people very uncomfortable. While the sentiment of "black lives matter" is obviously one that needs to be articulated as part of the movement, I found the switch from singing to shouting surprisingly jarring and wish only that those words could have been set to music as well. I would implore anyone involved in or considering future protests to think of the state-of-mind and well-being of those people you are asking to be your witnesses. Make sure they know your intentions are respectful and peaceful. Build empathy by modelling empathy.
Update 7 October
Thanks again to everyone for reading and commenting.
As this moment begins to run its course, I think a word of praise is due to everyone at the Saint Louis Symphony who have, as far as I can see, handled the entire event and its aftermath with total class and professionalism, from the musicians to the broadcast team. Well done, everyone- a perfect example of how a great orchestra is more than just great performances.
Update- 9 October
A podcast follow-up from WQXR in New York. I talk about the relationship between classical music, politics and protest with host Naomi Lewin and author and Washington Post culture writer, Philip Kennicott . Naomi also interviews Sarah Bryan Miller, music critic of the St Louis Post-Dispatch.

There's also this article from the Riverfront Times which is a nice summary and discussion of what you've just read here.