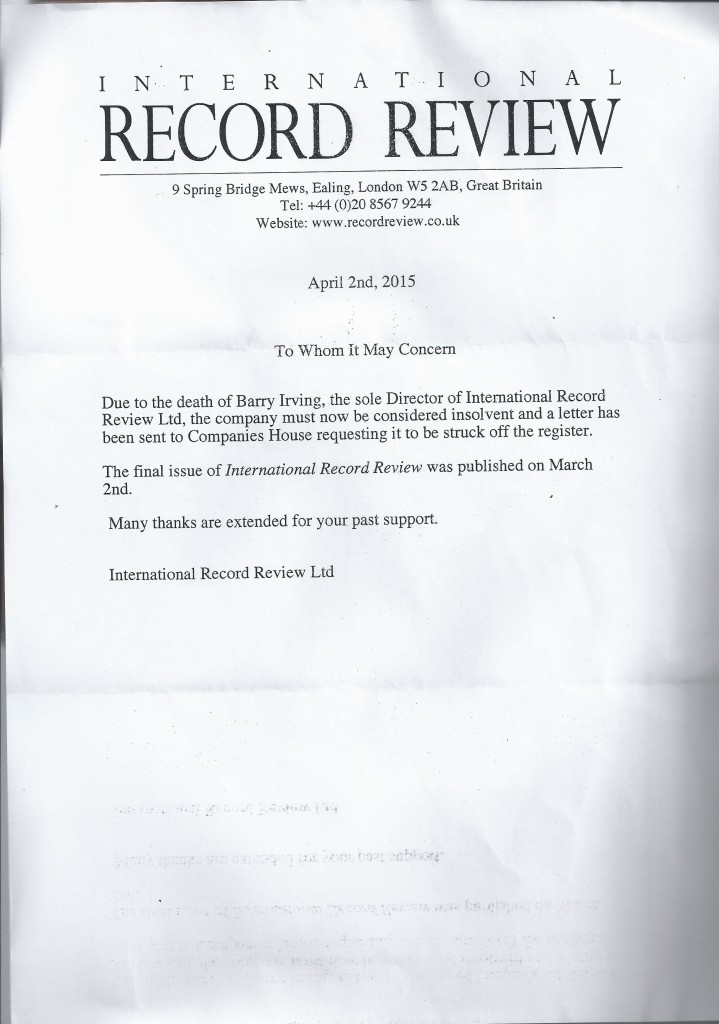 The news that International Record Review magazine has been forced to stop publishing following the death of Barry Irving is a blow for everyone in the classical recording industry. I met Barry only briefly at a couple of CD launches. He struck me as a very nice man who had invested a great deal of blood, sweat and tears in keeping the magazine going in difficult times.
And a fine magazine it was. Of all the major review magazines, it's focus was the narrowest- there was almost nothing in it about concerts or personalities. No puff pieces or profiles- just lots of reviews, roundups and discussion. The current state of publishing these days means there is always a wealth of talent out there if you choose to look for it, and IRR had some splendid writers working for it. I'm incredibly grateful for perceptive reviews given to some of my early recordings by Martin Anderson, Robert Matthew Walker, and Malcolm MacDonald. MacDonald's reviews of my first two Gál/Schumann CDs contain some of the most insightful writing on Gál I've ever come across- his phrase "Haydn-like sanity" shall stay with me always. A critic we all miss, and now a magazine we shall all miss.
For me, it is a deeply dispiriting sign of the times that excellence doesn't seem to be at all related to success. Just ask the musicians in the Minnesota and Philadelphia Orchestras, or the Atlanta and Indianapolis Symphonies who have endured lockouts and pay cuts in spite of their high musical standards. Meanwhile, in the corporate world, we see company after company increasing the profits by lowering the quality of what they produce. So many of the best and most important record companies, magazines and websites are run for love rather than money, and this puts us all at risk. With IRR gone, there will be that much less exposure for worthy projects, that much less discussion of newly-discovered repertoire.
The March issue was the last to be published. In a strange twist, the final page happened to be written by me- the monthly "Too Many Records" column was one corner of the magazine where readers could get to know artists a bit better. Writing the last words in such a fine magazine is not an honor I wanted, so let me share my last words on the magazine- thank you Barry, Máire Taylor (the magazine's Editor) and all the writers. The recording world will miss your contributions. I wish people outside the core of the industry would do more to support the publishers doing their best to keep the art-form alive and relevant.