It was with real sadness that I learned today of the passing of this pianist Ivan Moravec, a man who was widely recognised as one of the greatest pianists of his generation, but who never quite earned the fame or fortune his artistry merited.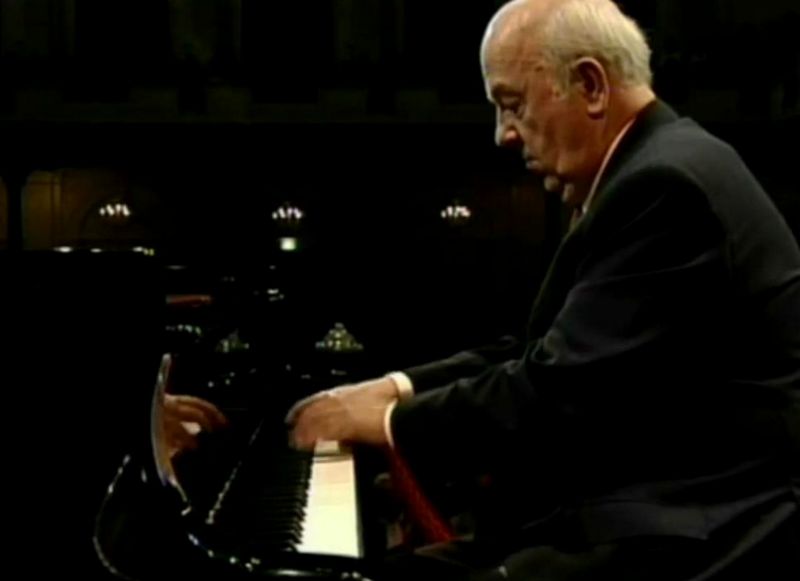 The many recordings he made are really treasures and well worth seeking out. I played with him once, as an orchestral cellist, in the Schumann Concerto. I'd never heard of him before and had no idea what to expect. He was the greatest and most compelling artist at the piano I've ever been on stage with, at least that week. His playing was infinitely colorful, but never flashy or for effect. He played with incredible freedom, yet was absolutely easy to follow. There was something so centered and focused about what he did, and this gave the playing a sense of fluidity and clarity that was simply amazing. One wasn't aware of him having a big sound, but with a large symphony orchestra, you could still hear every note, and every note had beauty, every note had a beginning a middle and an end. We barely rehearsed with him- one run-through and that was all it took to produce a performance I still remember as a career highlight nearly 20 years on. Here is what I wrote about it on the blog in 2008:
One reason this Schumann gets done so often is that it is quite technically accessible for any orchestra. How sad, then, that I have hardly ever heard or played in a really satisfying orchestral performance of the piece. It is so rare for the first movement to really have the infinite range of subtle earth tones to really capture Schumann's dreamy, rhapsodic world, rarer still for the Intermezzo to be played with anywhere near enough charm, or to be done with the cellos singing, but not bellowing the second theme. And the finale- the poor hemiola theme….. Did Schumann know how badly conductors and orchestras would massacre that elegant and sublime music? What should sound like Fred Astaire dancing on a cloud of perfume too often gets played like drunken soldiers stumbling back to barracks after one too many. Any beast with a metronome can learn Rite of Spring, but the Schumann concerti (piano, violin and cello) are really hard.
One exception was a performance I played in with Ivan Moravec many years ago. I'd never heard of Ivan Moravec, which is quite sad considering I should have known who he was, but I don't think anyone in the band knew who he was.
The rehearsal began and this older, professor-ly gentleman (several musicians had mistaken him for the piano technician) gave the maestro a gentle smile and we began. Schumann's bracing opening, which is usually played as violent outburst, without shape or direction, already revealed un-dreamt-of layers of color and texture, and by the second piano entrance after the little woodwind chorale, we were all starting to recognize that we were in the presence of a very special musician. A musician who had that rare power to take other musicians, very good ones, beyond their usual limits and habits.
That afternoon with Moravec was something altogether different- not only did he play beautifully, but maestro and we in the orchestra absolutely outdid ourselves. We played from beginning to end  as if weightless, as if Hiro Nakamura himself had stopped time and given us a frozen moment to hear this music as if played in a totally silent world. One felt incapable of playing out of tune or out of time. One felt as if the music was in touch with something beyond what was happening in that room on that day.
Twenty-three minutes later, we played the last note, and maestro looked at Moravec and asked him if there was anything he'd like to do. Moravec smiled, well, half-smiled, again and got up, shook the leader's hand and left.
Now that's what I call a rehearsal.
Here is a short documentary on Ivan Moravec on YouTube
The music world is a poorer place without his musicianship and that matchless sound.
More from Jake Stockinger at The Well Tempered Ear here