I was saddened this week to learn of the sudden retirement of conductor Nikolaus Harnoncourt at the age of 86. (For more detail see The Strad and the New York Times news items, and this tribute from the Berlin Philharmonic)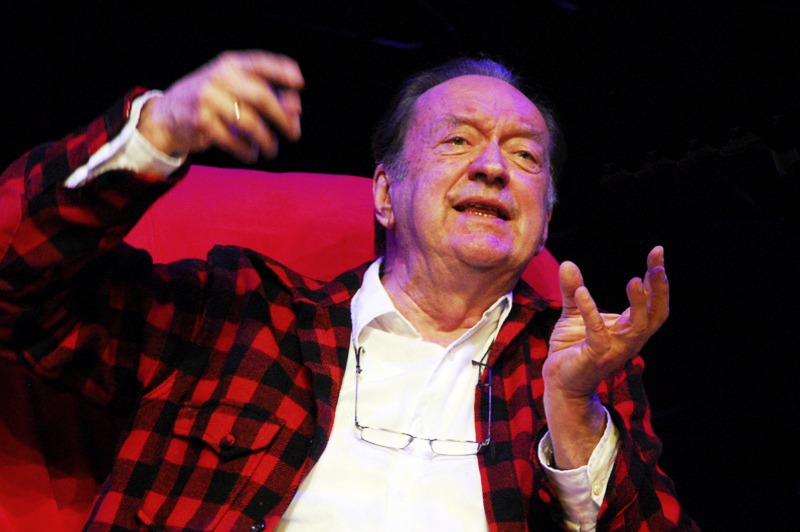 Harnoncourt has long been a bit of a Marmite conductor- people either love or loathe his work. I don't think he would have it any other way (not that I would know– we've never met and have no professional connection whatsoever). However, provocation is by no means the essence of his artistry. To me, what makes Harnoncourt such and interesting, important and original musician has always been the depth of his engagement with the scores he conducts. I'm not keen on Marmite, but I respect Harnoncourt enormously.
Although he's long been one of the dominant players in the Historically Informed Performance industry, Harnoncourt's best music making has, in my opinion, very little to do with "style." Too often with lesser performers, style becomes a sauce used to conceal the insipidness of an under-seasoned musical dish. We've all seen conductors take away the vibrato, the rubato and the legato, and burn through a Beethoven or Haydn symphony on stylish autopilot. Harnoncourt has never been about what he leaves out of his performances, but what he pours in, which is a keen eye for detail, a willingness to push the envelope and risk ugly sounds, a rich imagination and a powerful rhythmic sense.
A few years back I heard a radio broadcast of Harnoncourt conducting Beethoven 7 with the Chamber Orchestra of Europe. Not his old CD recording, but a much more recent concert. Beethoven 7, one of the 5 most perfect symphonies ever written, has for the last 25 years or so been piece in which almost every conductor (including me) seems to somehow influenced, inspired or intimidated by Carlos Kleiber's classic recording and film. When I listened to that performance of Harnouncourt, it sounded like nothing I'd ever heard- he pulled out so much detail I'd never noticed in the piece, and had his own, completely distinctive approach to the phrasing and structuring of the symphony. From bar to bar, phrase to phrase, one felt such a strongly developed point of view about the work- not just what note of the chord or what voice of the counterpoint Harnoncourt thought was most important, but what he saw as its character, its past present and future. I've had similar reactions to his performances of a huge range of composers, but his imaginative engagement with textural detail is most apparent in Haydn, a composer whose music usually seems to highlight the glaring superficiality of most conductors (including me).
To the extent Haroncourt has earned his reputation for being a provocateur, he's done it for the right reasons, with his provocations growing out of an unfiltered engagement with the scores he conducts. Far better this than the work of conductors who seem to be focused entirely on generating outrageous sound effects from period brass and timpani. Harnoncourt understood that working with period instruments meant that the players shouldn't have to stand on their heads to make the orchestration work- he encourages them to play all out, to push old instruments to their limits, where some others have perhaps fallen into the trap of using a HIP approach as a pathway to what is really an Ikea aesthetic- everything cool, smooth, clean and cheap. With his own Concentus Musicus he created the ideal laboratory to see what the possibilities of old instruments really were.
He's also been successful in getting the best out of non-period orchestras, which is unsurprising considering his long professional experience in the cello section of the Vienna Symphony. I've really soured on modern instrument groups that simply try to imitate the sound of period instrument groups. It's rarely convincing acoustically- the strings end up thin, edgy and horrible, the brass end up sounding like a toothache, and the woodwinds never seem to get the memo that they're supposed to be playing any differently than "usual." Worst of all, focusing on imitation takes the musicians' attention away from phrasing and listening, and usually also leads to a very simplistic, one-dimensional approach to color which, again, is too much about what you don't do rather than what you do. Consider this film of him conducting the Vienna Philharmonic- it's as stylish and vibrant as you like (with one funny edit- can you spot it?), but it doesn't sound anything like Concentus Musicus. His long affiliations with the Berlin Philharmonic and the Concertgebouw are the stuff of legend, too.
Of course, total fearlessness can have its downside (just ask Ayrton Senna), and among my many Harnoncourt CDs, there are a few real clunkers, but this is not the time or place for worrying about those. A wise teacher told me early on that I should evaluate other conductors not in terms of how much of what they do I like or agree with, but in terms of what I can learn from them. On that basis, can't think of many conductors who have taught as many musicians and listeners as much as Harnoncourt.
More Harnoncourt content on Vftp:
HAPPY 85TH, NIKOLAUS HARNONCOURT
REPERTOIRE REPORT- NIKOLAUS HARNONCOURT
HAYDN'S MUSIC- BATHED IN FIRE AND BLOOD