This past Sunday afternoon, I conducted the ESO in a performance of Tchaikovksy's String Serenade which marked the end of our main 2016-7 season. Between now and our return from the summer holidays, my colleagues are doing some fascinating chamber music concerts, the Bach B minor Mass with the wonderful Sarah MacDonald guest conducting, and a few engagements, but for me, the end of our main season is always an important milestone.
What to say about a year like this? I fear most of the really good (outrageous) stories will have to wait for my memoirs. Have no fear, I will write them if I have time and good health, and they'll be pretty damn funny, occasionally shocking and hopefully interesting when they're done.
Well, what I can say is that it has been one hell of a year. Depending on how you measure it (I joined the ESO mid-season and my title and duties have changed two or three times since then), this is about my fourth year give or take a year or two minus the odd hiatus. The orchestra has been through a huge amount of change in that time. Almost all of it is change for the better, much of it long overdue, but it's all happened against a backdrop of austerity, economic upheaval and political instability that has made everything that little bit more of an uphill battle.
Every arts organisation I know these days is frighteningly under-resourced. Because the ESO was going through a difficult patch before the 2008 financial crisis, they were already under-resourced even before the cuts started coming in. I don't think most people are prepared for what they would see if they look behind the curtain at most performing arts organisations- a gaunt and bleary-eyed skeleton crew soldiering on through untold hours of thankless grunt work to keep the music playing, only be regularly let down by complacent contractors or flaky partners.
So, why do it when we  must spend so much time up to our noses in frustration and worry? I suppose one does it because every once in a while, you get one of "those" concerts or events which refreshes, revives and sustains you for the next year or so. It's the concert that lights the world (maybe just your world) on fire, the new piece that changes your life, or the guest artist who makes you remember why you perform that keeps you going.
What was amazing about this year is that, after three years of hard work, change and investment, we found ourselves having a year of LOTS of those kind of breakthrough projects, one after another. I hope I can look forward to years in which I'll make more money, get more sleep and perform for more people, but I'd have to be one luck SOB to have a year with so many incredible projects with the same band.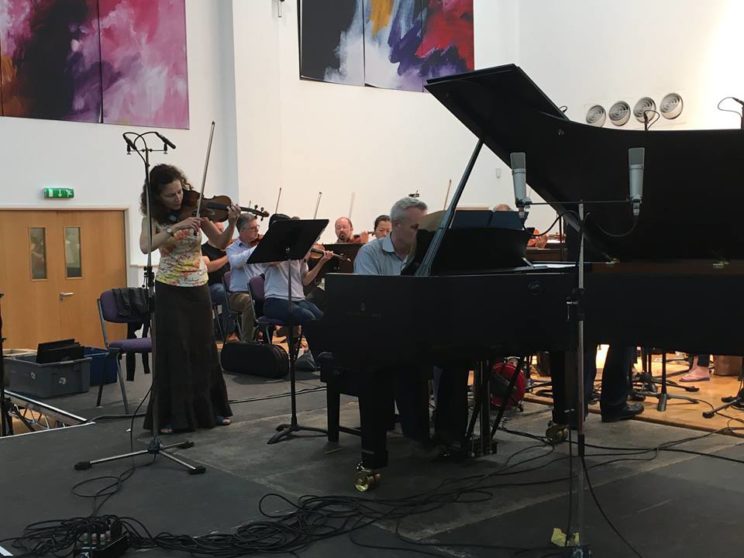 September: Krenek- Piano Concertos vol 2. Recordings at Wyastone Concert Hall
Recording volume one of the Krenek concerti with Mikhail Korzhev and the ESO was about as much fun as recording/music-making gets. Misha is an incredible pianist, but also a funny, sweet, kind guy with an incredible work ethic. The sessions were a joy and it was also great to work with Michael Haas producing- I have so many of his Decca CDs on my shelves, from the Entartete Musik series to things with Chicago and Pavarotti. To my great surprise (I had thought I was one of about ten people in the world who liked Krenek), the first disc was a huge success. One couldn't help but worry that the magic would be harder to capture the second time around. Fortunately, this year's repertoire was, if anything, even stronger, the orchestra has come on even more, we were able to make better use of the hall's vaunted acoustic by extending the stage, and we were joined by three more wonderful co-soloists. NY Phil pianist Eric Heubner joined Misha for the Concerto for Two Pianos, which is a funny (it's a series of atonal variations on O Sole Mio) and thrilling piece. Violinist Nurit Pacht played with infinitely refined tone, elegant style and uncanny intonation in the Double Concerto for Violin and Piano, a work I completely fell in love with, and organist Adrian Partington was class personified in the Little Concerto for Organ, String Quartet, Flute and Clarinet, a marvellous, quirky and moving little work. Three wonderful days that I didn't want to end.
More
MusicWeb
Classical Source
Sunday Times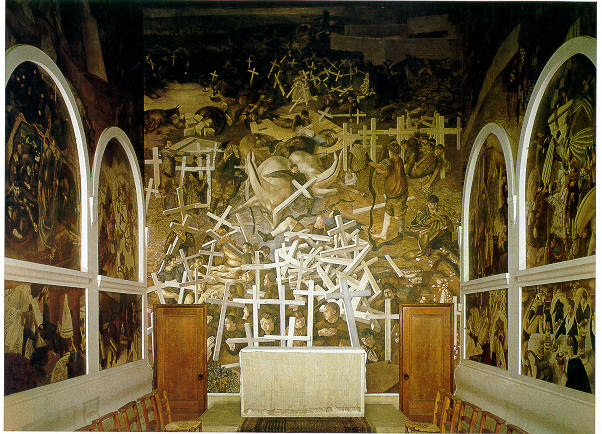 September: Robert Saxton- Resurrection of the Soldiers, Mozart Piano Concerto in D minor with Clare Hammond, and Mozart 40, Hereford Shire Hall
Having conducted Robert's mega-super-ultravirtuosic trumpet concerto "Psalm" a few years ago, I knew not to expect anything too easy from him. This new work certainly challenged us, but for once, we had a decent amount of rehearsal time, and, to my mild surprise, we were able to tame the beast in half an afternoon. Part of the reason we were able sort it out so quickly was the arrival on the scene of a new guest leader Zoë Beyers, who immediately stood out for her gorgeous playing, flawless musicianship and calm, focused presence. When Robert came to the dress rehearsal on the day of the concert, he was gobsmacked and we were all pretty proud of the noise we were making. I think it's a really powerful and profound piece. It's got an absolute beast of a multi-metric fugue in the middle, but the coda is just shivers-down-the-spine moving. At one point, I was worried that the piece was a little harmonically ambitious for Hereford, but the audience response made clear that they knew they'd heard something special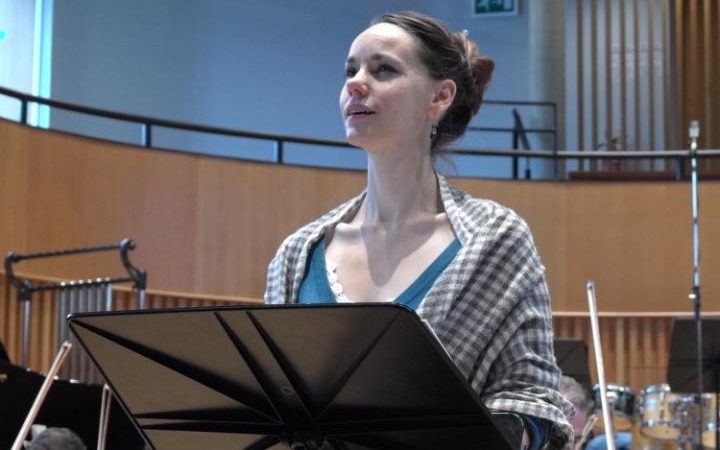 October: John Joubert- Jane Eyre: An Opera in Two Acts. Ruddock Performing Arts Centre, Birmingham
It may be that this project took the longest from concept to delivery in my career to date. Siva Oke originally came to me with the idea just as I was doing my first concert with the ESO in 2013. Back then we naively thought that such an obviously worthwhile project involving such an important piece of music with such strong literary connections would be easy to put together. Given John's lifetime of service to the cultural life of Birmingham, we assumed all the major local arts sponsors, the University and the key members of the music scene would line up to fund it. Hah! Boy did we learn! But, after a few false starts, we found the right fundraiser, got a little lucky with the Arts Council and when all looked hopeless, found a guardian angel to see us over the finish line.
One of the first pieces I learned really, really well as a conducting student was Brahms 1. I completely immersed myself in that score for months and I can remember one afternoon in my Cincinnati flat thinking what it must have been like to be there on the day it was premiered (conducted by the composer's friend Felix Otto Dessoff, on 4 November 1876, in Karlsruhe). Brahms spent 21 years on it, but people throughout the musical world had been wondering what a Brahms symphony would be like since he was 20. Before that, people had been waiting for the next great symphonist after Beethoven since 1827 (sadly, they slept through Schumann, who may have been an even greater symphonist than Brahms, but that's a story for a different day). Imagine the years of worry, expectation, frustration and anticipation from all concerned. And then, one night, an orchestra goes onstage and plays Brahms 1 for the first time, and the world changes forever. Humanity's collective inheritance is forever enriched. When that sort of thing happens, can those there even begin to understand the magnitude of what they're witnessing?
Well, Jane Eyre was the first time I ever got to experience what it might have been like to be there in Karlsruhe in 1876. No, Jane Eyre is not Brahms 1, but it is, I'm quietly confident, the finest English-language opera written since the death of Britten. So did people notice? Did they get it? Of course, there are always those whose perceptive powers are sadly dulled by arrogance and routine. We can only pity them (him?). For all the others, it was an unforgettable night. To be part of something like the ovation John received at the end, with everyone in the orchestra and the audience standing for him, well, it is a moment to treasure forever. A great example of how music can bring people together. I'm very glad the recording we made that week is available, and I'm very proud of how it sounds, but I would have been perfectly happy to tuck the premiere of Jane Eyre into the most secure vault of my most precious memories and never listen to it again. It was that special.
More
Summary of reviews of premiere
Premiere of the Year, Classical Music Magazine (2nd year in a row)
Birmingham Post- Classical Highlight of 2016
October: Premieres and recordings of new works by Deborah Pritchard and Nimrod Borenstein with Simon Desbruslais-trumpet and Clare Hammond-piano
British orchestral musicians are about as resilient a group of people as I've ever seen. They're known world-wide for their speed of learning and their flexibility. This was a particularly challenging project on many levels, and in the end, we found ourselves working under incredible pressure on very difficult repertoire. It probably didn't help that we were all so drained from Jane Eyre just three days earlier. When we started having issues with the piano in the middle of the recording session it looked entirely possible that the project simply wasn't going to work. Somehow, it did. And, in the end, it was a happy, if draining, couple of days. All props to Clare and Simon for staying so calm through it all, but even more so to my colleagues in the band who stayed so cheerful and focused through the whole thing. It's going to be a great disc (comes out Augst 26)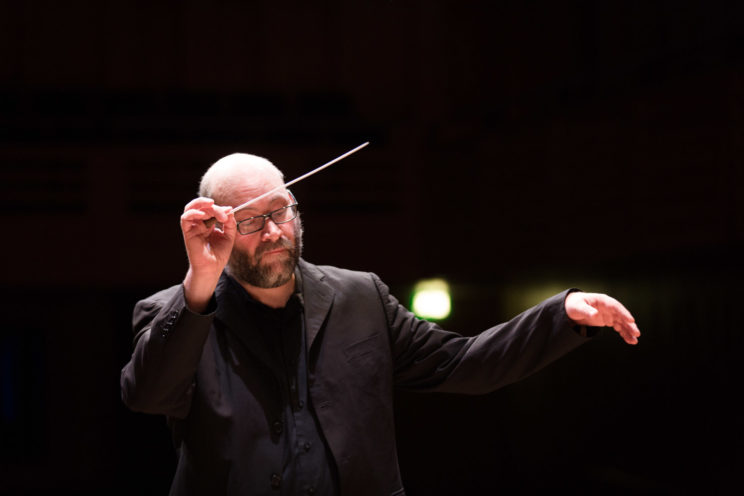 December: Haydn and Mozart at Kings Place and Cheltenham Town Hall
After the torrid pace of the early part of the ESO season, I was away for almost all of November. It was a VERY intense time- a mix of challenging string trio programmes, a solo turn in the Sawyers Cello Concerto in my hometown, and a wonderful trip to the Dominican Republic. When next I saw the ESO, it was a bit like stepping into a time warp with two concerts that repeated the Mozart and Haydn symphonies we'd begun the season with in September. We'd tied these three dates (tied dates mean the musicians must accept/play all the dates or none)- something that is unusual to do when concerts are months apart, and it did create some scheduling challenges, but artistically, it was a great thing for us. Thanks to our Arts Council support for our work in Hereford, we'd actually had quite generous (for us!) time to work on these two great symphonies (especially the Mozart) in September, and now we had the chance to build on that investment with important concerts in two new venues. Mozart 40 and Haydn 44 are about as good as music gets, and somewhere in this project, the orchestra just got into some kind of crazy zone. Both concerts were so fun- incredibly intense, very fiery playing, and wonderful snap and precision. It was clear by this point that Zoë was probably the concertmaster the orchestra had needed for a long time and we started having some conversations about her joining the ESO around this time. Goodness, do I want to record some Haydn with this orchestra now!
On top of all this joyful immersion in the best of minor-key Classicism, we played James Francis Brown's wonderful clarinet concerto Lost Lands, Shadow Groves at Kings place with Emma Johnson. My goodness, this is a golden age for new music. It's such a beautiful work. James writes for the strings with profound understanding and the piece has a real arc to it- it's perfectly suited the poetic character of the clarinet.
More
ClassicalSource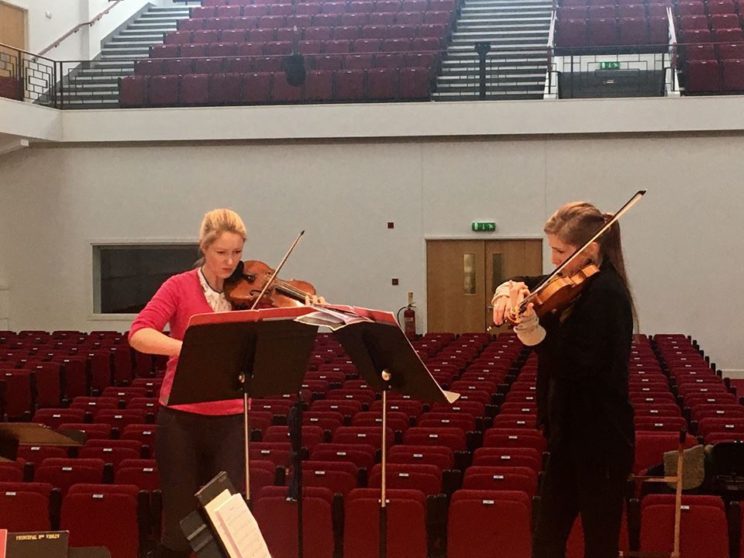 January: Recording Concertante works for Violin with Harriet Mackenzie by David Matthews, Emily Doolittle, Paul Patterson and Robert Fokkens, with Philippa Mo, violin (Retorica Duo). Wyastone Concert Hall
In 2014, the ESO had it's first recent breakthrough success with the premiere of Deborah Pritchard's Violin Concerto "Wall of Water." We'd managed to coble together a fine live recording of WoW from the premiere and Nimbus released it as a CD single that year. Ever since, plans have been afoot to record a full program of other works to compliment it. It took nearly 3 years, but it was worth the wait! Paul Patterson's Allusions is a stonking double concerto for two violins. The other movements brim with wit and craft and the middle movement is both haunting and harrowing. Philippa and Harriet played it brilliantly. David Matthews' "Romanza" is a rich and sophisticated piece- the kind of work one would ideally like to live with for a long time. The musicians took about 45 minutes to crack David's language, then suddenly, it all clicked. What a beautiful piece it is, as is Emily's "falling still," which I've done so many times over the years. It was particularly nice to record something by a friend I've known since my student days. The next day, we recorded a work by a friend of Harriet's from her student days, Robert Fokkens. Day One had been an echt English String Orchestra project. Day two and Rob's piece for string quintet, piano, huge percussion section, brass and winds brought us to a totally different sound world. It's one of those pieces that looks so difficult on the page you almost reflexively think it must suck (most super difficult pieces do, in fact, suck).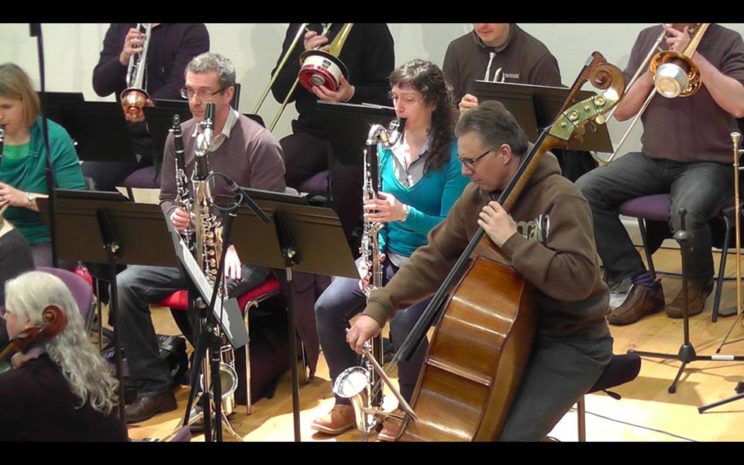 However, it is AMAZING. Full of color, wit, panache, imagination. It was such a happy day recording it. Once again, a project that could have felt like a real grind turned into something quite joyful. Throughout the two days, we were delighted to work with another supremely gifted guest leader, Hayley Wolfe. When you've got the right person in that chair, a conductor's job doesn't feel like a job (and yes, the reverse is also true. All too true!).
More
Composition Today
February: Sawyers Third Symphony Recording and Premiere, Wyastone and St John's Smith Square
Remember all that stuff about what it must have been like to be at the premiere of Brahms 1 and how it felt quite a lot like that at the premiere of Jane Eyre. Well… Yes- that, again. Just a few months later.
Somehow in a haze of caffeine and sleep deprivation, I dreamed up the idea of commissioning 9 new symphonies for the ESO and convinced myself we could do it. This was the first work in this series. Philip Sawyers is a dear friend, and I think is music is really special and important. What a gift it is for a conductor to be able to present music you believe in so strongly. One can never know what it must have been like for Boult to conduct Vaughan Williams or Bulow to conduct Brahms (let alone what it must have been like for Mahler to conduct Mahler!), but this is as close as I expect I'll get. Coming into a project like this with a long acquaintance with a composer's work is priceless. I'd already recorded a CD of Philips music, premiered his song cycle (Songs of Loss and Regret, also included on this concert and the forthcoming CD) and had played his Cello Concerto in November. The Third Symphony is a bold, slightly frightening, hugely important work. Sometimes listeners say the wisest things about music. One listener I've known for many years remarked "I remember reading the backstory of the premiere of Shostakovich's Fifth Symphony" she said, "and how that piece seemed to encapsulate all the difficulty of the time and offers some kind of possible answer to the challenges of the moment. This piece is the first thing I've heard in ages that seems to speak to the state of the world right now with all it's uncertainty and anger, and finds a way out." It's not a programmatic piece, but it looks straight into the abyss and says an emphatic "no" to despair and apathy. It couldn't feel more urgently or profoundly of our time, yet it's so deeply connected to the great symphonic tradition.
Both the concert and the recording session offered more memorable moments than I could summarise in a 10,000 word blog post. Conducting recording sessions (or playing them) offers a unique challenge of endurance. You've got to give everything on every take. By the end of the sessions, we were all absolutely wrecked. We seemed to be done- I was dripping with sweat (even by conductor standards), and panting. But somehow, for some reason, we needed one more take of the end. I couldn't really imagine how anyone in the room had another take in them. Surely the brass players must have felt liked they'd just dragged their chops down the length of Interstate 90 out the back of an old pickup truck. Simon Fox, our producer, implored us to make it worth the pain. "Make it superhuman" he said.  What's louder than loud, bigger than bigger, huger than huge? That take was it. I literally staggered back to the recording booth and collapsed in a chair. Simon gave his typical half-smile and said "well…. I've never gotten an ending like that before." Me neither. I just hope nobody left their effing mobile phone on to wreck the take (something that happened earlier in the year with a particularly nice take in Jane Eyre). We'll find out later this month when the first edit arrives. All this, and as a bonus, we offered Zoë the position of Leader (one of two such open positions in the orchestra) and she accepted. Happy times ahead.
When I'm dead and gone, I'm sure there will be all the usual "poor old Ken, he never did quite figure out, did he" talk, but then, perhaps someone will say "maybe not, but in 2016-7, he premiered Jane Eyre and Sawyers 3 within a few months of each other. Dude had one badass year!" I can live with that.
More
ClassicalSource
Bachtrack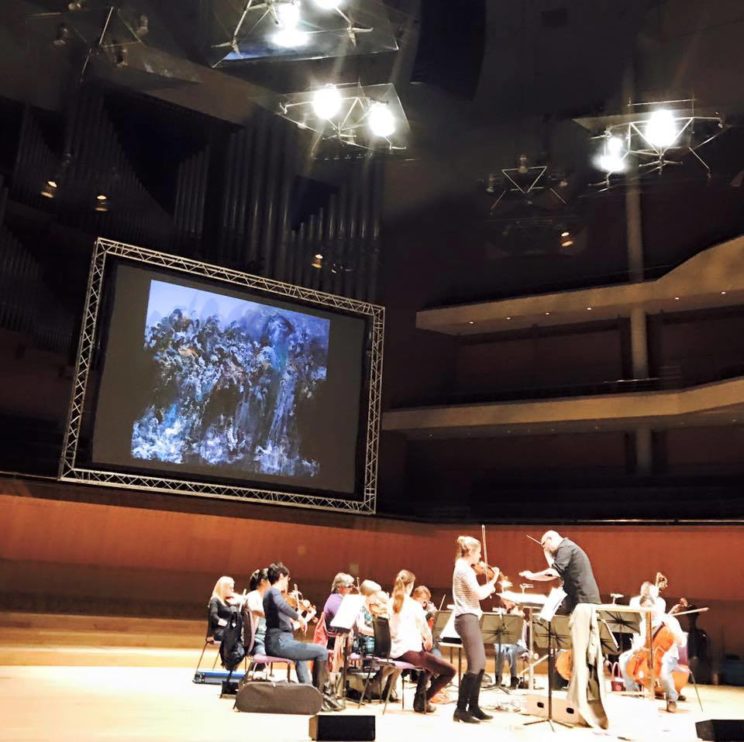 April: Wall of Water at The Bridgewater Hall
I have already mentioned the importance of the premiere of Deborah Pritchard's Violin Concerto "Wall of Water" in 2014 to the orchestra. In addition to finally finding the piece a worthy home on CD, this year also saw us return to the original programme on which it was premiered (at LSO St Lukes in October 2014) for a performance (the orchestra's debut) at The Bridgewater Hall in Manchester.
The Bridgewater might be the best acoustic in the country, but it's one that demands artists be at their very best. It's astoundingly transparent, accurate and precise. Yes, it gives the sound a lovely bloom, but it hides no sins. You can hear everything. We had only one rehearsal in the space, and the first 10 minutes, as we worked through the very delicate and exposed opening of Thea Musgrave's "Green" were telling. But, as so often happens these days, after a few minutes, the musicians make all the right adjustments and then it all just took off. I hadn't quite felt I'd done "Green" justice three years ago- I thought we played it fairly technically well, but somehow didn't put across the message of the piece clearly. This time, I was much more convinced by both piece and performance. Returning to Wall of Water was wonderful- having done it a few times now, I feel like both Harriet and I are finding much more space and line in the score, and the orchestra responded with oodles of colour. And, having done "falling still" for the CD in January also meant we were playing a great piece that we knew well and understood.
The last piece on the programme was Saariaho's Terra Memoria. What a work. Staggering. It's the first work of hers I've done (this was our second performance). I REALLY want to record it. It's seriously hard, but the orchestra played it so well. All but the Musgrave end in long pianissimos and magical silences. In this case, magical silences accompanied by some pretty amazingly obnoxious mobile phones going off (really, who uses "Celebration" as a ring tone?!?!?!FFS!).
More
Guardian 
May: Hans Gál: Concertino for Cello and Strings, Grieg Holberg Suite, Tchaikovsky Serenade for Strings, Hereford Shirehall
2851 words into this blog post and you must feel like I've practically told you what I had for breakfast every day this year, but actually, we've skipped over many wonderful, more normal concerts. By the time we got the aforementioned season-ending Tchaikovsky, we'd already played the piece a few times this year, and at least two more times (I lose track) in the previous couple of years. It's a very standard piece, but I think it needs special care and shouldn't be hacked at or done routinely. I turned down all chances to conduct it with groups of more mixed standard in my early career. Doing it with ESO has always been fun, but this year, it got a whole lot better. Having Tijmen Huisingh guest leading these concerts must have helped. Tchaikovsky poses two very particular problems- making the right sound (Russian!) and playing with the right amount of flexibility and rubato. Sunday felt about as close as I've gotten with this piece on those two counts. Thinking back on where we'd started with the piece in 2014, it felt like a good marker with which to end this year.
Vftp readers will probably know of my involvement with and affection for the music of Hans Gál. It's a source of some disappointment in humanity (more on that in a later blog post, perhaps) that my phone doesn't simply ring off the hook with orchestras around the world begging me to come conduct his magnificent symphonies or his incredibly beautiful and engaging concertos for violin, piano or cello. Audiences would LOVE it, and everyone knows we're wearing out the old chestnuts which don't sell like they used to. This was my first time conducting Gál in over a year. Again, it was a project long in the planning. We'd almost recorded it with Matthew in 2013 when we did the piece in Malvern, but somehow at that time, the administrative infrastructure wasn't ready to organise recordings. I'm glad we waited- the orchestra is so much more cohesive and virtuosic these days, and this music needs all the skill you can give it. Matthew Sharp played damn near perfectly right thought the both recording sessions, the dress rehearsal and the concert. Even by Gál's high standards, the slow movement is thing of heart-wrending beauty. How lucky we are to get to discover and explore works like this.
______
Well, that's it. We made it. At least most of us did!
For those of you who held on for the whole journey, and those who help us here and there along the way, thanks. Have a good summer.