You can hear my colleagues in the English Symphony Orchestra and me perform this fantastic work on Hereford Shirehall on Sunday, the 1st October.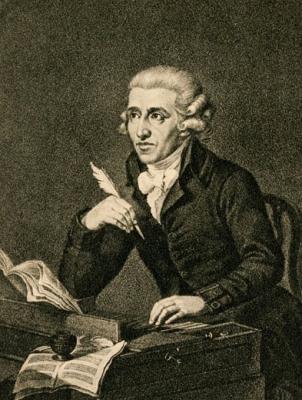 Franz Joseph Haydn (1732-1809)
Symphony no.60 in C major "II Distratto" (The Distracted Gentleman)
The symphonies Haydn wrote during the middle period of his creative life are often referred to as his Sturm und Drang (storm and stress) symphonies. Sturm und Drang was firstly a literary movement, and, as the title of the movement would suggest, it was a movement rooted in high-stakes melodrama. Haydn's Sturm und Drang period produced many of his most passionate and fiery works, but also many of his most innovative and radical. However, Haydn was, if nothing else, the most unpredictable composer who ever lived- whether note-by-note, bar-by-bar or piece-by-piece, one never knows what to expect next from him. So it was that in the midst of all of these intense and dramatic works, Haydn would pen the funniest piece of symphonic music ever written, his Symphony no. 60 "Il Distratto" ("The Distracted," or the "Absent-Minded" or even "The Addle-Minded").
This piece actually started life as incidental music for a comic play by Jean François Regnard which was being performed at the summer castle in Eszterháza where Haydn worked. Following the successful run of the play, Haydn adapted the music into a symphony in six movements. The play is a farce depicting the travails of Leandre, a man so absent minded that he very nearly misses his own wedding. Haydn managed to mine Regnard's farce for every possible ounce of comedy, and the symphony includes at least one great coup de theatre.
Although the mood of Il Distratto is miles away from the existential struggles and fiery declamations of works like No. 44 (Trauer) or No. 49 (La passione), it shares with those works a wealth of invention, innovation and experimentation. For the layman, it might be easiest to simply summarise this is a seriously crazy piece of music.
Leandre's daydreaming and bumbling creates all sorts of opportunities for interesting musical moments. In the first movement, we hear the orchestra grinding repeatedly to a halt as the protagonist loses his train of thought completely before awakening with a start. Midway through, they orchestra starts playing music from a completely different Haydn symphony (a quote from The Farewell). In the second movement, the rehearsal for the wedding procession breaks down when the elegant music of the procession is repeatedly disrupted by a passing marching band, and while the wedding rehearsal attempts to restore order, Leandre finds himself drinking with friends to a quote from an ancient French folksong "In the Pub, I find wisdom and advice." The third movement starts as a traditional courtly minuet- just the sort of dance one would expect to hear at a posh wedding, but one can hear Leandre's thoughts wandering off into a slightly melancholic bit of Bach-ian counterpoint. The middle of the movement is even stranger, built on a rustic quotation from a Balkan folk song. It would seem that the protagonist has found himself in a completely wrong part of town. There follows a wild Presto which might have made a fine Finale in a "normal" Haydn symphony (although this writer has yet to find a normal Haydn symphony), but there are still two more movements to go. There's a clear hint Leandre is still lost in the migrant neighbourhood with another Balkan song quoted midway through.
The fifth movement is a drastic change in mood- Haydn calls it Adagio di Lamentatione. Whose lament, though? Perhaps Leandre's beloved is getting worried she's been abandoned on her wedding day? Music of great lyricism and pathos gives way to another of the moments of weird stasis which populate the symphony- has Il Distratto lost the plot again? A noisy brass fanfare serves as a much needed wake-up call, shattering completely the poetic atmosphere, before we return to the beloved's lament. The movement ends with another bizarre interruption, trailing off into silence for a moment before Leandre remembers where he's supposed to be and goes charging off, fast and loud, to the end of the movement. The final Prestissimo starts promisingly- the lovers are reunited and the wedding is about to begin when we realise that, in all the chaos, the musicians forgot to tune their instruments…. It's not a pretty sound.
— Kenneth Woods