Auricolae- The Double Album
The members of the acclaimed string trio Ensemble Epomeo transform
into Auricolae, a fantastical band of minstrels presenting fairytales, folklore,
and fables in a two-CD set of new music dramatized via the ageless art
of storytelling. More than a dozen parables from around the world fuse
traditional allegories with inventive mythical settings, pair timeless legends
with new musical scores, and offer original stories whose inspiration stems
from the beginning of time. The result is a truly unique synthesis of words and
music that is instantly entertaining.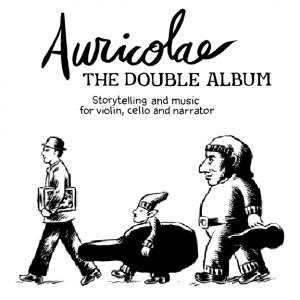 Avie Records AV2292 (Released June 23, 2014)
Recorded January 2013, Bengrove Studios
Produced, engineered and edited by Simon Fox-Gál
Auricolae- Music and Storytelling Troupe
David Yang- Artistic Director, narrator and viola
Diane Pascal- violin
Kenneth Woods- cello
CD One
David Yang- Lubin from Chelm (10:19)
Kile Smith- The Bremen Town Musicians 12:45
David Yang- Two Brothers (8:49)
Kenneth Woods- The Ugly Duckling (16:47)
David Yang- The Three Wishes (12:41)
David Yang- The Matzoh Ball Man (14:39)
CD Two
Martin Kutnowski- The Spots of the Toad (9:45)
Gerald Levinson- Three Fables
Alley Violinist (3:04)
Problem in Design (2:46)
The Old Magician 8:14
Thomas Whitman- The Princess and the Man with a Pure Heart (17:44)
Jay Reise- The Warrior Violinist (18:09)
Andrew Waggoner- The Emperor's New Clothes (10:10)