Ernst Krenek- Complete Piano Concertos, vol. 2 Mikhail Korzhev and English Symphony Orchestra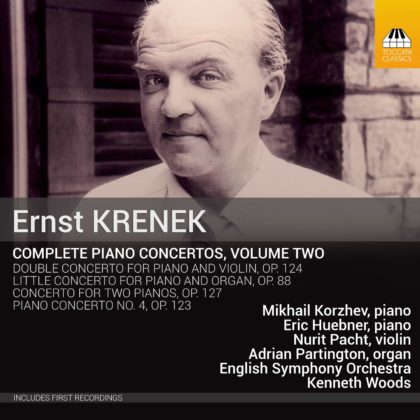 Best Classical Recordings of 2017, Forbes Magazine
"Ernst Krenek's music – not even his above-average accessible, neo-classical piano concertos – will never be everyone's cup of tea. But then that's neither the point of this list nor a meaningful guidepost for judging a composition or its interpretation's quality. The latter is in any case astounding: I've heard a good deal of Krenek – and it's always worth exploring this chameleon-composer and similar neglected and faded colleagues of his time and ilk – but often enough the interpretations are dutiful, rather than inspired; note-playing, mistake-avoiding renditions… like literal translations instead of poetic recreations. One would never dare perform a Berg Violin concerto like that, or dare play a Manfred Symphony so devoid of color.
"This is where Mikhail Korzhev and Kenneth Woods and the English Symphony Orchestra come in: Super-adding (or rather: revealing) so much joy and color in these mildly thorny, spunky, funky, funny works of Krenek's (which all catch him at a tonal post-romantic respite in his constantly style-changing career), they bring to life what might otherwise have remained an academic affair of dry and thin-lipped appreciation."

Recording of the Year, MusicWeb International
Favourite Classical Recordings of 2017, Classical Candor
"Volume 1 in this series was unexpectedly absorbing. All hail its successor…another example of Krenek's gift for writing exuberant, approachable atonal music… Ken Woods' hardworking English Symphony Orchestra acquit themselves brilliantly. Snap it up." Graham Rickson- The Arts Desk.
"All of the soloists on this beautifully recorded disc deliver totally committed performances. Special praise, however, is due to the English Symphony Orchestra under Kenneth Woods, conductor, who negotiate this totally unfamiliar music with real flair." Erik Levi- BBC Music Magazine.
"I've only praise, too, for the supporting energy of Kenneth Woods, conductor and the English Symphony Orchestra, who play with the conviction that this is music worth believing in." Peter Quantrill- Gramophone.
Five Stars, Guy Rickards- International Piano Magazine