Philip Sawyers- Symphony No. 3, Songs of Loss and Regret, Fanfare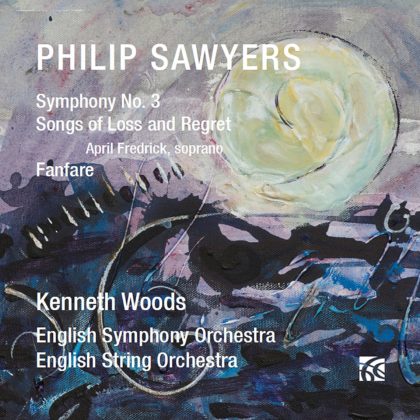 "The importance of Woods's initiative is greatly significant, and to judge by Philip Sawyers's Third Symphony the plan has got off to an excellent start….Sawyers is a natural symphonist… This Symphony, like the song- cycle, is a masterpiece" Robert Matthew-Walker- ClassicalSource.
"What future for the symphony in the 21st century? Kenneth Woods and the English Symphony Orchestra are on a mission to find out, with this concert the first in a project of commissions and premières. On the strength of this showing, the première of Philip Sawyers' Third Symphony, the future looks bright indeed. The work is a substantial and distinctive contribution to the genre, and it was here presented in a compelling reading, impressively disciplined and with a passionate intensity maintained across its 40-minute span." Gavin Dixon- Bachtrack. 
"….Sawyers' Third Symphony is a tremendously impressive accomplishment. If the subsequent commissions by 'The 21st C. Symphony Project' turn out to be only half as good, it will still be a cause for celebration. The ESO gave this opening instalment what was obviously a zinger of a performance, Woods' detailed direction embracing both its ambitious scale and complexity of detail; the composer, certainly, seemed dizzy with pleasure when he took his bow, and we civilians in the audience knew we had heard something special…" Martin Anderson- Musical Opinion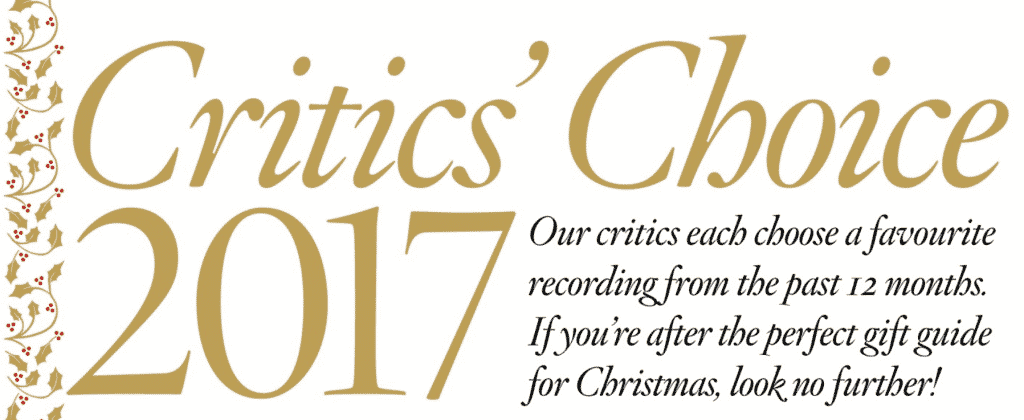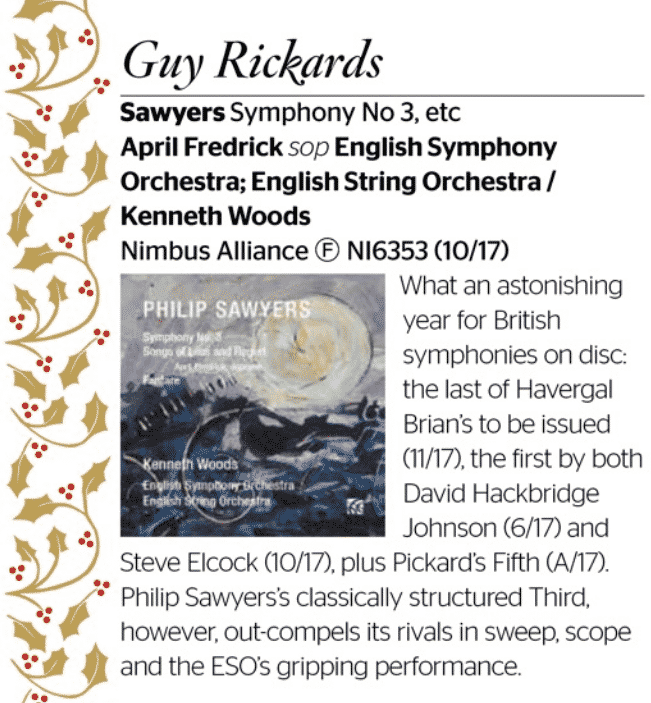 "Philip Sawyers's Third Symphony (2015) is undoubtedly one of the finest British symphonies of recent years… the long, visionary Adagio is its emotional heart, music of searing intensity, yet the expressive fulcrum lies rather in the Arnold-like Intermezzo, full of disarming charm and gentle humour, adjusting the context of the whole. The impact is overwhelming… Great music, great performances…" Guy Rickards- Gramophone
"I have no reservations in pronouncing this a very fine work indeed and one which deserves a place in the any orchestra's repertoire." Gary Higginson- MusicWeb
"Philip Sawyers's Third Symphony is a major new work from a distinctive voice in British music… a work of impressive symphonic unity and drama." Gavin Dixon- Fanfare
"Sawyers can handle the resources of a modern – or smaller – symphony orchestra to brilliant effect…this is an impressively expressive piece of sustained writing with more lyrical interludes balancing the power of the massed instrumental passages." Nick Barnard- MusicWeb