£12.00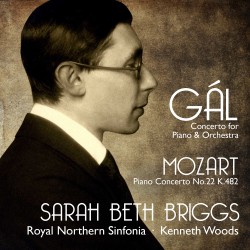 Artists:
Sarah Beth Briggs, piano
Kenneth Woods
Royal Northern Sinfonia
Price:
£12.49 Pre-order now! Reserve your copy and we'll deliver when available.
SUMMARY:
Bringing to light another of Hans Gál's gorgeously melodic and finely crafted scores, AVIE presents the world premiere recording of the Austrian émigré's Concerto for Piano and Orchestra with English pianist Sarah Beth Briggs supported by Gál aficionado Kenneth Woods conducting the Royal Northern Sinfonia. Written in 1948, Gál's large-scale romantic concerto abounds with sweeping phrases and pyrotechnics, yet at the heart of the piece lies the composer's signature clarity and precision, making the work an ideal coupling for his 18th century Viennese compatriot Mozart's great E-flat major concerto of 1785.
TRACKLIST:
Hans Gál (1890 – 1987)
Concerto for Piano and Orchestra, Op.57 (32.28)
1 I. Allegro energico ma non troppo (11.43)
2 II. Adagio (11.07)
3 III. Allegretto vivace (9.38)
(world premiere recording)
Wolfgang Amadeus Mozart (1756 – 1791)
Piano Concerto No.22 in E flat, K482 (35.52)
4 I. Allegro* (14.06)
5 II. Andante (8.59)
6 III. Allegro* (12.47)
*Cadenzas: Denis Matthews
Total time: 68.53
Sarah Beth Briggs piano
Royal Northern Sinfonia
Kenneth Woods conductor (1–3)
Bradley Creswick co-director (4–6)
Recording: 12–14 January 2016, Hall One, Sage Gateshead, England
Recording produced, engineered and edited by Simon Fox-Gál
– See more at: http://www.avie-records.com/releases/gal-mozart-piano-concertos/#sthash.hIxxHiBV.dpuf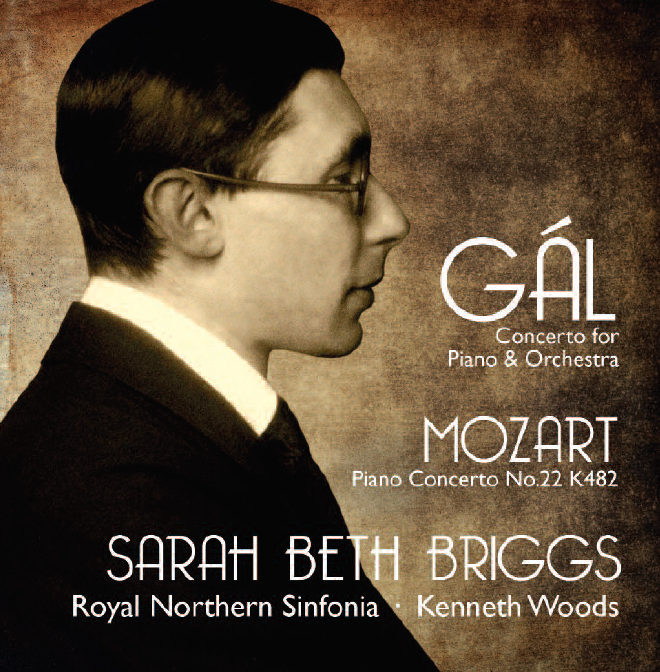 "Long overdue..the recording the piece richly deserved" Andrew McGreggor, BBC Radio 3 Record Review
"The Concerto for Piano and Orchestra, Op 57, captivates from start to finish, its lucidly argued, agile and disarmingly witty outer movements framing a raptly songful Adagio centrepiece of conspicuous tenderness and beauty. Exemplary advocacy it receives, too, on this, its long-overdue first commercial recording: Sarah Beth Briggs revels in the tasteful refinement, brilliance and grace of Gál's immaculately judged solo writing, and she enjoys marvellously understanding support from Kenneth Woods and the Royal Northern Sinfonia. Five Stars" Andrew Achenbach, The Classical Ear
"If this premiere recording persuades more pianists to take up this sweeping, lyrical concerto, then all to the good. Briggs's playing is shapely but unassuming, which underlines the skilful transparency of Gál's writing as well as how much of an ensemble piece this is. Four Stars." Erica Jeal, The Guardian
"The elegant, wonderfully transparent Adagio is pure delight. As so often with this composer there are haunting hark-backs – ghostly echoes of old Vienna – that are both poignant and powerful. Briggs is sensitive to the movement's wistful character, and Woods offers sympathetic support throughout. Goodness, this is gorgeous music, lovingly calibrated; as for the RNS strings, they add a quiet luminosity to the mix. And although the Allegretto vivace has a spring in its step – supple rhythms and taut timps to the fore – there's room for introspection, too. One of Gál's abiding strengths is that he never overworks his material; there's no hype or hectoring, either. In short, this is a most engaging score, delivered with real affection and skill." Dan Morgan, MusicWeb International
RECORDING OF THE MONTH "What impresses me is the composer's skilful and brilliantly imaginative scoring. Wood's deft handling of the orchestral textures is a perfect foil to Briggs' adroit virtuosity. In the Adagio which follows, the prevailing mood is one of peace and contentment. Gál can certainly rise to the occasion with a luscious big tune, proving himself an accomplished and inspired melodist. At one point, time almost stands still, and the pianist's pellucid tone is raptly intense. It's worth mentioning that the Steinway used has been expertly voiced and is richly toned. The playful and capricious finale has a touch of the burlesque about it, and both pianist and orchestra inject plenty of humour and wit. Notable is Gál's light, diaphanous scoring, which Woods brings to life and contours with clarity and definition." Stephen Greenbank, MusicWeb International
DISC OF THE WEEK "…this is a Concerto of some stature, and it's baffling that it could have been neglected for so many years. Sarah Beth Briggs's brilliantly alert and engaging performance, expertly partnered by Woods and the RNS, will surely bring it the recognition it deserves as one of Gál's major works…a release that is outstanding in every way, essential listening!" EuropaDisc
"Written in 1948, Gál's large-scale romantic concerto abounds with sweeping phrases and pyrotechnics, yet at the heart of the piece lies the composer's signature clarity and precision, making the work an ideal coupling for his 18th century Viennese compatriot Mozart's great E-flat major concerto of 1785.. a truly wonderful, inspiring work of classical art, and something that should be adored by all connoisseurs of such music – time after time after time.." Anne Carlini.com