The Bridgewater Hall- Mahler in Manchester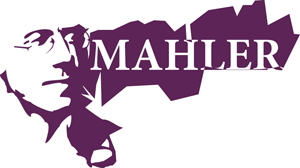 Mahler in Manchester begins this weekend, as Gianandrea Noseda leads the BBC Philharmonic in Mahler's 1st Symphony. The performance takes place at 7:30 PM on the 16th of January, 2010 in The Bridgewater Hall
I promised, or at least hinted at, a riddle in Mahler 1 to be discussed, and sure enough, I've chosen one of the many.
In the previous post, I mentioned that in earlier generations many listeners and performers would not have known the other Mahler symphonies very well, and would instead seen it in primarily in relation to other late 19th. C symphonists. Just as it was the first Mahler many of us heard as audience members, it was also the first Mahler many of us learned as performers. Now that many of us know most of his music, it seems likely that that familiarity changes how we hear Mahler's First Symphony. What once seemed gargantuan now seems more modest (but hardly modest!), what once seemed wild and experimental now seems far more classical (but hardly classical!).
The question is, does our knowledge of and understanding of the later Mahler symphonies change how we perform Mahler's 1st?
A strict constructionist would say that the answer is an obvious, even an emphatic "no!" After all, just because there is a brief outburst in the Introduction of Beethoven 2 that sounds a lot like the opening of Beethoven 9, we don't (or at least surely shouldn't) try to play Beethoven 2 in the style of Beethoven 9.
However, Mahler is a bit of a special case, and the question in his music seems to demand a more nuanced answer.
There are very specific situations where an awareness of Mahler's later pieces might lead you to play something differently than what is notated in the score. For instance, in the Trio section of the 2nd Mvt of the 1st Symphony, Mahler gets his Wienerschnitzel mojo going with a lilting dance rhythm of crotchet, quaver rest, quaver and a quaver followed by a quaver rest on the third beat: a sort of "one… and three" gesture that seems typically Viennese. This exact same rhythm returns in a remarkably similar context in the Scherzo of the 5th Symphony, but here, Mahler places a footnote in the score, indicating that the quaver should be played later and faster than written, like a semi-quaver. This stylization of the rhythm is, of course, completely typical of Viennese music making. One might have stylized it that way in the 1st Symphony simply on the basis of familiarity with the popular music Mahler was evoking, but a strict constructionist would have said such a reading is not true to the score. By the time of the 5th, Mahler seemed to have concluded that he had to make absolutely clear that in some evocations of vernacular or popular music, he really does want us to stylize the rhythm, rather than assuming we would know to. In this case, one might find that knowing a later work would actually convince you to read the text of this earlier work differently.
However, there is a much more fundamental sense in which a knowledge and understanding of later Mahler might influence how we perform Mahler 1. And, of course, Mahler being the composer of dichotomies, paradoxes and contradictions, it manifests itself in exactly the opposite way to the example above.
In the case of the dance rhythm our interest in the later work is as an example of how Mahler's technique for expressing himself evolved and changed. Mahler's technical language evolved and changed enormously during his life- more so than any composer since Beethoven and Schubert (Brahms, on the other hand, maintained an almost completely consistent artistic personality and musical language for nearly his entire career).
However, the heart of Mahler's music did not change, nor evolve.
In this one sense, I am tempted to compare Mahler's output to that of J.R.R. Tolkien *. We now know that long before Tolkien set pen to paper to write the Lord of the Rings, or even The Hobbit, he had already created the universe of Middle Earth. He had drawn maps, created legends, invented languages and built a history lasting thousands of years. The universe was complete long before he began telling the tale.
So to it seems in Mahler, more so than in any other composer. Even in Das Klagende Lied, the remarkable epic cantata Mahler wrote as a teenager, the universe seems complete. Even the composer himself seemed struck by this- "even then, I was already Mahler." The language, the landscape- everything was there before the story began, and the entire story, from that first harmonic A which opens this work to the end of the 10th Symphony, all of that is the story through which we get to experience the world that he has created.
Throughout every work of Mahler, one musical interval is clearly the most important- the perfect fourth. Is it any accident, then, that this symphony begins with a 4th? Is it any accident that in this work Mahler lays before us all the ideas he is going to be working with for the rest of his life's work- the marches, the country dances, the folk music, the disturbing reminders of childhood, the sounds of nature, the irony, the optimism and, most importantly, the combination of song and symphony.
If I conduct Brahms 1, I'm not worried about the ending of Brahms 4. Schumann's number of his symphonies, like the old number of Dvorak's from the age in which he was only credited with 5 rather than nine, is nonsensical. You don't worry about the end of Schumann 4 at the beginning of Schumann 1 because he wrote number 4 second, and finished with number 3 before doubling back. Does one sense the apocalyptic opening of Beethoven 9 as you end Beethoven 8? I think not. Yet in Mahler there is always a thread, always a reference to what we already know and what is yet to come. In this most important sense, I can't help but it would be crazy to even think of conducting Mahler 1 without a knowledge and understanding of the later works.
____________________________________________________
Well, that's the end of my discussion of Mahler 1. Now it's time for me to step back and let you listen. I know I've repeatedly fallen into the trap of telling or at least hinting at how I find myself answering some of these issues and dealing with these challenges, but I suppose any commentator will. One's point of view changes every time you return to a piece. Next time I do Mahler 1 I might feel that it is essential that the piece feel unburdened by his future, and that it be allowed to be the hopeful and joyous statement of a young man. Every time I've done the piece, my approach to tuning the opening has been different, as it must be for every orchestra. Perhaps, though, next time you here it, be it Saturday at The Bridgewater or at home on CD, you'll find yourself more engaged in the different colours of the ever changing combinations of instruments, or find yourself thinking "if it was me, I would have started with the bassoon," or perhaps you'll have a sense of how the group you are listening to has worked it out.
We would love to hear your reactions, questions and arguments both before and after you listen. Next up is the 2nd Symphony with the Hallé.
* I say  only "tempted" by the comparison to Tolkien because on many levels I don't think the comparison is apt, and I can certainly see the perils of letting the comparison stand unchallenged. Of course, the similarities are obvious- a sense of drama and of epic scale and struggle, and a richly detailed aesthetic universe. However, the similarity ends there. One of Mahler's greatest strengths as a thinker is ability to get see beyond simplistic, Western binary oppositions of good/bad, happy/sad. Tolkien is not without subtlety, but no storyteller has ever gone quite so far in separating good (the hobbits, dwarves, elves and en of Middle Earth, from the baddies in Mordor). His is a binary universe. Tolkien sees conflict as the key to ending suffering, Mahler sees transcendence as the only path. In Mahler's music we experience profound suffering and difficulty, but there are no baddies- you get the sense that he did feel that all humans are themselves in the midst of a great struggle and that our suffering comes from the difficulty oft rying to make sense of life, rather than from the oppression of the guys in the evil mountains.
The Views expressed in these postings are solely those of the author, and may not reflect the policies and opinions of any other organization, including The Bridgewater Hall or its resident orchestras.