The Bridgewater Hall- Mahler in Manchester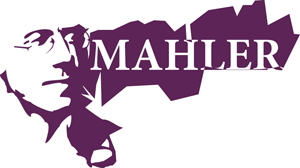 In American football, coaches learn that when a play is working for you, go keep going to it until the other team figures out a way to stop it. In this spirit, I've asked Peter Davison, whose previous contributions to this series ahve been so valuable and complimentary, for his thoughts about Mahler 9. The Halle, with their Music Director, Sir Mark Elder, will perform Mahler 9 as part of Mahler in Manchester on the 27th of May, 2010 in The Bridgewater Hall.
Burlesque and Elegy in Mahler's Ninth symphony
I often think of Mahler's Ninth symphony as his "New World" symphony, because it says good-bye to the familiarities of Vienna and tries to draw a line under the traumas of 1908. In that year, Mahler not only lost his position as Director of the Vienna Opera and went ot the Metropolitan Opera in New York, but he lost his first child and learned that his own health was detoriorating. For Mahler, composing was therapeutic. It was a way of getting to grips with the torments of his emotions and the sensitivity of his inner being. At the time of composing the ninth in 1908-9. Mahler had a lot of life experience to digest.
The Ninth symphony is often heard as valedictory; a work about Mahler's own farewell to life, although there is little real evidence that this was his intention. There is certainly an air of resignation, but it is acceptance in a higher sense; namely he goes through a process of mourning to find inner peace. But as ever with Mahler, the music is never just about him, but a universal expression of compassion for the lot of man. Man is born to suffer.
So much can be said and has been said about the first movement of this work, that I don't want to focus on it here. It is simply the best music Mahler ever wrote; a compelling essay on the human condition. It narrates the confrontation between Man's aspiration to joy and hostile fate. It is suffused by anxious longing and, at times, paralysing fear. Yet within its enormous emotional and psychological compass, there is a perfect symphonic resolution. This begs the question – why compose three more movements after this at all?
Mahler was reluctant to let the format of the traditional symphony go much as he was attached to Vienna itself. But we can hear these three movements as a paranthesis to the first movement, i.e. Mahler's explanation in more specific terms of what has been first presented as universal drama; like a Passion story in fact. But what do these three later movements express which illuminates the first?  The bitter irony of the Landler and Rondo Burleske are expressions of righteous anger. Mahler had lost his job in Vienna. He had been toppled from a great height by back-biting and gossip. We can hear these movements as depictions of the hustle and bustle of ordinary life, but increasingly devoid of any meaning. The Landler takes the most simple white-note motive, a rising C major tonic to dominant scale, and subjects it to serious violence. Only occasionally are there moments of sentimental longing to return to the innocence which this motive represents in its purest form. The movement marks a loss of innocence, so that urban life seem like a dreadful parody of true nature. There is grotesquerie, distortion and disintegration. What should be a dance of life-affirming joy has become the epitome of sardonic humour and ugliness. It is music of profound disappointment.
The Rondo Burleske takes this feeling a step further with its allusions to the flower movement of the third symphony and Lehar's Merry Widow. All that is pretty surface is here blown apart by angry ripostes, resentful remarks and wicked asides. It is as if someone has walked into a Viennese salon and ripped down all the soft furnishings or thrown ink at the watercolours on the walls. The fugal voices of Mahler's musical god, J.S. Bach, have here become transformed into a demonic crowd of carping critics who shout down the voice of truth. But who is angry with whom? This is a full-scale row with fingers pointing in all directions. We are in the thick of it; the pettiness, the squabbles, the absurdity of wounded egos and ruined reputations. Mahler knew he had allowed himself to be drawn into pettiness and that it had robbed him of his well-being. Mahler connected his personal situation with the universal truth. When we allow the small-minded to drag us down to their level, we become ourselves small-minded like them.
I made a discovery the other day while listening to the radio. I heard a work I did not quite recognise, but which nonetheless sounded very familiar. Then I realised why I knew it. It was the music of Mahler's Rondo Burleske, but without its savage "wrong-note" irony. Instead I heard a pleasant rustic dance. At the end, I found it was from the Suite Pastorale by Chabrier – a suite drawn from ten pictorial piano works. This was the Dance Villageoise. Why would Mahler so obviously parody this rather ordinary work by one of the most bourgeouis of all 19C composers? But that is the point! Mahler hated the picturesque attitude to nature, because it could only see the surface of beauty and could never accept the wild, spontaneous and dark side of nature, nor its deep spirituality. The implication is that Mahler's anger is being directed towards the hypocrisies of the bourgeouis culture around him. This is what had undone him in Vienna; why he had been so misunderstood. Mahler believed that he spoke with the voice of true Nature, and because he was uncompromising in that regard, Vienna had rejected him and his music. So the acerbic humour of the Rondo is aimed at his "Friends in Apollo", as Mahler wrote in the score. It is a gesture of defiance against those who could only judge by the standards of formalism and surface beauty; the social conservatives, the power-hungry careerists and the simply ignorant. The Friends in Apollo were being given a lesson in angry Dionysian energy by Mahler preaching with fire and brimstone.
But there is something else to notice about this movement. It is a Rondo, and Rondos usually end symphonies by summarising what has gone before and resolving the drama with wit and playful detachment. Here the Rondo appears as a set-back. We have returned to a state of inner turmoil which seems to precede the first movement's universal vision of tragic human destiny. It is a regression stimulated by worldly defeat and antagonism. There is no tragic dignity or soulfulness to be found, except in the fleeting anticipations of the adagio which emerge tantalisingly during the movement. Mahler may have had in mind Tchaikowsky's Pathetique  Symphony which posits a false sense of triumph before a tragic slow-movement finale. But there is not much triumph, false or otherwise in Mahler's Rondo. It is diabolical and cynical; music of angry and destructive protest "A plague on all your houses"….so to speak. Mahler knows deep down that he cannot stay in this hellish place. he must move on, put it behind him.
The work's Adagio finale is then a refuge from this state of bitterness. Mahler searches deep inside himself to restores his soul to balance after deep trauma and hurt. This is expressed in the hymn-like opening of the movement. Mahler rediscovers some semblance of tragic dignity and reconnects with the atmosphere of the first movement. The unwionding of the inner tension comes through grief and mourning, through entering loneliness and confronting the most difficult questions. Mahler thereby finds some affirmation, by accepting loss and what life really is. But he must have found it hard to forgive or to be positive about a society that silences true nature; the child-like voice which is so often drowned out by the chatter of the world. He may at the end of this symphony have found some personal closure, but he was never again able to feel at home in Vienna.
Peter Davison
Postscript:
Anyone interested in listening to Chabrier's Dance Villageouise can listen here.
http://www.youtube.com/watch?v=tXpe2XqvYuU
I hear other Wunderhorn songs in this music: Lob des hohen Verstands and Das irdische Leben.You can imagine that Mahler may have identified a bourgeouis Frenchman as the ultimate falsifcation of true Nature (an opinion Wagner and Nietzsche might have held). Lob des hohen Verstands is about a donkey passing judgement on the music of the cuckoo and the nightingale. Das irdische Leben is about the mother who does not feed her hungry child; the the dark side of Nature, when it seems indifferent to the loveless predicament of her own off-spring. If anyone wants to speculate why Mahler has absorbed this work by Chabrier, please feel free to post your thoughts.