I am in Philadelphia this week for some work with my string trio, Ensemble Epomeo.
I have to say, Philadelphia has become one of my favorite cities- I love the neighborhood feel in the part of town where I'm staying, with some lovely shops and restaurants as well as the incredibly characterful Italian Market, where you find the most astounding array of produce, meats, fish, cheeses, oils and just about anything else to cook and eat you can imagine.
It's our first concert together since May- we're heading into our busy part of the year, with small projects this month and next followed by a pretty substantial tour of New England and the Canadian Atlantic Provinces in November. We've got new repertoire to learn and old repertoire to refresh.  (This week we're playing Kile Smith's Thrice Blest, a short trio by Richard Strauss, the Gal Serenade op 41 and Beethoven's Op 9 No. 1 n G major).
In a capitulation to the ever increasing costs, risks and hassles of traveling with a cello, I'm playing this week on a borrowed instrument. I don't expect much sympathy from pianists out there (other than Krystian Zimerman), who have to cope with different instruments all the time. However, I played on one cello for every single concert I did between 1991 and 2001. The relationship between most string players and their instruments is incredibly close. I'd say that string players are, in general, only slightly less reluctant to change their instruments from gig to gig than singers, who are stuck with one for their whole lives.
Musicians will go to great lengths to have their instrument with them for a gig- including buying seats where possible, and investing in incredibly expensive and bulky flight cases. Unfortunately, as I found out in 2001, the best flight case is no match for a fork lift, which ripped off the top of my case and cello.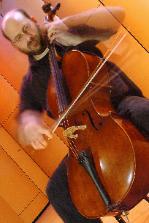 (That's not Ken's "real" cello)
Switching cellos on a short rehearsal schedule can pose a number of challenges. In this case, the cello (a pretty nice one) hadn't been played at all in many months, and at the first rehearsal it felt incredibly stiff and unresponsive. I couldn't get anything to speak on the lower two strings that first night. I can hardly think of a piece that depends more on effortless precision of attack than the Beethoven Trio we're playing this week- trying to rehearse that music when I had to play with elephantine effort amidst a panorama of squwks and whistles to get anything out is  not fun. String instruments can be temperamental creatures- if they are feeling neglected and unloved, they're certainly let you know.