I was on my way to work over the weekend when I heard an extended interview with violinist Daniel Hope on BBC Radio 3's "CD Review." Mr Hope and host Andrew McGregor were discussing Daniel Hope's new album, "The Romantic Violinist," a tribute to the musical legacy of Joseph Joachim.
The discussion was very interesting, and the excerpts all sound amazing. I'll probably buy the CD.
However, the discussion was another example of the strange beatification of a 19th c. musician whose legacy is decidedly mixed.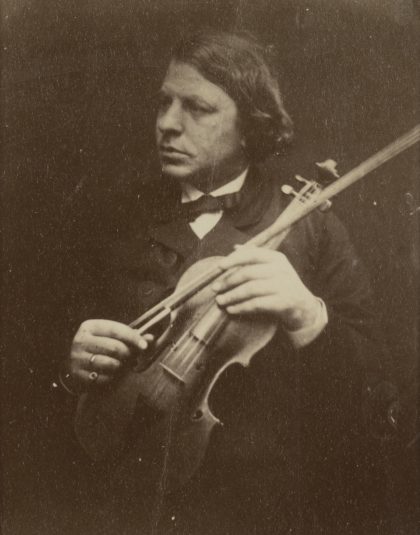 History has been kind to Joachim. One never simply sees him described in program notes or history books as a mere "violinist." He is always  "the legendary violinist, Joseph Joachim," or "the great violinist, pedagogue, conductor, composer and friend of Schumann and Brahms, Joseph Joachim." Because of his eschewal of continuous vibrato, Joachim also enjoys patron saint status in the HIP movement, in spite of the fact that his own sound concept, intensely focused, throaty,  dense and full of slides, as captured on early recordings is miles away from the neo-classical, Ikea-clean-surfaced approach that one hears from many would-be modern re-creators of the Joachim aesthetic. I don't think I've ever heard a cautionary word uttered about Joachim on radio or read one in a review.
Of course,  a quick look at the historical record would seem confirm Joachim's status as an all-time top-20 badass.  Three of the very greatest composers ever to walk the planet wrote violin concertos for him- Brahms, Schumann and Dvorak (and don't forget Bruch). Surely, that makes him the Rostropovich of the violin, the inspirational performer to whom we all owe eternal gratitude for instigating and inspiring a huge and important part of the modern repertoire.
Well, you would think so, wouldn't you.
Then, you might take into account that Joachim never played two of those three masterpieces- those by Dvorak and Schumann.
Suddenly, an all-time top 20 badass starts to look like an all-time top 20 ass.
Joachim was not an easy person to write for- whether it was Brahms, Dvorak or Schumann he was working with, he was extremely aggressive in suggesting, even demanding changes to the work in question. In the case of the Dvorak, Joachim demanded and got extensive changes from the composer to both the violin writing and the shape of the piece. When Dvorak sent Joachim the revised version of his concerto, incorporating countless changes as requested by the violinist, Joachim took two years to acknowledge receiving it. When he did, he demanded further simplification of the violin part, in spite of the fact that Dvorak was a capable violinist and violist. However, after all that, he never played the piece, although he seemed to be telling Dvorak he was "working on it," editing the solo part for publication, until he died, leaving the project uncompleted. Without ever going on record with his doubts about the work, he managed to put the word out that he was unhappy with Dvorak's liberties with sonata form in the first movement, and the amount of repetition in the Finale (but hey, it's a rondo, what do you expect?). Why is Joachim's role in the Dvorak Concerto more celebrated than that of Frantisek Ondricek, who finally gave the first performance in 1883?
If Joachim' behavior and attitude surrounding  the Dvorak Violin Concerto seems rather arrogant, interventionist, dismissive, irresponsible and arbitrary, his track record on the Scumann Violin Concerto is just flat-out disgraceful.
Joachim professed to be the closest of friends to the Schumann's- he was a collaborator, muse and advocate. Until, that is, Schumann chose to write his final masterpiece for him. (You can read more about the Schumann Violin Concerto and Joachim's role in its repression here)
At first, Joachim seemed wildly enthusiastic about the piece.  His early reactions were all entirely favorable, and he eagerly agreed to play through the work with the orchestra in Hanover in 1854.
However, Joachim, by all accounts, played very poorly that day. He wrote to apologize for his poor showing on the concerto, admitting "I did it such an injustice." He blamed his ineptitude on his arm being tired from conducting.
It seems more likely that the violinistic demands of the concerto were simply too much for him. Perhaps his titanic ego had mislead him into thinking he could busk his way through the piece? Gradually, his opinion of the work darkened, until he considered the work so flawed and such a terrible testament to the composer's mental illness that he refused to allow it to be published for 60 years after his death.
Of course, the work is not flawed- if it were, Joachim would have noticed those flaws before he attempted to play it.  Up until he made a fool of himself in that run through, Joachim seemed to think it was a first-rate piece. My intuition is that after that initial failure, he quickly realized he would never be able to play the work to a high standard, and so set about making sure that nobody else would get the chance to do so, either. Dvorak was healthy enough to be able to protect his legacy by finding another performer for his Violin Concerto. Schumann's illness and death meant his final masterpiece was completely at the mercy of the one man who had every reason to make sure it was never performed while he was alive. Almost all of the talking points against the Schumann Violin Concerto originated with Joachim. Really, with friends like these…….
But what of Brahms? One can always find a quibble about the quality of the Dvorak and Schumann concertos, but everyone agrees the Brahms Violin Concerto is a top-5 fiddle concerto by any measure. No Joachim, no Brahms Violin Concerto.
Fair enough. However, Joachim was just as meddling with Brahms' concerto as he was with Dvorak's.  He not only extensively re-wrote the solo part, he also demanded significant re-composition of bits of the piece. Brahms' deferred to Joachim on some of  the violin writing, for better or worse, but much for the better stood his ground on wholesale changes to the composition itself. After all, his two piano concertos turned out pretty well without any help from Joachim.
Also, Joachim only played the Brahms Violin Concerto SIX times in his life. If Brahms wrote me a concerto, it might be the only thing I ever played from then on.
Daniel Hope's disc (which does sound great, and seems beautifully curated),  is built around Max Bruch's Violin Concerto no. 1, another work that was basically re-written per Joachim's instructions. Daniel said on Saturday that Joachim's suggestions and demands were so extensive that Bruch sought to suppress their correspondence, lest someone who found the letters concluded that Joachim actually wrote the piece himself.
I love the Bruch, but maybe it's high time some enterprising violinist recorded the original version of the work. Maybe he could pair it with Brahms' un-improved version of his Violin Concerto. It might prove that we all owe Joachim more than we realized, or it might prove that maybe these composers didn't need that much help after all. We've recently seen Tchaikovsky's original version of the Rococo Variations come back into the repertoire, which is surely better in every way than Fitzenhagen's complete re-working of it. Everyone knows that Tchaikovsky's original version of  his Violin Concerto is infinitely better than the cut and bastardized version by Auer that some people still play (God knows why!). Cellists are very slowly figuring out that Wihan's contributions to the Dvorak Cello Concerto all belong in the dustbin. What other concertos do you love that need rescuing from over-interventionist dedicatees or editors?
Meanwhile, let's downgrade Joachim from saint and legend to what he was- a forceful personality and a good musician and compelling if flawed violinist blessed to live and work in the company of true geniuses. Perhaps he couldn't recognize the magnitude of the talents he was surrounded by. Perhaps he simply couldn't accept his own status as a mere mortal whose violinistic equipment wasn't quite super-human enough to do justice to the great music his friends wrote for him. In any case, the hubris of Saint Joe ought to be a humbling cautionary tale for all of us.