You are never too important to carry bags!
Peter Davison, Artistic Consultant to The Bridgewater hall explains why he started a small festival in Birkenhead and how it has affected his work in Manchester
As Artistic Consultant at Manchester's Bridgewater Hall, you might imagine I have something like a dream-job in classical music. The hall is very much state-of-the art. It opened in 1996 and has three high class resident orchestras (the Halle, BBC Philharmonic and Manchester Camerata). It attracts some of the finest orchestras and soloists from around the world. The acoustics of the auditorium are rightly praised for their uniquely warm timbre and incredible versatility. A voice and lute can sound just as well as a Mahler-sized symphony orchestra. I have other reasons to like working there. Manchester as a city is second only to London for the scale of its musical resources. Furthermore the collaborative culture that has been fostered there means that the city's musical life is very much more than the sum of its parts. When we do festivals at The Bridgewater Hall, they can be on a massive scale, such as last year's award-winning 
Mahler in Manchester
series. Rarely a week goes by that there is not some mouth-watering prospect. Only this week, we hosted the Philharmonia and Lorin Maazel playing Mahler and next Saturday, Gianandrea Noseda ends his tenure at the BBC Philharmonic with what will be a sumptuous performance of Verdi's 
Othello
sung by a starry international cast
.
So, yes – in some ways this is a job many would want to have, and it is truly a privilege to work for such an institution and to 
be
inspired by the opportunities it creates.
But then there is always something missing when things happen on a large scale. There are obviously constraints of time and money and, at times, there is just so much happening that nothing can stand out amidst the general clamour. Ideas always have to be big, bold and loud to break through the background noise . Inevitably you reach a summit where you can't grow any bigger or do more. Saturation is an ever-present danger and high expectations are like sirens calling you to the rocks. Occasionally the sense that musical life has becomes industrialised becomes overwhelming. You can fix a concert without ever having to speak to anyone in person, and certainly not the artists themselves. Then you find that this same concert is going to a dozen other venues across Europe and that, without realising it, your ambitious international concert programme looks surprisingly like everyone else's. Even once the performers are on site, you might speak to them for two minutes after the concert on the way to sign CD's, thence to be whisked to some smart corporatized hotel in a chauffeur driven limousine. And the bigger the name, the more minders, PR people, agents and general bag-carriers they have around them.
Now I don't criticise specific individuals about this state of affairs. It just seems to be the only way to make some things happen. Everyone is trying to make a living in a busy, competitive environment, where time is money – and money is what makes the world go round. Bringing the Vienna Philharmonic and Muti or the Chicago Symphony and Barenboim to Manchester is vastly expensive and requires tremendous feats of organisation. Often I am just amazed that such artists show up, so it would be churlish to expect them to stop and chat for an hour about future plans or to go for a swift drink across the road. I don't demonise agents either. Many of them are devoted to what they do and go out of their way to ensure the introductions are made. So I am not trying simply to decry the mass-market.
But there are some lessons to learn; namely that precisely because of the industrial scale of musical life, you have to make an extra effort to ensure the human element is preserved. It is also true that real creative dialogue cannot happen in the high pressure environment of extended touring and under the pressure of short-term commercial interests. Perhaps it as realising these shortcomings on the big stage that was the impetus to start a small festival in Birkenhead back in 2008. The Two Rivers Festival was created by myself and a colleague, Andrew Thomson. We both live in Wirral, a peninsula surrounded by water on three sides. To the east is the River Mersey and to the west,  the River Dee – hence the Two Rivers. Wirral was part of old Cheshire, but is now a borough of Merseyside. It is mainly an extended sub-urban sprawl, merging with typically English leafy-laned countryside on its fringes. As a cultural or musical centre Wirral has long been undernourished, overshadowed by its richly endowed neighbours – Liverpool, Chester and Manchester. Wirral itself has fairly modest arts provisions – best known for its international guitar festival. For classical music, it is always been under-resourced apart from a few chamber concerts, amateur choirs and orchestras. By starting a festival, we wanted to bring artists of the highest calibre to the area and to avoid being too predictable. In doing this, we were helped enormously by Birkenhead School which has two excellent performing spaces and a very supportive Headmaster.

So what has become of the Two River Festival adventure since 2008 ? This season's concerts at TRF have been more ambitious than before and that's partly a reflection of the growing level of interest , but also of our confidence in programming. TRF has no grants and is underwritten by its founders. When your own money is on the line, it is very potent discipline, but also tremendously liberating. There is no-one else to blame and no-one else to tell you what to do. You learn to ask, can I live with the consequence that no-one will turn up at all? If the answer is yes, then you press ahead. There is no point complaining about the losses after that, you accepted that as a possible outcome at the start. It removes the fear of failure.
Another thing I have learned is that you are never too important to carry bags, give lifts or to tell people where the loos are. At TRF, we soon became front of house and stage managers, box office supervisors, fund-raisers, speech-makers, page-turners, DIY marketeers – whatever is required. It is a lesson in humility. But guess what? When you do all these things. i.e. be prepared to get your hands dirty and put yourself out, you find yourself talking to artists as real people, not commodities for sale. You find they, like you, just enjoy music and don't particularly mind that they are not staying in luxury hotel.  Music never sounds so good as in this context, even without the fancy acoustic of the Bridgewater Hall. Last week, we hosted Emily and Catherine Beynon  (flute and harp duo) – both performers with international reputations and top-flight orchestral jobs. By what miracle I thought had these two wonderful players shown up in Birkenhead? They gave a concert that was so good, the audience (of a mere 70) simply wore a broad smile the whole way through. These are moments to treasure, and the feedback from the audience, whom by now we know well, was extraordinarily positive and grateful.
Over the four seasons of TRF, this scenario has happened time after time and led to new artistic and personal contacts that have proved a joy to me personally and richly beneficial to the Bridgewater Hall.  The pianist Noriko Ogawa is to become an Associate Artist at the Bridgewater Hall next year, while guitarist Craig Ogden is collaborating with us on raising the profile of classical guitar at the venue. Natalie Clein so blew me away with her performance of the Kodaly Sonata at TRF, I had to invite her to perform it in Manchester. This time, I won't have to turn her pages in the dark or carry her bags, but actually I'd quite like to. Being that close to a performer of that intensity in full flight was a rare privilege, as it was at times unnerving.
My message in all this is quite simple. I love the international glamour of the Bridgewater Hall. There is huge excitement to be had there, a great sense of privilege and enormous creative opportunity in being able to think on a big scale and to draw in a mass public. But nothing beats music-making for music-making's sake – a pleasure shared among friends on a scale that is personal and human. That may not be a very new insight, but what is perhaps a surprise is that my creative thinking is constantly refreshed by this experience. I say to many of the TRF visitors – tell me your dreams and let's keep in touch. Next you know the small stage has grown into a very large one; the TRF incubator has produced a healthy new child. If I can recreate this intimate and human level of communication on the stage of the Bridgewater Hall, I will have achieved a perfect balance.
Lastly, I should mention Ken Woods – who has given me this platform to write about Two Rivers Festival. Ken in many ways epitomises the best of the pre-industrialised musical economy. His involvement atOrchestra of the Swan is entirely typical. He supports the whole institution and doesn't just show up to conduct and take the plaudits. He is an inspiration to hundreds of amateur musicians because he is good at raising their game and also respects what they represent. Ken is already part of the TRF extended family through an appearance last year with his Ensemble Epomeo string trio (who appear again this May). I know Ken has no serious ego, because he was willing to dress up as a Jewish-Ukrainian grandmother in a children's concert without so much as a blush. Then, the same three players who had acted out this engaging pantomime, a day later, played sublimely well in music by Gal and Krasa – one fled the Nazis and the other died at their hands. Ken is a splendid conductor, cellist and all round musician, but as much as anything I admire his down-to-earth attitude and commitment. He doesn't forget that good musicianship involves a lot of effort, whether you are a professional or an amateur.  He also never loses sight that the effort is made so that music can be fully enjoyed and appreciated. Musical performance is in the end a human affair. It is about individuals connecting with other individuals. Music casts a line from heart and soul across the divide to other hearts and souls. For those making and promoting music, to know we have achieved this level of interaction between performer and audience should always brings us deep satisfaction.
The two remaining concerts in Two Rivers Festival 2011 are: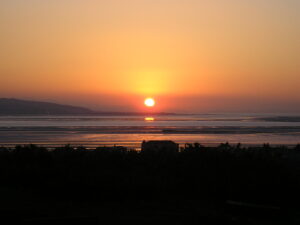 Friday 29 April at 7.30pm
The Bushell Hall, Birkenhead School
KATHRYN RUDGE mezzo soprano & JAMES BAILLIEU piano
perform music by Mahler's Songs of Wayfarer, and music by de Falla and Britten
Friday 20 May at 7.30pm
The Bushell Hall, Birkenhead School
ENSEMBLE EPOMEO string trio & Friends
perform music by Richard Strauss, Beethoven and Schubert's Quintet in C