International Record Review magazine has a great review in their July issue from critic Calum (aka Malcolm) MacDonald of the new Orchestra of the Swan recording of the Third Symphonies of Robert Schumann and Hans Gal on Avie Records.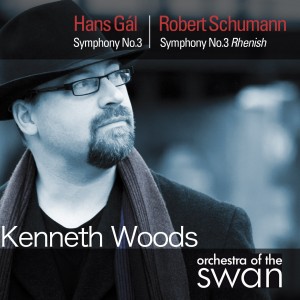 Calling it an "excellent disc," MacDonald describes the  Gál 3rd Symphony as "a substantial work, deeply felt and deeply thought." To his credit, MacDonald recognized that Gál's music can be "deceptively easy on the ear," and allowed himself several listens to get to know the piece. After reflection, he writes: "Deeply imbued in the Viennese symphonic lineage from Hadyn to Mahler, the work affects a stance of serene neo-Classicism, but actually is full of disquiet, doubt, and, probably, of well-disguised grief. These darker undercurrents are all to be sensed in the half-lights, the elegant reticences, the persistent play between major and minor: the latter continually imparting a chill, a sere impediment to the songful, lyrical serenade-like character that the music seems to want to assume."
MacDonald obviously enjoyed the performances as well as the repertoire,  the Gál conducted with "obvious empathy and understanding," and the Orchestra of the Swan playing throughout "with admirable clarity of texture and finely honed musicianship." He says the recording of the Gál "could hardly be bettered," and that, amidst tough competition from the likes of Gardiner, Giullini and Muuti, the Schumann is "a fresh-sounding, highly recommendable performance that makes an excellent foil for Gál's No. 3, and reminds us how intimately Gál was bound up with the Austro-German symphonic tradition. With first-rate recording throughout, too, this is a very welcome release."
UPDATE- Mr MacDonald mentions the size of the orchestra for the Schumann in his review. You can see a full listing of the musicians on the disc here. 44 players played on the Schumann, 45 on the Gal. That's very slightly larger than Schumann's own orchestra in Dusseldorf, and slightly smaller than the Gewandhaus Orchestra in Leipzig at that time, where most of his orchestral music was first performed, often under Mendelssohn's baton.
Click here to buy direct from Avie, here to buy from Presto Classical, here for Amazon.
You can subscribe to International Record Review here. Complete review follows: