A very nice new review of Bobby and Hans vol. 1 from Jay Harvey of the Indianapolis Star.  Read the whole thing at the Indy Star website here.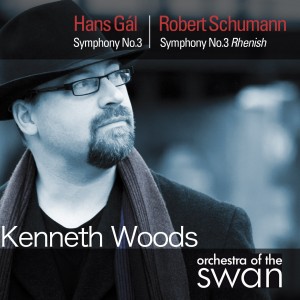 Get your copy direct from Avie
Order Here from Presto Classical
Written by Jay Harvey
Aug. 16, 2011
Two third symphonies make up an arresting release from Avie Records: Robert Schumann's in E-flat, op. 97, sometimes called "the Rhenish," and Op. 62 in A by Hans Gal, a long-lived Austrian-British composer who died in 1987.  The latter is a premiere recording that will introduce many listeners to Gal, who combines in this work skill at orchestration with a tendency to bring a complex view of structure to bear. The three-movement work concludes with a purposeful, but often blithe, virtuoso finale for the excellent British orchestra, in residence at Stratford-upon-Avon, conducted by Kenneth Woods.
Woods shows his luminous interpretive vision in the Schumann, which blasts away the cobwebs of  the composer's reputation as a dull, borderline inept, orchestrator. As Schumann's final of four works in the symphonic idiom, Op. 97 is  full of energy and inspiration. Never has the outline of Schumann's composition been clearer. Woods shapes exemplary phrasing from Orchestra of the Swan; the clarity does not amount to some kind of antiseptic dissection, but something more at the opposite extreme: a new lease on life for a familiar masterwork.
The Bobby and Hans project depends on the generous sponsorship of music lovers and friends of the Orchestra of the Swan and fans of the music of Hans Gal and Robert Schumann. Without your help, the orchestral music of Gal will remain unheard. We hope you will give what you can to keep the music playing.