Critic Rob Barnett at MusicWeb is a little suspicious about coupling Bobby and Hans:
"I don't hold with the practice of coupling the classical familiar with the 20th century unfamiliar.  I wonder if it does sell more discs… For me it is dilution not addition."
It's a fair question. We've been planning a blog post for a long time on the subject of "why Bobby and Hans." I can certainly state that we didn't pair the two composers because we thought that doing so would increase sales. Schumann is not traditionally a "seller" in the record business. Perhaps it is time to get that "why Bobby and Hans" post finished….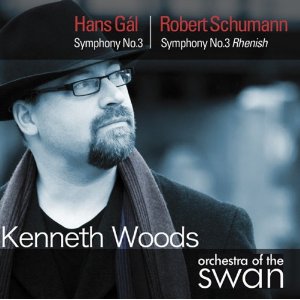 Get your copy direct from Avie
Anyway, Mr Barnett has some nice things to say about the disc, even that pesky Schumann ("A revealing coupling, then."). You can read the whole thing here. A sample follows:
Gál was an Austrian who studied composition with Eusebius Mandyczewski. He fled Germany in the Hitlerite 1930s and moved to Edinburgh for the rest of his long life. His Sinfonietta won what must have been the Austrian division of the 1928 Schubert Centenary prize.
Gál's Third Symphony had its premiere in 1954 on Vienna Radio and after an isolated outing with the CBSO under Rudolf Schwarz sank back into the choking dust. Its style was out of step with the age into which it was born. Woods' recording marks its revival.
Gál's Symphony takes a bow after some six decades. The Andantino is the first of three movements. Its placid lyrical unfolding relates to the facility and felicity of Franz Schmidt's silky string writing. Gal is more easeful and is direct and largely without the 'acrid' overtones that arch over Schmidt's symphonies. The woodwind writing is also most appealing in a Schubertian way that sometimes changes to Mahlerian. The music is touching and yields immediate pleasure. Until we get to the finale the accent is on slow release and reflective melodic material. Here Brahmsian woodland zephyrs are at play; hardly a gale, though. The identity is idyllic rather than dramatic so this is more Pastoral than Eroica.
The Schumann is very enjoyably done. Woods draws out a rhythmically taut performance. The shivering excitement is notable and the undulant poetic movement of the Rhine no less so….
The Orchestra of the Swan and Kenneth Woods are recording all four Gál symphonies each coupled with a work from the classical heartland. We should not overlook Woods' Avie Gál Violin Concerto and other violin concertante works by Gál also on Avie.
A revealing coupling then. It's only grouches like this reviewer who bemoan not having the Gál symphonies two at a time and without the 'distraction' of other more popular works.
Rob Barnett
Gál's Third Symphony takes a welcome bow after some six decades.
The Bobby and Hans project depends on the generous sponsorship of music lovers and friends of the Orchestra of the Swan. Without your help, the orchestral music of Gal will remain unheard. We hope you will give what you can to keep the music playing.