Short but sweet- a new review from Peter Grahame Woolf over at Musical Pointers for the Orchestra of the Swan's new recording of Schumann 2 and Gal 4: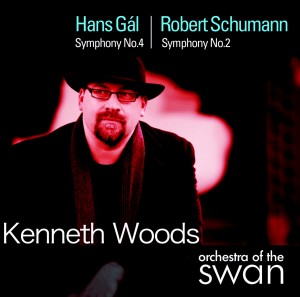 Click here to order from Amazon.co.uk
Click here to order from Amazon.com
A short excerpt:
With the lighter No 4 (Sinfonia concertante Op 105) Kenneth Woods continues his distinguished Gál cycle recorded at Stratford-on-Avon. This, with solo flute, clarinet, violin & cello is the aged composer's farewell to composition, a lovely work which reminds one of Haydns' sinfonia concertante with violin, cello, oboe and bassoon soloists. It ends with a Buffoneria !
No. 3 is a grander affair, and each is coupled with a Schumann symphony, Woods' account of Schumann No 2 with his chamber orchestra overturning my disregard of it as my unfavourite of the canon…
All in all, this is a worthy endeavour, which should keep the name and music of holocaust survivor Hans Gál (1890-1987) before the public as long as CDs continue to be bought…