A new review from American Record Guide for "Spring Sounds, Spring Seas."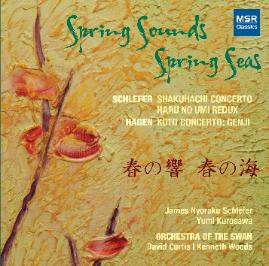 AMERICAN RECORD GUIDE – MAY/JUNE 2013 
Spring Sounds, Spring Seas 
James Nyoraku Schlefer (1956-).
 Haru No Umi Redux, for shakuhachi, koto & ensemble
(2011) [10:26]
 Shakuhachi Concerto (2009) [26:03]
Daron Hagen (1961-).
 *Genji, for koto, winds, strings and marimba (2011) [27:53]
James Nyoraku Schlefer (shakuhachi). Yumi Kurosawa (20-string koto). Orchestra of the Swan c/b Kenneth Woods / *David Curtis. 
Recorded: Civic Hall, Stratford-upon-Avon, England, 28 May 2011.
This seductive album presents three recent works that fuse Asian and Western musical traditions, a popular trend. James Nyoraku Schlefer's Haru No Umi Redux is a skillful reworking of a seminal piece from 1929 that was largely responsible for the incursion of Western gestures into Japanese music. It is an enchanting piece of exceptional delicacy, as is Schlefer's 2009 Shakuhachi Concerto, which blends the otherworldly sound of the shakuhachi with harp and strings. The concerto has dissonant moments and plenty of rhythmic punch, but its basic mood is hazy and tranquil. The composer is a Grand Master of the shakuhachi, one of only a few Westerners to achieve this rank. His skill is illustrated especially in the cadenza that opens the impressionist II.
More overtly sensuous is David Hagen's 2011 Koto Concerto: Genji, an "opera without words" based on an 11th Century narrative. It consists of five psychological portraits. The second, 'Falling Flowers', has a poignant violin solo; III, 'Maiden on the Bridge', demonstrates the subtlety of koto soloist Yumi Kurosawa, who makes her ancient instrument sound like a small orchestra. The bent sounds, rich chords, and strumming on various parts of the instrument produce marvelous colors.
The Orchestra of the Swan, a British chamber orchestra, plays with expressive understatement. The warm recording, at a concert, has all the qualities of a studio production. East-West fusions seem immune to the struggles of the classical music scene. This engaging album shows why.
— SULLIVAN